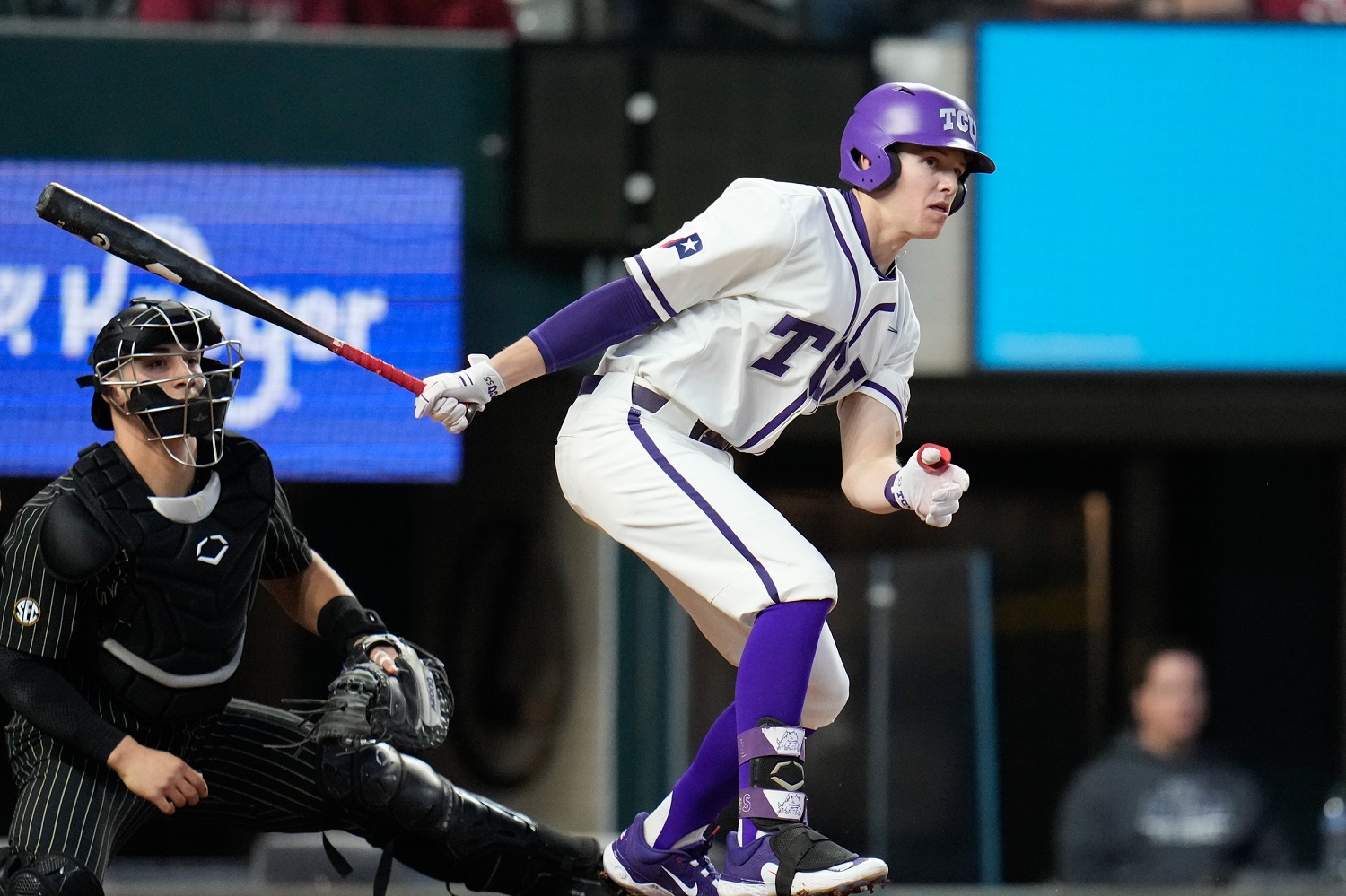 Image courtesy of Chris Jones-USA TODAY Sports
They carefully explain it's not a mock draft, per se. They aren't using any intel to try and determine who these teams are taking. They are instead taking on the role of what they would do if they were in these positions.
In this first version, they have the two stud college pitchers (Paul Skenes and Chase Dollander), the best college hitter (Dylan Crews) and the best high school hitter (Max Clark) off the board. This could very well be the reality the Twins face when they go on the clock at pick #5 in July.
In this iteration, Tom Lipari selects TCU third baseman Brayden Taylor for the Twins. Lipari says Taylor is "perhaps the best pure college bat in the country" and that he "will continue to add size and strength with time."
A left-handed hitting third baseman, Taylor has certainly looked the part in the batter's box in his two-plus years with the Horned Frogs. He has hit at a .324/.457/.577 (1.034) clip in his career including getting off to a blistering .384/.548/.613 (1.161) start through eight games this season. Impressively, Taylor has always walked more than he has struck out. 
The knock on Taylor is that he doesn't project to have a carrying tool. He may silence some critics, though, if he continues to tear the cover off the ball this spring. And there's been evident improvement already.
It's not a well-kept secret that the Twins love to draft (and sometimes trade) hitters. Adding another really good hitter to a stable of them provides the depth that all organizations should love.
But who are the Twins passing on?
Taylor isn't the biggest name (at this point) that was available to them. This scenario would have them passing on Florida OF Wyatt Langford as well as Ole Miss SS Jacob Gonzalez, both of whom could be really good options for the Twins at #5. (You can watch Gonzalez, Ole Miss, and other prospects at this weekend's Cambria Classic at US Bank Stadium.) 
So much can (and ultimately will) change in the next four months. If the draft were today, would you take Taylor?