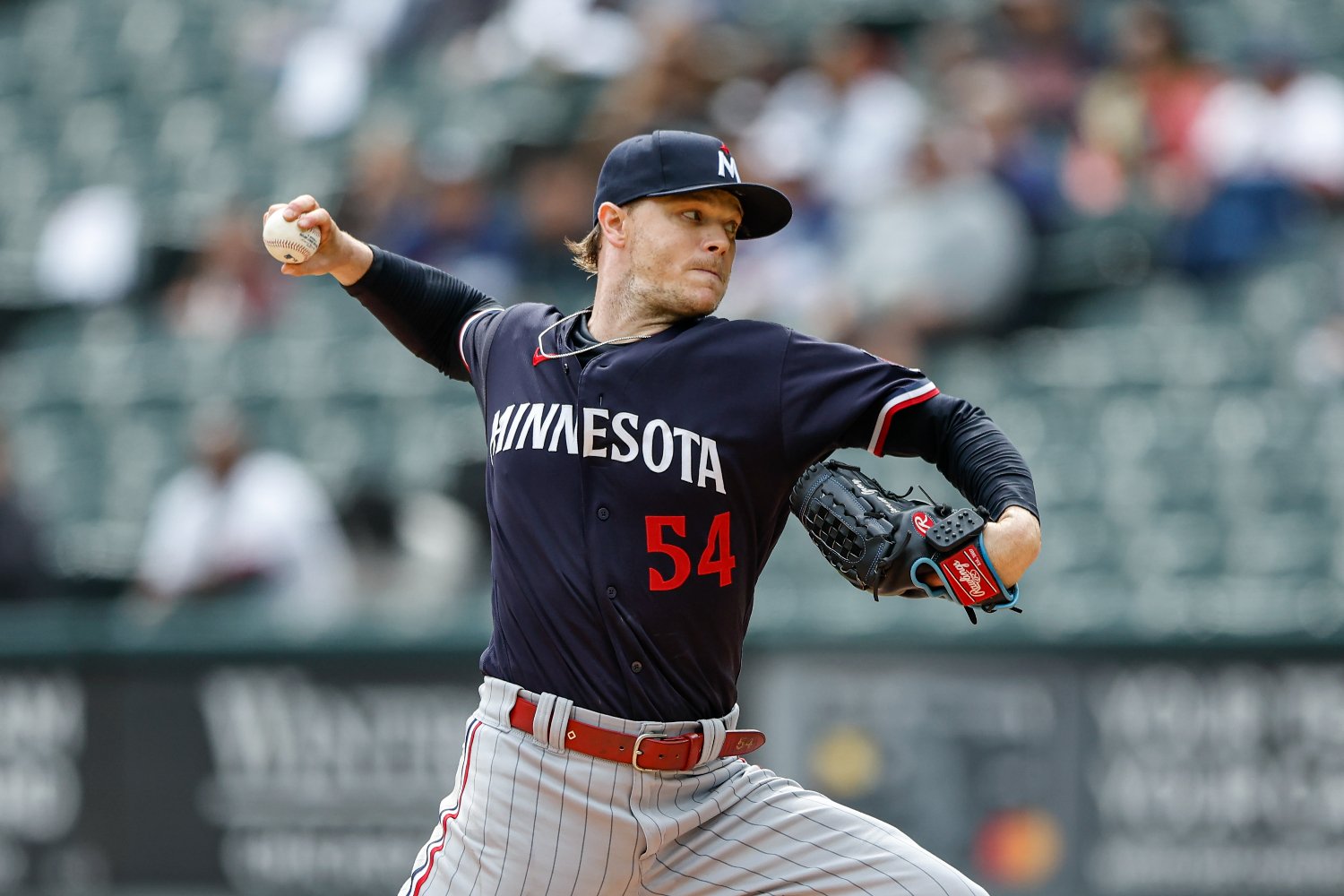 Image courtesy of Kamil Krzaczynski-USA TODAY Sports
Box Score:
Starting Pitcher: Sonny Gray: 6 IP, 4 H, 1 ER, 0 BB, 8 K (93 pitches, 61 Strikes, 65.6%)
Home Runs: None
Bottom 3 WPA: Edouard Julien (-.229), Matt Wallner (-.120), Trevor Larnach (-.107)
Win Probability Chart (Via Fangraphs):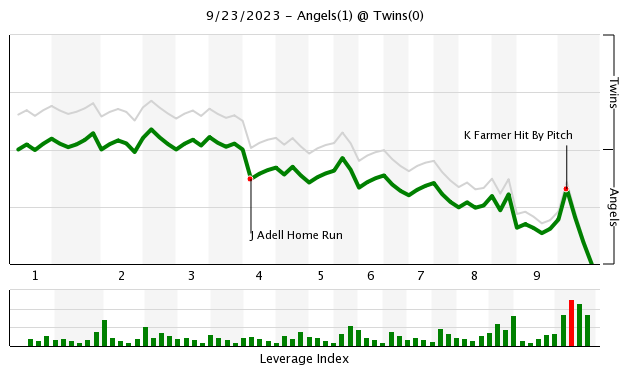 The day after a thrilling night in which the Twins clinched the Central Division and celebrated appropriately, Sonny Gray took the mound in front of a "hangover" lineup opposing the hapless Angels. The kids would call this a "scheduled loss," and that seemed apt with Andrew Stevenson leading off despite facing a lefty starter, Jordan Luplow playing first base, and Kyle Farmer hitting cleanup.
Gray started strong, however. His breaking pitches had some good bite on them, which is a good indication that Gray would be in command and deliver a quality outing. Occasionally Gray will start throwing backup breaking balls and get forced into throwing fastballs just to stay in counts- it has been a few months since we've seen that, fortunately. His breaking stuff, particularly the sweeper, was in prime form this afternoon.
Opposing Gray was Kenny Rosenberg, a soft-tossing lefty probably best suited for Triple-A work. The Twins first two batters, Andrew Stevenson and Donovan Solano, struck out. But Edouard Julien walked, Kyle Farmer singled and Michael A. Taylor walked to load the bases. Matt Wallner worked the count to 3-2 before flying out to end the frame. The Twins continued to put runners on base, but couldn't push anything across through the first three innings.
Gray cruised through three innings, getting a lot of called strikes on breaking pitches and keeping the Angels off balance. Jo Adell, the Angels center-fielder and a former top ten global prospect with prodigious raw power (that he has had trouble getting to thus far), absolutely crushed a Gray fastball into the bullpen to start the fourth. Gray quickly set down the next three batters, but all of a sudden the Twins were facing a deficit against Rosenberg.
Christian Vazquez got his second single of the game with one out in the fourth inning, and Trevor Larnach followed with a rocket to right-center. The ball died on the warning track, surprising the broadcast crew, and Jordan Luplow quickly popped out to end the frame. That sequence defined the Twins results against Rosenberg, who ultimately Dallas Keuchel'd his way through five scoreless innings.
The strength of this depleted Angels roster may be its relief pitching. Jimmy "The Human Glitch" Herget pitched a scoreless sixth, and flame-throwing rookie Ben Joyce pitched a quick seventh. Jose Soriano was bailed out by a tremendous defensive play from shortstop David Fletcher in the eighth. After Solano was hit by a pitch, Julien hit a 106 MPH smash up the middle that Fletcher somehow managed to glove and flip to second, almost behind his back. Julien was retired for the double play, still not running hard as he works through his hamstring issues.
Closer Carlos Estévez began the ninth inning by smoking Farmer on the elbow, but struck out Taylor and Wallner before getting Vazquez to fly out to end the game.
The good:
Kyle Farmer continues to blister the baseball, and with his second hit of the game in the third inning, made it on base in seven of eight plate appearances. He will be a key part of any Twins attack against a lefty in the playoffs, and if Carlos Correa and/or Royce Lewis are unavailable, he would slot in for either. He looks to be getting hot at the right time. For good measure, he gunned down Nolan Schanuel at the plate on a relay in the eighth to keep the score 1-0.
Gray was electric, allowing four hits while striking out eight. Outside of the one fastball to Adell, he looks ready to dominate in the playoffs.
The bad:
Donovan Solano has struggled of late, hitting .220 in September thus far. He started the game with a strikeout, ground out and double play grounder.
Jordan Luplow looked pretty rough at first base, with a misplay in the second resulting in a throwing error being charged to Solano.
What's Next: Joe Ryan (10-10, 4.30 ERA) goes against Tyler Anderson (6-6, 5.43) as the Twins look to take the series against the Angels. It will be a good chance for Ryan to build confidence against a struggling lineup as he auditions for the number three slot in the postseason rotation. Anderson was a big offseason pickup for the Angels, coming off a sub 3.00 ERA season with the Dodgers. The ability is there, and he is a lefty, so the Twins will have to lock in to defeat him.
Postgame Interviews:
Bullpen Usage Chart:
| | | | | | | |
| --- | --- | --- | --- | --- | --- | --- |
|   | TUE | WED | THU | FRI | SAT | TOT |
| Winder | 0 | 29 | 0 | 0 | 35 | 64 |
| Durán | 0 | 21 | 0 | 34 | 0 | 55 |
| Thielbar | 16 | 0 | 0 | 20 | 0 | 36 |
| Funderburk | 20 | 0 | 0 | 0 | 0 | 20 |
| Pagán | 8 | 0 | 0 | 0 | 10 | 18 |
| Jax | 0 | 17 | 0 | 0 | 0 | 17 |
| Floro | 16 | 0 | 0 | 0 | 1 | 17 |
| Varland | 0 | 0 | 0 | 11 | 0 | 11 |
| Keuchel | 0 | 0 | 0 | 0 | 0 | 0 |