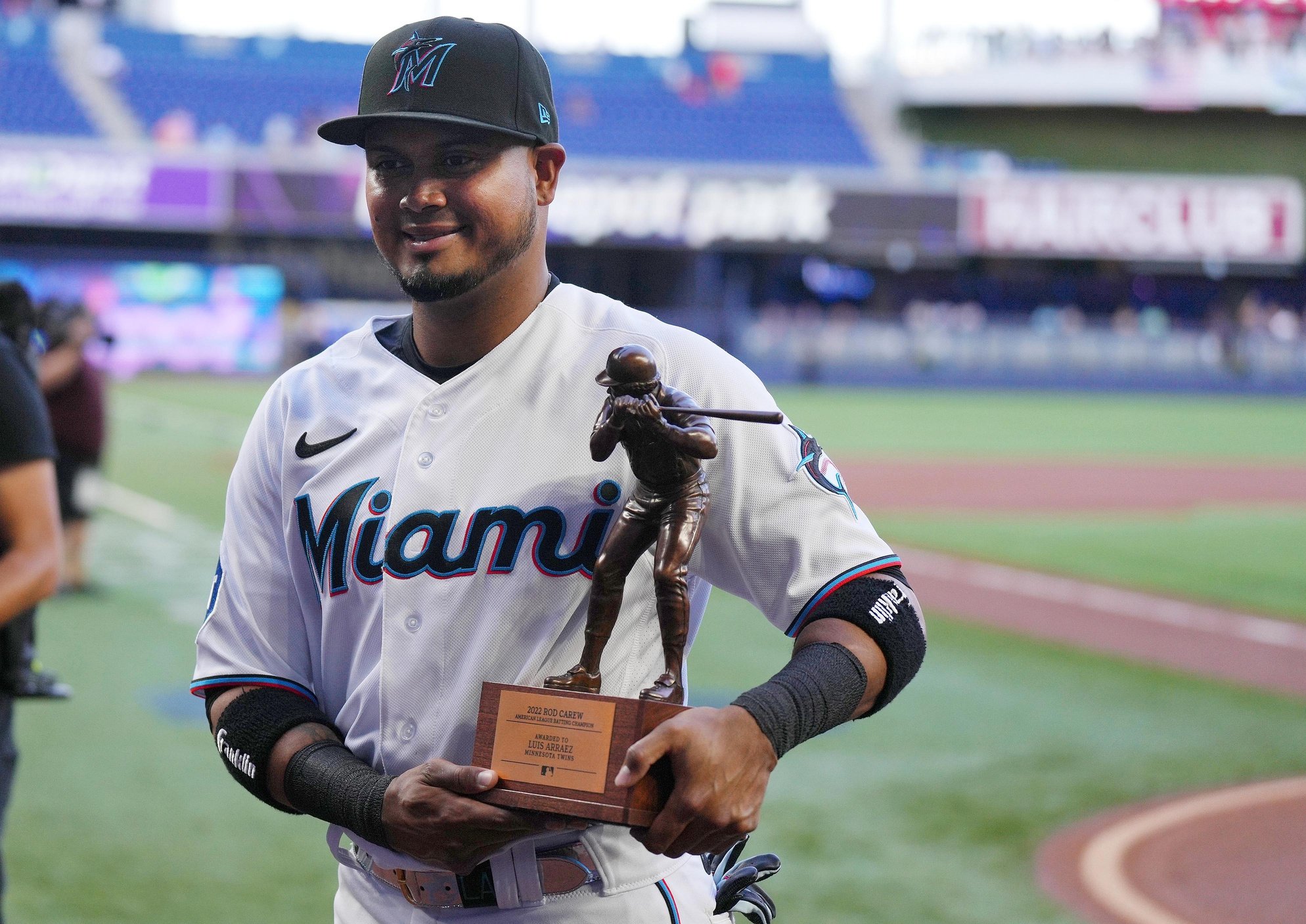 Image courtesy of Jim Rassol, USA Today Sports
On November 18, 2022, then Twins first baseman Luis Arraez had a lot to smile about.
He was coming off his first all-star season, won the American League Batting title, and was one of five players strutting down the stage in the Mall of America's rotunda in one of the Twins new uniforms. That day, Arraez was the first Twin to wear their new road gray uniforms. They gave him a spark of tenacity for what the Twins could do with them in the 2023 season.
"This is amazing, I can't wait to wear this uniform," Arraez said on that Friday. "This one [the gray road uniform] is my favorite. I feel like we can score 10 runs each day with these." 
Arraez didn't get to wear these at all with the Twins in 2023 as he was traded on January 20, 2023, to the Miami Marlins for starting pitcher Pablo Lopez and two prospects. 
Tracking back to that frigid fall morning, Arraez talked about what he did to celebrate his recently won 2022 American League Batting Title, which he won with a .316 average. 
"I celebrated with my wife and two daughters and my friends down in Ft. Myers. But I got to go to Venezuela and celebrate with my mom, my dad, and my family there in Venezuela," he said. 
Soon after, Arraez was asked if his parents had ever seen him play in the Majors. 
He said no. "It's hard. It's hard for them to get a visa. I try hard for them to come and visit me in Minnesota and see me play."
While his parents never got the chance to see him play as a member of the Minnesota Twins. The dream finally came true for Arraez on Thursday afternoon.
The Miami Marlins, with the help of the U.S. State Department and MLB International, flew Ernesto and Mari Arraez to Miami so they could see their son play a game in Major League Baseball for the first time. 
Arraez has always been known as a family man. He's worked hard to get where he's at in the majors and become a hitter of a past era when all he does is hit for contact. Going into the Marlins final home series against the Milwaukee Brewers on Friday, Arraez leads the Majors with a .354 average. 
He is fighting to be the first player in the Majors with a batting average above .350 in a full 162 game season since Josh Hamilton hit .359 in 2010. Finishing that pursuit of a second batting title, that could very well be his first in the National League in addition to posting the best average in MLB this season.
It's been 10 months since Arraez shared how badly he wanted to visit them to celebrate winning his first batting title. Now his mom and dad will be front row to see his the final games of his purist to win another.