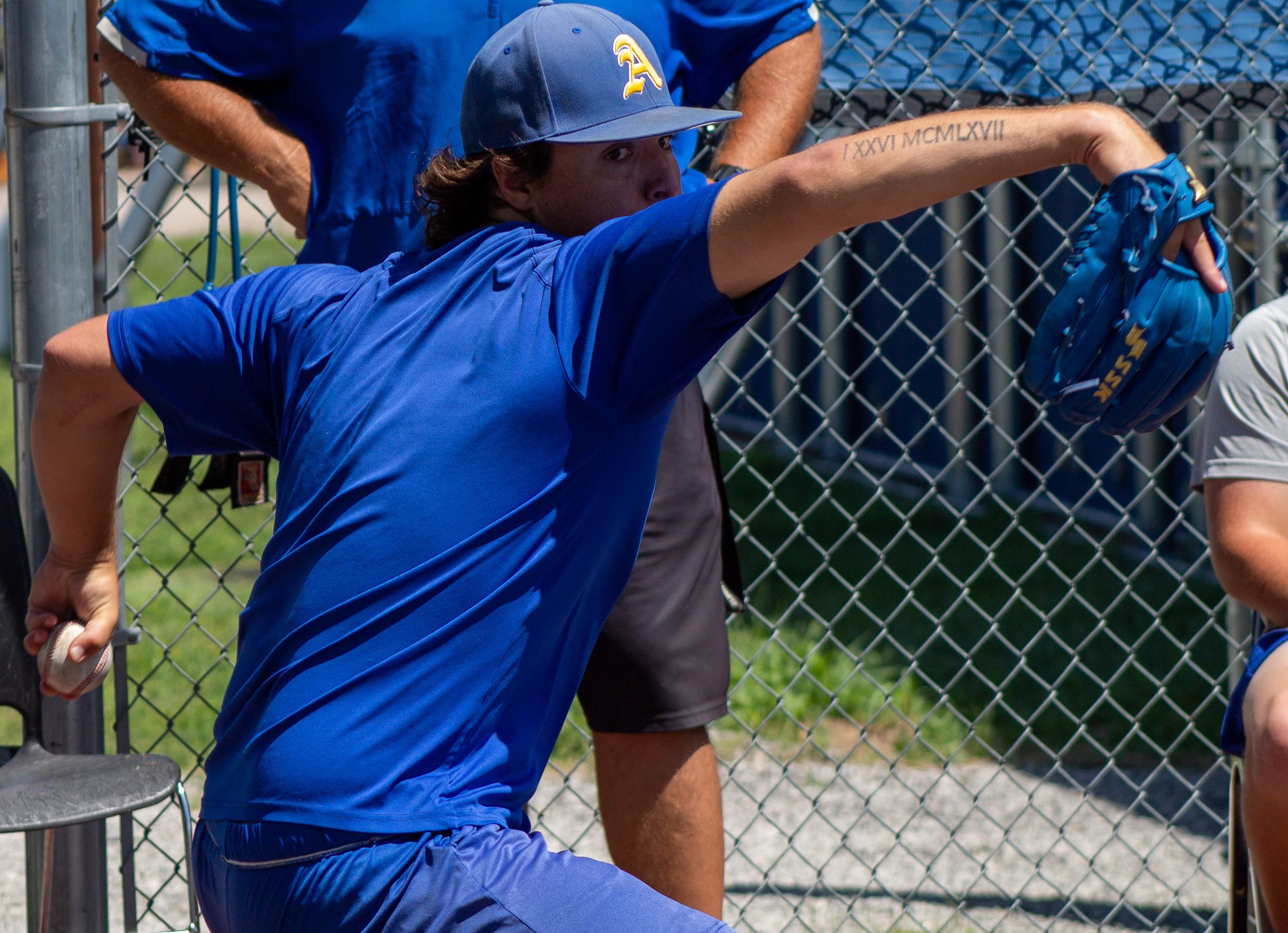 Image courtesy of Paul Witwer-USA TODAY NETWORK (Kade Bragg is pictured warming up)
Last week, the major-league draft concluded. The Minnesota Twins made 21 draft picks and will have until July 25th to get them signed. That's the first step. Then they can start their careers with the ultimate goal of reaching the big leagues. Of course, not all 21 Twins selections are going to turn into MLB players. But some will. If the Twins get a handful of big leaguers out of this draft, it will be considered a win. If they get an All-Star, even better.
So let's break the picks into a few categories. Who were the best picks? Which players provide an upside, but come with risk? Are there players that will provide minor-league depth immediately with the chance to be more? And then there are players that may be hard to sign? What are the factors that play into their decisions? Learn more about the players and what category each fits into below.
BEST PICKS:
The expectation is that everyone in this group will sign. 

Walker Jenkins, OF, South Brunswick HS, NC (1)
When you can add a Top 25 (or better) global prospect, you do it. Is it the perfect fit? No, there are plenty of corner outfield types in the system. Is he the perfect prospect? No, you can't simply ignore the checkered past concerning his hips. But there's too much to like about Jenkins to get picky. He's got all-star potential in a system that lacks it. I can't wait to watch his professional career get started.
Tanner Hall, RHP, Southern Mississippi (4)
I'm putting Hall in this group, believing we'll hear that the Twins unlocked a few more MPHs on his fastball during instructional league this fall. He's a back-half/long-reliever right now with a plus changeup and below-average fastball, but the Twins have made hay adding velocity to starters, and when that happens, Hall will start raising eyebrows. 
RISK/REWARD PICKS:
The players in this group could go either way. If they were picked in the top ten rounds, they are almost assuredly going to sign. Outside of that, it becomes a bigger question. In most cases, the player could bet on himself to be a higher draft pick next year (or later) or could take the money now and start developing as a pro.

Charlee Soto, RHP, Reborn Christian Academy, FL (1C)
Soto is the definition of high-risk/high-reward. You could be looking at the future #1 starter for the Twins.... or someone that fizzles out before reaching AA. Such is the life of drafting prep pitchers.
Brandon Winokur , OF, Edison HS, CA (3)
Winokur is getting some love as the Twins best pick, and the reason for that is the power profile. There is significant swing-and-miss, so the floor is very low. But if he can fix that - and that's a considerable risk - his ceiling is extremely high. A future outfield with him and Jenkins is a fun dream for later this decade.
Ross Dunn, LHP, Arizona State (10)
One of the picks I like more the more I dig. Yes, Dunn walked a ton of batter (6.1 BB/9), which won't cut it as a starter. But he's got an outstanding fastball and slider, yet his changeup might be his best pitch. There's a low floor - that's what you get with below-average command - but there's a decent chance that Dunn could be the best college pitcher to come out of this class. 
Paulshawn Pasqualotto, RHP, Cal (12)
He returned in 2023 after missing 2022 with Tommy John surgery. As is typically the case, he didn't fully regain his command after surgery. Pasqualotto has a four-pitch mix, but so much hinges on throwing it over the plate. There are some big "ifs" for Pasqualotto, and a wide variance of outcomes comes with that. 
Kade Bragg, LHP, Angelo State (17)
You're not going to have unreasonable expectations for a 17th-round pick. However, Bragg was a Texas A&M commit before an arm injury in high school. He ended up at Weatherford College, where he struck out nearly 12 batters per nine innings with a sub-3.00 ERA but also walked too many. Bragg transferred to Angelo State, where he threw 104 2/3 innings, struck out 124, and reduced his walk rate to 3.4 per nine. And while pitching wins and losses mean very little, he went 15-1 with four complete games and three shutouts. He was too good for that level, but the jump from Division 2 to professional baseball is enormous. It will be fun to see if the success translates.
Hector Gomez, RHP, Hope International (18)
An NAIA strike-thrower who struck out 93 while only walking 11 batters in 56 innings. Gomez had a three-game stretch where he pitched 18 innings and struck out 36, walked two, and gave up only one earned run. The two 15-strikeout games were both done on 90 pitches. It's a lottery ticket, and we know how they almost always end up. But that doesn't mean you shouldn't try.
SAFE/DEPTH PICKS:
These players should sign. Returning to school - if that's even an option - probably isn't going to help them make a bunch more money.

Luke Keaschall, 2B, Arizona State (2)
Announced as a second baseman, there may be more in the cards defensively for Keaschall. His bat could play in a corner, and he's athletic enough to play the outfield. He could be a future utility-type player who plays second base and left field and could play third base and center field in a pinch. 
Dylan Questad, RHP, Waterford HS, WI (5) 
In a category typically reserved for college players, Questad is getting a nod. The Twins will give him every opportunity to start, but signs point toward the bullpen. And if he's viewed through that lens right now, you're getting a middle-relief floor with the upside of getting a high-leverage stud. There is an upside, still, which makes this one of the more fun picks of the draft.
Jay Harry, SS, Penn State (6)
He looks like a Sean Johnson special: The grinder, tough to strike out, punches above his weight, not going to hit for power or steal bases, but he will give you solid plate appearances and play good defense. It makes sense that he came in well under slot.
Nolan Santos, RHP, Bethune-Cookman (7)
A senior-sign who will provide the Twins with money to get other guys done. He could be a solid fastball/slider relief candidate.
Jace Stoffal, RHP, Oregon (8)
Stoffal spent two years at Oregon and had enough success in his second year to get drafted on Day 2. Another example of a guy who came in under slot to help save money for other picks. Again, it's a likely bullpen profile.
Jack Dougherty, RHP, Ole Miss (9)
Stuff backed up when he transitioned into a starting role: another prime candidate with a reliever-floor but starter upside with professional development. 
Ty Langenberg, RHP, Iowa (11)
Arguably that cleanest starter profile of the draftees with a fastball, slider, and changeup mix. He struck out enough and didn't walk too many, but his fastball has been too hittable.
Xander Hamilton, RHP, Appalachian State (14)
After two years of barely pitching at Virginia Tech, Hamilton transferred and had more opportunity and success. He struck out a ton of batters and pitched a gem against then-#8 Coastal Carolina. Minimal risk in drafting a senior in the 14th round, and anything he gives the organization beyond depth is icing on the cake. 
Spencer Bengard, RHP, Cal Baptist (15)
He was better out of the bullpen in 2022 than as a starter in 2023 but he has a durable build that will provide the needed depth in the organization. 
Anthony Silvas, RHP, Riverside CC (16)
He is similar to Hamilton in that he transferred for a better opportunity and, like all these late-round right-handed pitchers, will provide depth.
WILL HE SIGN?:
If I were in this group, I'd have more reason to go back to school than turn pro.
Jeremy Lee, RHP, South Alabama (13)
Lee has reportedly already agreed to a deal to join the Twins, which is a win for the organization. Lee was a Freshman All-American in 2021 before elbow issues required a shutdown and a redshirt year. He wasn't as good as a redshirt sophomore and could have returned to school to improve his draft stock and still have the leverage of returning for one more year. 
Sam Parker, 1B, Kennesaw Mountain HS, GA (19)
Legit raw power and is committed to Chipola JC. New draft-and-follow rules will allow the Twins to keep in touch with Parker if they don't sign him before the deadline. They successfully signed Omari Daniel last year with the same strategy. Likely comes down to how much money is left in the bonus pool. 
Ashton Larson, OF, St. Thomas Aquinas, KS (20)
If signed, Larson would fly to the "best pick" category, but the chances are slim. So why waste a pick on someone destined to go to LSU? It's not necessarily that the Twins have a chance to establish a relationship, and you never know. But you take a hard-to-sign guy here as a "just in case." The Twins will manipulate their draft pool to have money to sign guys like Jenkins, Soto, Winokur, and Questad (and possibly others). If something falls through with one of these players, there is still the "banked" money. It goes wasted if you don't have any other guys to sign. In this event, you call up Larson and say, "Hey, I know you plan to go to LSU, but we have a million and a half reasons (or whatever money is left) for you to turn pro."
What do you think? Who were you favorites? Or least-favorites?