You probably tuned out of the second half of the 2022 Twins season. Given the team's terribly underwhelming results and the Bally Sports North TV debacle, there were better things to do than watch Twins baseball.
While you were enjoying your summer, you missed Nick Gordon carrying the Twins' offense, drilling line drives as a middle-of-the-order slugger. From July 1 onward, Gordon batted .281 with an OPS that was about 20% better than league average. In a disappointing season, Gordon's offensive outburst was an exciting surprise.
Unfortunately, Gordon's hot bat went cold during the Minnesota winter. He enters Friday batting a measly .161 this season and has seen his OPS decline more than 200 points from last season.
Why has Gordon struggled? Well, actually, he hasn't. He has just been supremely unlucky. Gordon's expected batting average (xBA) is .260 this year, nearly identical to his .261 xBA from a season ago.
Among Twins hitters, Gordon's season is a clear outlier in terms of luck. There's a Metrodome-sized gap between his batting average and what you would expect based on his quality of contact. He has the lowest batting average on the team, but the second highest expected batting average!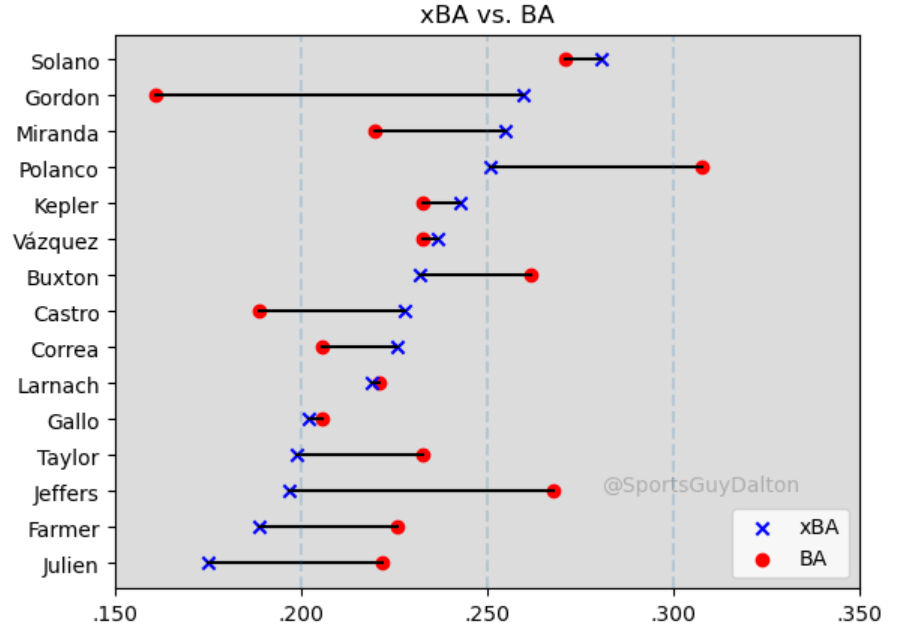 The -.099 differential is by far the widest among Twins position players with at least 20 at-bats.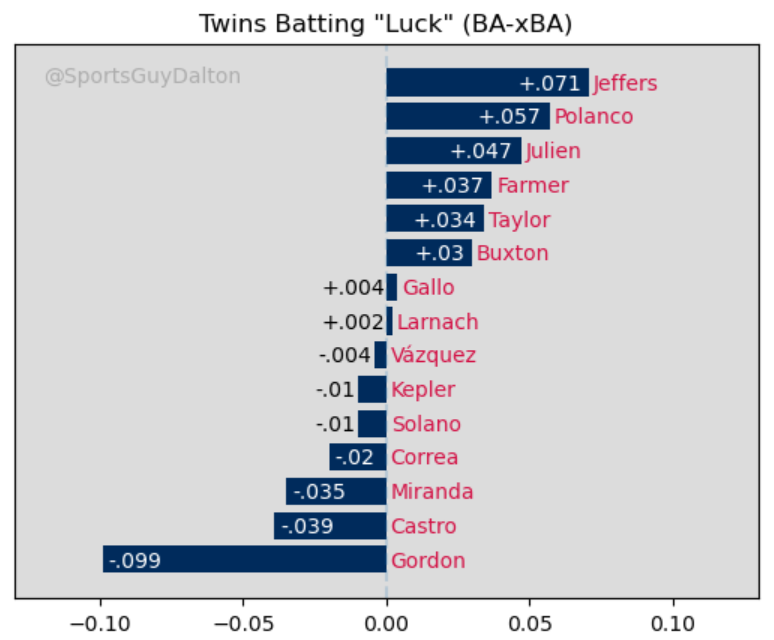 In fact, in terms of BA-xBA differential, Gordon is the second unluckiest batter in all of MLB (min. 50 PA).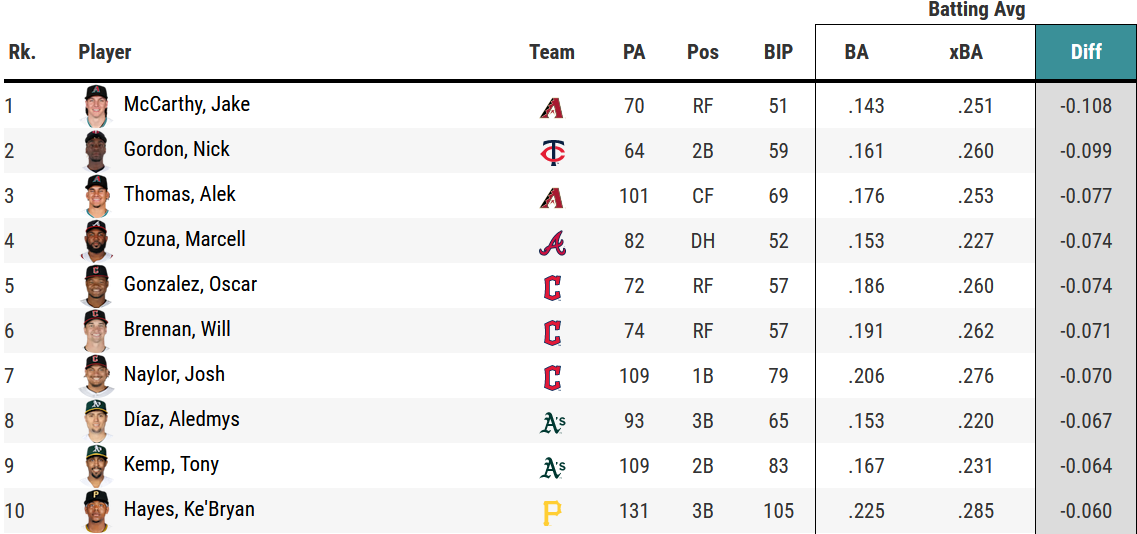 How do you break a curse of bad luck? The internet says to throw a pinch of salt over your left shoulder, burn some incense, or find a lucky charm. To be safe, Nick Gordon should toss a few handfuls of salt, invite all his friends to an incense bonfire, and drive to the nearest Amazon warehouse to buy out their lucky rabbit feet. 
Thankfully for Gordon and Twins fans, Gordon might have turned a corner in Chicago. He collected hits in all three games of the series, including his first two homeruns of the year (hard to get unlucky if you hit the ball over the fence!). Gordon continuing to barrel the ball will go a long way in helping a Twins offense that has been inconsistent this season.
The numbers say it's very likely that Gordon will begin to see the ball bounce his way. Over the course of a season, batting average and xBA almost always converge. Once a player reaches 100 at-bats in a season, their batting average and expected batting average are typically within .020 of one another. Nick Gordon's -.099 differential won't last forever.
If you'd like to do your part as a fan, the Twins' mailing address is 1 Twins Way Minneapolis, MN 55403. Send Nick Gordon your good luck charms.