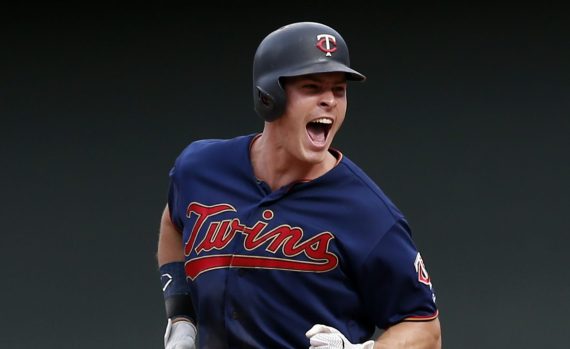 I am not advocating trading him, but I have read so many trade Rosario scenarios I began to wonder what would happen if we took another of our players and put them out there. Admittedly Betts is the FA RF that will dominate all discussions, but what would Kepler bring us?
Here are his basic stats for the MLB career and a comparison with his MIB stats.
The first note is that he had not matched his MILB stats in the first three years, but he did last year - OBP/S/OPS. Is this his next platform from which he will continue to get better? His third year was a drop from his first and second so it has not been a steady rise.
The columns are BA, games, AB, R, H, 2B, 3B,HR,RBI, BB, K, SB, CS, OBP, S, OPS
2016 23 Minnesota AL MAJ .235 113 396 52 93 20 2 17 63 42 93 6 2 2 .309 .424 .734
2017 24 Minnesota AL MAJ .243 147 511 67 124 32 2 19 69 47 114 6 1 5 .312 .425 .737
2018 25 Minnesota AL MAJ .224 156 532 80 119 30 4 20 58 71 96 4 5 8 .319 .408 .727
2019 26 Minnesota AL MAJ .255 135 529 103 135 34 0 37 92 61 100 2 4 5 .339 .529 .868
Minor League Totals .281 457 1704 268 479 102 37 35 273 206 301 42 9 21 .363 .446 .809
Major League Totals .239 554 1975 302 472 116 8 93 282 221 406 18 12 20 .320 .447 .767
This is from https://www.baseballamerica.com/players/93013/max-kepler/
Despite his injuries at the end of the season he was second to Polanco in PA - Rosario was third on the Twins. Cruz was fourth.
In Runs scored - Polanco was first 107, Kepler second 98, Rosario was third 91 - I guess he did get on base, and Cruz was fourth with 81.
In hits it was Polanco, Rosario, Cruz and Kepler was fourth.
In HR with 36 he was second to Cruz and followed by Sano and Rosario.
IN RBIs he was third behind Rosario and Cruz.
In strikeouts he was sixth which is good - Sano despite missing part of the season was still number one, followed by Cruz, Polanco and Schoop. Rosario was 10th in the team.
BA he was 9th (Rosario was 4th) behind Arraez and Cruz at the top.
He was number 6 on the team in OBP while Rosario is 10th.
Slugging he was 4th on the Twins at 519 and Rosario was 5th at 500
In total bases it is Polanco, Cruz, Kepler, Rosario.
There is the batting comparisons. In WAR, Kepler is 4 and Rosario is 13 - there are pitchers in the WAR list. So Eddie is hurt by fielding comparisons.
Rotographs https://fantasy.fangraphs.com/2019-outfield-rankings/ has Rosario ranked number 29 among all MLB outfielders. Kepler is 48. And Buxton is 44.
New Arena ranked the Twins OF - number 14 out of all the MLB clubs - coming in to last season they wrote, "Combined '18 WAR: 6.1 https://newarena.com/mlb/ranked-every-mlb-teams-outfield-trio-from-worst-to-best/
If you don't follow the Minnesota Twins or one of their rivals in the American League Central, you are probably unaware of the talent roaming the outfield at Target Field. Eddie Rosario has been a very good player the past two years for the Twins — posting a two-year average of 26 HR, 78 RBI, .289/.326/.493. As a regular in left, Rosario saved six defensive runs last year. Byron Buxton, the most talented of the bunch, is set to return to the starting lineup after appearing in just 28 games a season ago. Buxton is a five-tool player with the potential to be one of baseball's best players when he puts it all together. He possesses top-notch speed, a great hit tool, and superior defensive ability. Still only 25 years old, Buxton has time to hit his stride. Occupying the other corner outfield position is Max Kepler. Kepler is good for around 20 homers per year, but also 100 strikeouts. Kepler had a great year in the field in '18, saving 10 defensive runs."
Now that I have put together the information I can find (I am not an advanced stat head - sorry, you can fill that in) you have seen in various TD articles trades with Rosario in the deal. Now put Kepler in and what do we get? Does he have the same perceived value to others that he does with the Twins?