Could Jake Cave Bite into Eddie Rosario's Playing Time (This Year and Beyond)?
---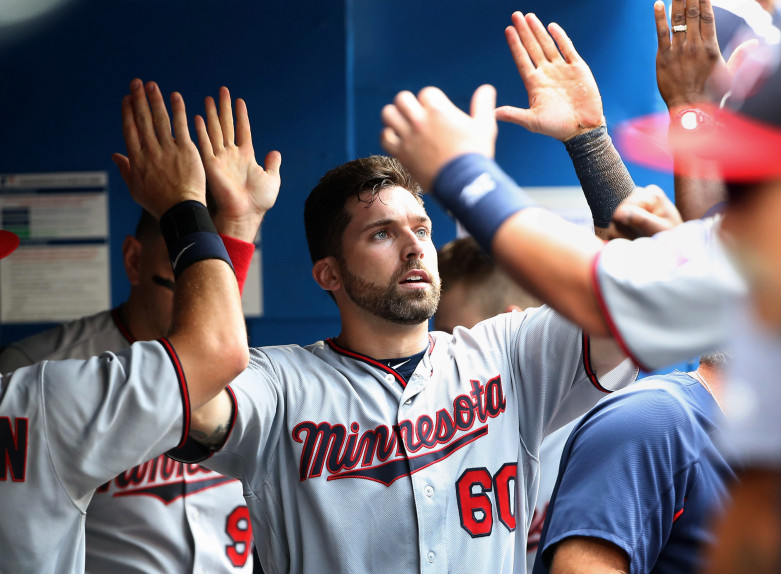 With injuries to Byron Buxton and the more recent hamstring injury to Eddie Rosario, Jake Cave has had an extended opportunity with the Minnesota Twins and has made the most of it. After hitting two home runs in the opener against the Detroit Tigers he came back in Saturday's game and hit another dinger, with a double to boot. Buxton is off to a short rehab assignment in Cedar Rapids but he could rejoin the big league club as soon as Tuesday in Chicago. Rosario's injury is listed as day-to-day but hamstring injuries are tricky, so he could potentially land on the 10-day IL. Either way, with the way Cave has played of late the Twins will have an interesting decision to make when Rosario returns.
Cave was a pleasant surprise for the Minnesota in 2018, as he hit .265/.313/.473 with a wRC+ of 108 and was good for 1.3 bWAR in just 91 games. He filled in for Buxton during Buxton's disastrous and injury-riddle 2018, spending a lot of time in center field, where he played decently but showed that he was definitely better suited for the corners. Flash forward to 2019 and Cave was slated to be the Twins fourth outfielder, but he struggled out of the gate slashing just .176/.299/.243 for a 52 wRC+ in the first half and Cave was sent down to AAA to figure things out.
And boy did he figure it out in Rochester. Cave hit the cover off the ball (.352/.393/.592) and since returning to the Twins, Cave hasn't cooled a bit. Since the All-Star break, Cave has hit an unreal .417/.482/.708 for a 209 wRC+. With his second-half surge, Cave's numbers on the year are now looking quite good as well. Cave has hit .280/.381/.464 on the year for a 125 wRC+. His on-base percentage has risen from .313 in 2018 to a very good .381 in his second season. In watching Cave, he seems to be taking much better at-bats of late, showing an ability to lay off pitches outside of the strike zone. While Cave will probably never have an elite walk rate, he has shown significant improvement in this area, going from a 5.8% walk rate in 2018 to 8.4% in 2019. He is getting better pitches to hit and hitting them hard, with a 52.6% hard hit percentage.
Rosario on the other hand, hadn't looked particularly good at the plate prior to his injury. Rosario has just a 3.9% walk rate on the year and lately, even when getting into a hitter's count, he's been liable to put a weak swing on a pitch outside of the strike zone. On the year he has hit .282/.307/.515 for a wRC+ of 107, which is certainly respectable but not as good as Cave. Rosario started the year off with 11 home runs by the end of April but has hit just 10 in the last three months. In the second half, Rosario's walk rate is down to an almost non-existent 2.9% with just a 93 wRC+.
Although Rosario and Cave have similar skill sets (hit left-handed, play aggressively, and are streaky), Cave's ability to reach base gives him a definite advantage over Rosario. Beyond that, Cave has clearly been the hotter hitter of late and it would be really hard to take his bat out of the lineup at such a critical juncture of the season. Although Cave has not looked good defensively in center field, he is probably a better overall outfielder than Rosario. MLB Statcast measures Rosario at a -2.0 jump vs. average with 31.5 feet covered. Cave on the other hand is better than average with a 0.8 jump and 34.5 feet. Both Rosario and Cave are liable to make a few boneheaded mistakes in the field, but Cave seems more athletic overall and better able to make difficult catches.
Of course, Rosario has the longer track record as a major leaguer, is a fan-favorite, and has had his share of big moments in the 2019 season. Cave has slightly better career numbers but has only played 141 games in parts of two seasons. Cave also has a really high batting average on balls in play (BABIP) at .400 for the season, but he has always carried a very high BABIP in both the minors and the majors (though not quite that extreme). Part of this may be due to Cave's ability to hit the ball hard to all fields, allowing him to beat the shift. Cave's ability to hit the ball hard brings a lot of swing and miss as well. He is currently striking out in 31.1% of his plate appearances, so there is definitely room for improvement.
Now entering the final stretch of the season and caught in a tight race with Cleveland, it will be imperative for the Twins to run out the players who give them the best chance to win. We have already seen this happen with Luis Arraez taking the second base gig from Jonathan Schoop. The Twins greatest strength may be their overall depth. With players who are ineffective due to injury or other factors, such as Rosario and C.J. Cron, the Twins would be amiss not to take advantage of the depth they have and put their best nine out on the field.
It remains to be seen how much playing time Cave will take from Eddie Rosario this season, but Cave's success may make Rosario more expendable in the offseason. Minnesota could dangle Rosario as part of a package to obtain starting pitching, knowing that Cave at the very least gives the team a stop-gap in left. The Twins farm system is loaded with corner outfield types who are close to big league ready in Alex Kirilloff, Trevor Larnach, and Brent Rooker and the MLB team will still have Marwin Gonzalez under contract in 2020. Rosario has been a valuable player for the Twins, but he seems unlikely to improve upon what he already is. With little to no plate discipline and decreasing speed with age, the Twins may be better off moving on from Rosario and getting something in return for him while they still can (Rosario becomes a free-agent in 2022). In the meantime, whether a long-term solution or not, Jake Cave has presented the Twins with a welcome problem.