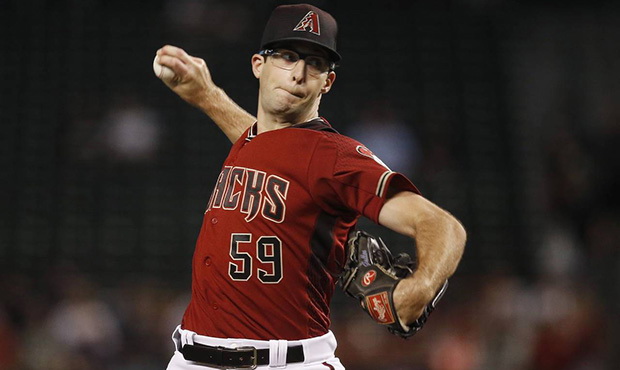 During the run-up to the MLB Trade Deadline the Minnesota Twins were linked to several big-name starting pitchers. We heard rumors about the Twins potentially landing someone like Noah Syndergaard, Marcus Stroman, Madison Bumgarner, or even Trevor Bauer. When the dust settled, Minnesota was either unable or unwilling to meet the demands for those pitchers and decided to stand pat with the current rotation. The Twins were never going to give up a player like Byron Buxton and were rightfully protective of top prospects Royce Lewis and Alex Kirililoff. With that taken into consideration, the Twins may well only have Jose Berrios returning from this year's rotation for 2020, and they may have missed a golden opportunity to add a talented young pitcher.
The Arizona Diamondbacks received rookie right-hander Zac Gallen from the Miami Marlins in return for Jazz Chisholm, a short stop prospect currently playing in AA. This was a somewhat unique deadline trade as it was a prospect-for-prospect swap (although Gallen made his MLB debut on June 20th and has been up ever since), but the Twins did something similar by swapping Lewin Diaz for Chris Vallimont in the Sergio Romo trade days prior to the Gallen trade. It's possible that the Marlins were really after Chisholm and contacted Arizona, but the reverse seems more likely. The Twins had just had Miami on the phone and were also playing in Miami at the time of the Gallen trade, so it wouldn't have been hard to inquire about Gallen.
Gallen has certainly looked the part of a big league pitcher thus far in his MLB career. The Twins got an up-close peak at Gallen during the Marlins series on the day before he was traded, and he did not disappoint against Minnesota's historic offense (7IP, 4H, 2ER, 8K). He was also great in his first start in Arizona, as he went five innings without allowing any runs and only one hit on 85 pitches while picking up the win.
Gallen has really only recently began to sneak into the top 100 of some of the prospect lists, but his stock has risen significantly this season. He has added velocity to his fastball which now sits closer to the mid-90s with plenty of spin and he has a great change up along with a pretty good cutter. Gallen dominated the PCL with a 1.77 ERA and 33.6 K% this year and has pitched really well so far in the big leagues. The 24-year-old had a 2.72 ERA (3.58 FIP) with 10.65 K/9 in seven starts with the Marlins and is off to a good start in Arizona.
The Marlins seem to be craving high-upside boom-or-bust type prospects and the Twins could have easily provided a similar or somewhat better package than Chisholm. Coming into the season, Chisholm was highly regarded as a short stop possessing both speed and power and he has hit 20 home runs so far this season. He's a high-upside prospect with great physical tools, but his stock has dropped this year as he has only hit around .200 and is striking out in nearly 35% of his plate appearances. Most prospect rankings still consider him a top 100 prospect, but he fell out of Baseball America's midseason list.
Although Gallen's MLB career is only beginning, he would still fit nicely in with Minnesota's current rotation. In fact, he seemingly would have been a perfect addition to the team because he is pitching well now and would be under team control for many years to come. If the Twins decide not to pick-up Martin Perez's team option for next season (and the proposition is looking less and less likely) they will need to fill four spots in the rotation. Gallen would have slotted in nicely somewhere behind Berrios and the Twins would have an established young starter along with a promising young arm to build around.
The trade deadline has come and gone, but hopefully the front office took notice of the unique opportunity this trade provided. Arizona was able to pick up a young and promising starter while only giving up one high-risk, high-reward prospect. Of course, most teams are hesitant to give up young MLB-ready pitching, but the Twins would be wise to look into the possibility of making a similar off-season trade.
One team that they may want to look at is…the Miami Marlins. Who knows how much young pitching Miami is willing to part with, but again, they seem to favor high-upside prospects and they are not going to contend in the near future. Although Gallen is out of the picture, the Marlins do have a couple more young pitchers the Twins may want to take a look at in Sandy Alcantara and Jordan Yamamoto.
Of the two, Alcantara throws much harder, touching triple digits and sitting in the high-90s. Alcantara has had his issues so far, struggling with control (11.1% BB) and not getting as many strikeouts (16.8% K) as one would hope, but he would be an intriguing arm for Wes Johnson to work with. He is one of only eight MLB pitches to have a greater than 10% swinging strike rate on three non-fastball pitches (slider, curve, and changeup), so the strikeouts should come. The 23-year-old is a former top-100 prospect.
Yamamoto doesn't have the velocity or prospect status of Alcantara, but he throws six pitches and has done pretty well in his first stint with the Marlins after being called up from AA. In 54 innings he has pitched to a 4.17 ERA (4.18 FIP) with a 1.04 WHIP and has struck out 55 batters. Yamamota is also just 23 years of age and would presumably cost Minnesota less than Alcantara in terms of prospects.
Even with the addition of one of these young starters, the front office will have their work cut out for them this off season. One would hope that the Twins would add at least two higher quality and more experienced starters through free agency and trade. However, a young, team controlled starter like Alcantara or Yamamota could be a nice depth piece with minor league options that could probably be had for a fairly insignificant price. The Twins have exciting pitching prospects like Brusdar Graterol, Jhoan Duran, Edwar Colina, and Jordan Balazovic all inching closer, but it would be nice to have some additional young pitching talent to help bridge the gap and fill out the rotation.
The Twins made it through the trade deadline without losing any top prospects and the system is loaded with depth. Hopefully Derek Falvey and Thad Levine took heed of the Zac Gallen trade and will be able to identify some young pitching talent and make a similar deal with the Marlins or another organization. Obtaining pitching talent is never easy, but it was something Falvey was known for in Cleveland and the Twins are going to need all the pitching help they can get in 2020.