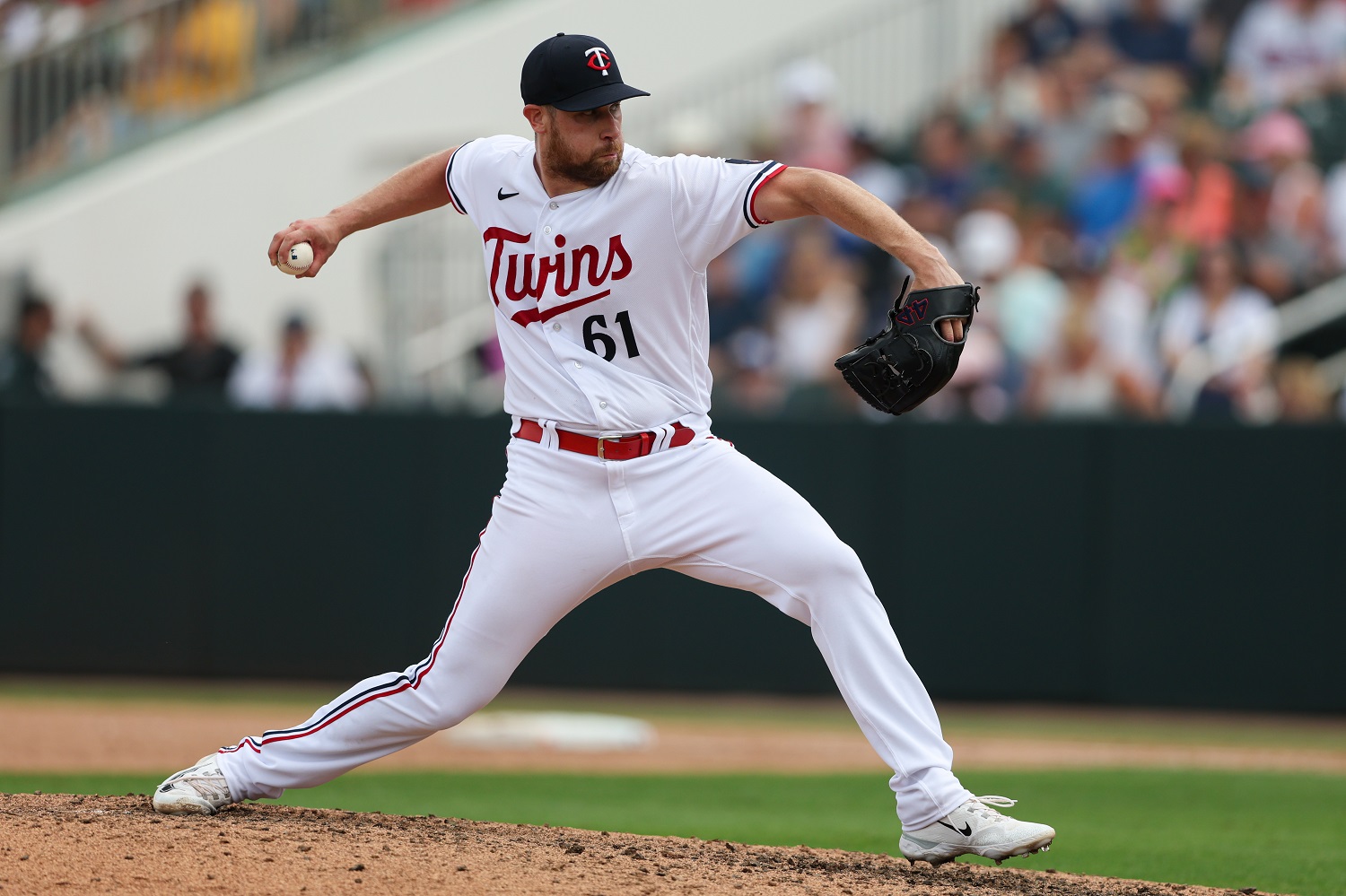 Image courtesy of © Nathan Ray Seebeck-USA TODAY Sports
With the Minnesota Twins having an open roster spot after optioning Bailey Ober back to Triple-A St. Paul on Monday, they have decided to use it on hard-throwing righty Brock Stewart. He was not on the 40-man roster, so the Twins chose to Designate RHP Trevor Megill for Assignment.
The 31-year-old's story is an interesting one, and when he takes the mound for the Twins, it will be the first time he's been on a big league mound since 2019.
Drafted by the Los Angeles Dodgers in the 6th round of the 2014 Major League Baseball draft, Stewart was taken out of Illinois State University. The former Redbird worked as a reliever in college and racked up strikeouts with strong velocity numbers. Los Angeles immediately tried him as a starter, and while the results were middling in 2015, he broke out in 2016.
Across 121 innings from Single-A to Triple-A in 2016, Stewart posted a sparkling 1.79 ERA with a 9.6 K/9. He made 21 starts and excelled at the upper levels of the farm. While that year didn't get him on any top-100 prospect lists, he vaulted up the Dodgers system and was now an arm with plenty of intrigue.
With the strong effort on the farm in 2016, Stewart was called up to the big leagues for his debut. He pitched 28 innings for the Dodgers, but was bit by the longball, allowing seven of them in that timeframe.
Working out of the Dodgers bullpen for the majority of 2017, Stewart saw plenty of success when it came to ERA. His 3.41 number was solid, but continuously he was walking a tightrope as the strikeouts dipped and the walks rose. A lackluster 2018 with the Dodgers meant his chances were running out, and by 2019 he found opportunity north of the border with Toronto. In 21 2/3 innings with the Blue Jays, Stewart posted an 8.31 ERA and was allowing a whopping 3.7 HR/9. At 27 years old, his career was at a crossroads.
Out of affiliated baseball during Covid, Stewart found run with the Chicago Deep Dish, an independent team playing in the City of Champions Cup. He turned in a strong 3.38 ERA and the strikeout numbers rebounded. Unfortunately, he blew out his arm in 2021 and underwent Tommy John surgery.
Signed by the Minnesota Twins last summer, Stewart was a prioritized minor league free agent as the organization brought him in to oversee his rehab. The righty made his organizational debut on August 23, 2022 working two innings in the Complex League. He then made three appearances for the Mighty Mussels before eventually finishing his season throwing 7 1/3 innings with the St. Paul Saints.
The results weren't good last year, but it was the first opportunity for him to get his feet wet following the long road back. Invited to big league spring training for Minnesota this year, Stewart threw 9 1/3 innings across Grapefruit League action. The results weren't ideal, but it was another building block in the process.
Having now worked 8 2/3 innings to start 2023 for the Saints, Stewart has been among the best relievers at Triple-A. His fastball velocity has sat in the upper 90's, which is a big jump from his 92.8 mph career average. He has a ridiculous 17/2 K/BB. Maybe most importantly, he has yet to allow a home run.
How manager Rocco Baldelli utilizes Stewart out of the Twins pen remains to be seen. He is not a traditional long man, although he has the ability to go multiple innings. He will obviously see most of his work in lower leverage, but this is a spot for Stewart to show he can hang and enjoy the hard work paying off. It has been a long road to get back, and you can imagine emotions will run high the first time the bullpen door swings open for him.