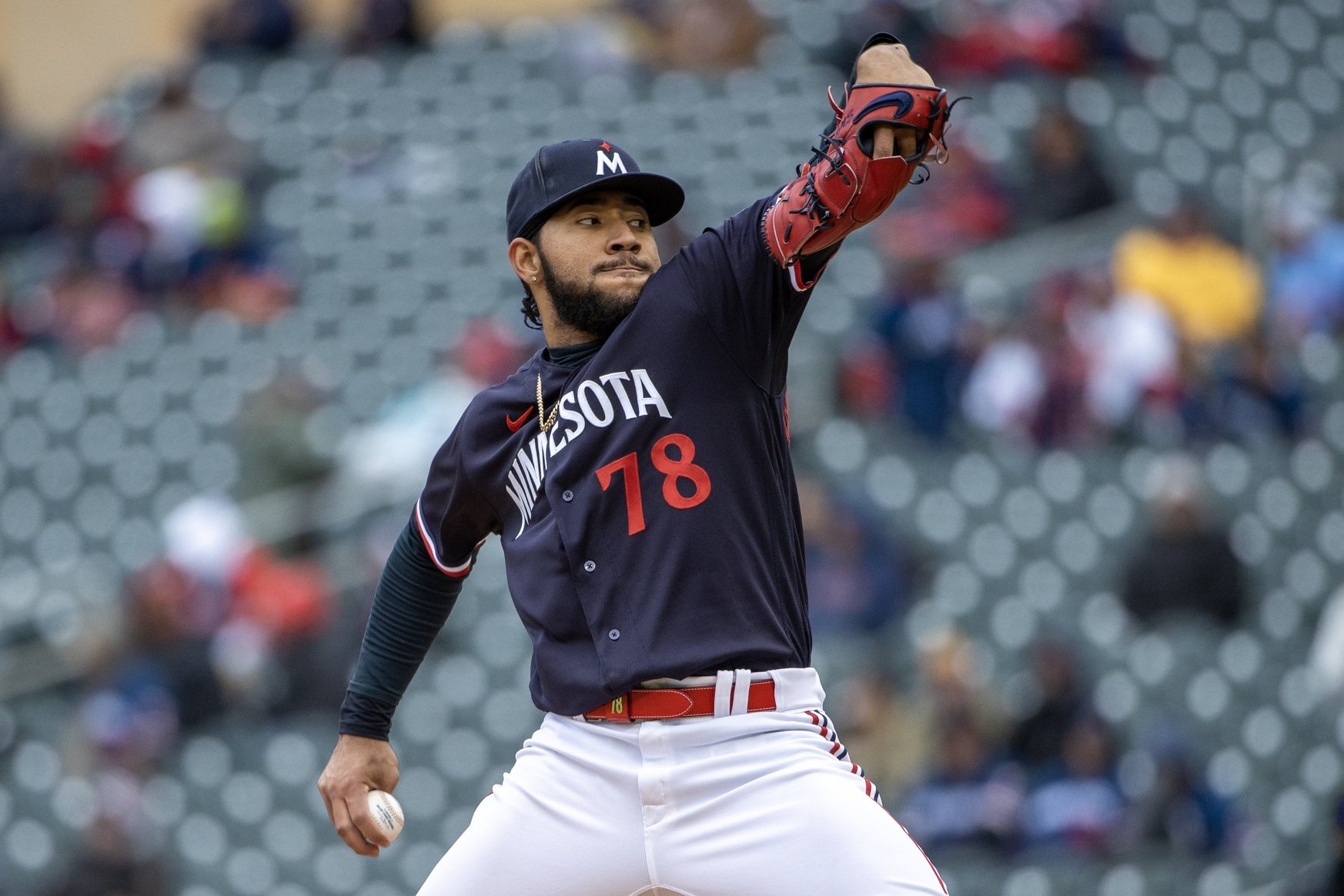 Image courtesy of Jesse Johnson-USA TODAY Sports
The Twins have been letting a lot of winnable games slip away. In terms of what they can do to change that, "improved relief pitching" ranks decidedly second behind "hitting better." But the latter, for now, simply needs to work itself out. The lineup is what it is.
The bullpen is more amorphous and fluid. Relief hierarchies are often shifting and – as we've seen – certain spots can be seen as interchangeable. The Twins have been churning through relievers at a high rate with two main goals: keeping fresh arms available to consume innings, and uncovering hidden gems to elevate into bigger roles.
The latter focus is growing more urgent as attrition and tribulation strike Minnesota's late-inning stable. While Jhoan Duran and Jorge López have generally been rock solid, stability is elusive elsewhere. 
Griffin Jax is continually fumbling in the bag in big spots. Caleb Thielbar and Jorge Alcalá are on the injured list. Emilio Pagán is ... Emilio Pagán. 
The Twins are experiencing an early payoff with one of their sleeper gambles, as Brock Stewart blossoms into a high-leverage performer. They're hoping they've got something in José De León, too, but the jury's still very much out there.
Having already spent those two bullets, what's left? Between the waiver claims, prospects, and wild cards, here are eight internal candidates to join the bullpen, in order of how appealing they are at this moment:
1. Oliver Ortega, RHP
The Twins claimed Ortega off waivers from the Angels in January, then DFA'ed him four days later, outrighting him to Triple-A after he went unclaimed. A nifty bit of roster maneuvering, and the result is that Ortega stands ready in the minors as a 26-year-old with considerable big-league experience.
In his first appearance for the Saints, on April 2nd, Ortega gave up two runs in one inning. Then, he spent a month on the injured list. Since being activated on May 3rd, he has allowed zero runs on three hits in 7 ⅓ innings. 
I'm not sure how much upside Ortega really offers – a Stewart-esque emergence is probably wishful thinking – but he throws hard and he's a solid piece of established depth. Last year with the Angels he posted a 3.71 ERA in 34 innings. The Twins would need to make room to re-add him to the 40-man roster.
2. Jordan Balazovic, RHP
Balazovic's comeback campaign got off to a rocky start in spring training, but now – after a slight delay – it does seem to be coming together. The big righty has looked very good at Triple-A, registering a 3.18 ERA and 12.3 K/9 rate in 22 ⅔ innings. He has allowed 17 hits and only two home runs.
His usage has been interesting. After building up at first with some short-burst outings, the Twins have basically stretched Balazovic out to the point where he's throwing 75 pitches and 3-to-4 innings each fifth or sixth day as a general cadence. They're clearly not grooming him for a traditional starting role, but Balazovic could easily enter the fold as a multi-inning power arm, which has immense value in today's game.
Of course, that's putting the cart before the horse. We're talking about a month's worth of good performance from a pitcher who struggled mightily in Triple-A throughout last year. But before that, he was widely viewed as the Twins' best pitching prospect. At 24, he looks ready, and since he's already on the 40-man roster it's a simple logistical arrangement.. 
With his outstanding performance in St. Paul, Balazovic may be punching his ticket to the majors. (And yes, as always, the pun was intended.)
3. Brent Headrick, LHP
By now Headrick is familiar – he's made a strong impression as an out-of-nowhere 40-man roster addition during the offseason who splashed onto the scene in April with some very strong long-relief outings. 
There's much to like about Headrick. He's handled everything that's been thrown at him with aplomb, rising from Single-A to the majors in a seamless flurry. He's got legitimate bat-missing stuff from the left side – especially valuable with Caleb Thielbar down and Jovani Moran failing to inspire confidence.
The reason Headrick isn't higher on this list is simply because the Twins seem committed to keeping him stretched as a starter, which is understandable given the attrition their rotation has faced. He's a nice piece to have around as a long reliever, but as we've seen, that's a tough practical proposition on the roster.
4. Blayne Enlow, RHP
Enlow was, ironically, the player who got designated for assignment when the Twins claimed Ortega back in January. It appeared the front office was giving up on its very first pitching development project – a high school star snagged with a big bonus in their inaugural draft (2017). 
It's been a winding road for Enlow, who was derailed by Tommy John surgery and the lost pandemic year. Maybe that's why he was able to pass through waivers and stay in the organization, much to the Twins' favor. 
Back at Double-A, he's been outstanding in a starting role, posting a 3.28 ERA and 47-to-10 K/BB ratio in 35 ⅔ innings. For now the Twins are keeping him in such a regimen – his last time out he threw 81 pitches, striking out 10 over 5 ⅓ innings of one-run ball. As we've established, starting depth is a good thing, but in Enlow's case, converting back to the bullpen offers the fastest and realest chance to make a short-term impact. 
The Twins could consider moving the 24-year-old up to Triple-A for a relief crash course ahead of a shot in the majors.
5. Simeon Woods Richardson, RHP
SWR is in the same category as Enlow, in that he's currently being treated as a standard starter but could have a quicker and more beneficial path to the majors via the bullpen. In Woods Richardson's case, the Twins might be more hesitant to enact such a role change – he's only 22, and still developing – but his stuff isn't really playing as a starter, as evidenced by a 6.49 ERA. 
Woods Richardson is on the 40-man roster. That creates a bit more urgency in finding a way you can use him, as opposed to dedicating more pure development time in the minors. His stuff is verifiably good but he doesn't seem to be quite harnessing it in the current role. It would be easier to set that aside and stay patient if Woods Richardson didn't have the clear potential to help address the major-league team's needs in a different capacity.
6. Cody Laweryson, RHP
The former 19th-round draft pick was mentioned by Cody Pirkl among his "deep dive" bullpen options during the weekend, and I'm inclined to list him here as well. As CP noted, Laweryson lacks the attributes of a prototypical high-caliber relief weapon – he doesn't throw that hard or wow you with his arsenal – but has consistently gotten results at every level thanks to a quirky delivery and pinpoint command.
I dunno, maybe some sort of Pat Neshek magic going on here. Laweryson is 25 and has the ability to provide length, routinely tossing multiple innings.
7. Ronny Henriquez, RHP
He bears mentioning because he's on the 40-man roster, but Henriquez – acquired alongside Isiah Kiner-Falefa in the Mitch Garver trade – has shown little to suggest he's ready to make a positive impact on the big-league club.
Since getting a late start due to a spring elbow injury, Henriquez has scuffled at St. Paul, allowing eight earned runs in 9 ⅓ innings for a 7.36 ERA. Right now he looks more like a potential DFA candidate than impact reinforcement.
8. Josh Winder, RHP
The same, sadly, can be said about Winder, who is also occupying a 40-man roster spot and spinning his wheels at Triple-A. He has a 9.69 ERA for the Saints and his control – such a key component of his previous success – has gone totally amiss. It's hard to believe Winder is fully healthy, because he doesn't resemble the pitcher we saw early last year, prior to the persistent shoulder issues.
The Twins don't have the luxury of being very patient. Winder is 26 and showing no positive signs. Other players – relievers, specifically – are vying for spots on the 40-man roster. That includes Ortega, Enlow, and Laweryson, who we've mentioned here, as well as Austin Brice, who was recently signed to a minor-league deal and brings a ton of MLB experience.