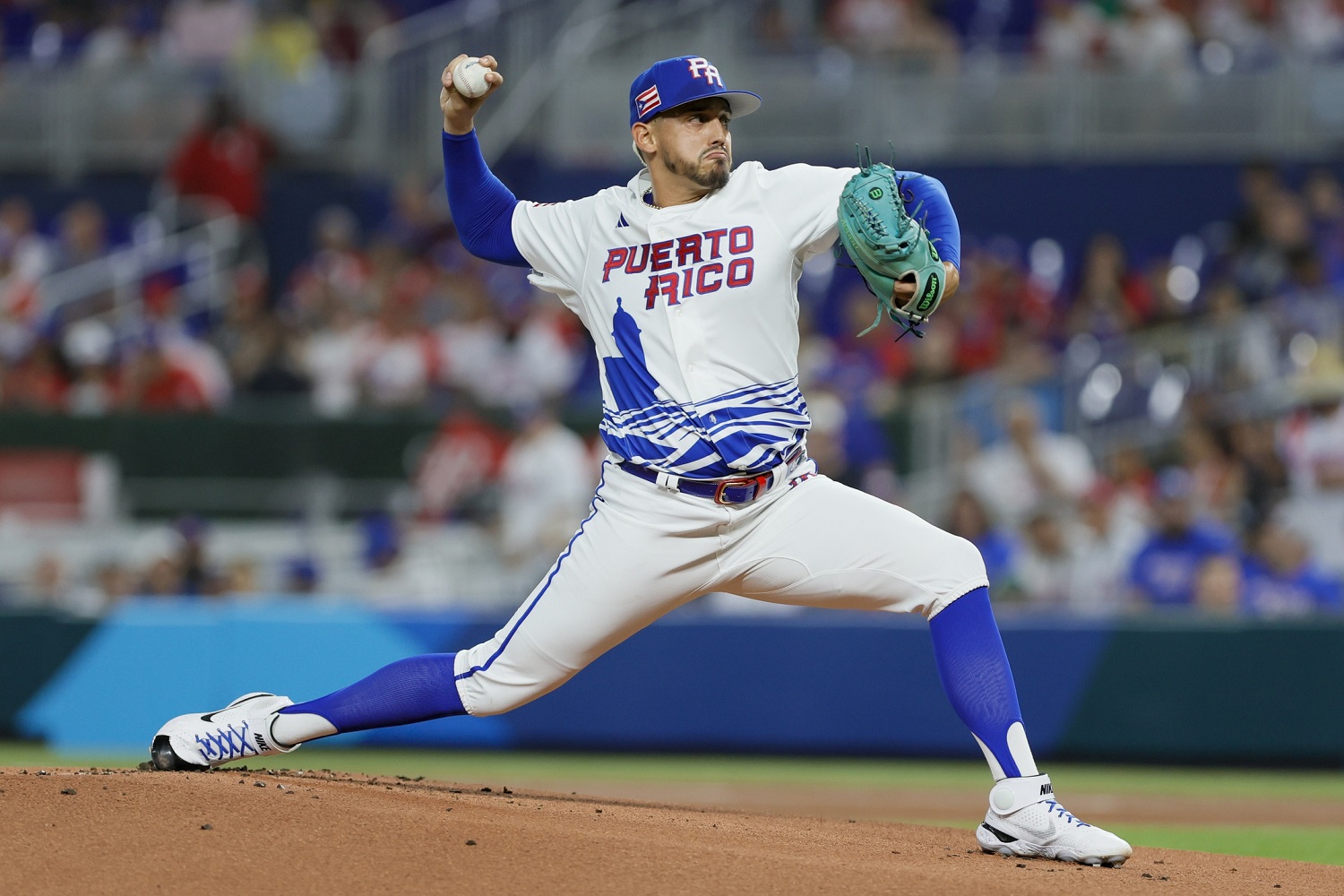 Image courtesy of Sam Navarro, USA TODAY Sports
The Twins finally got their guy! In January, the Twins quietly signed right-handed pitcher Jose De Leon to a minor-league contract and invited him to big-league spring training.
Yes, this is the same Jose De Leon that the Twins (and Twins fans) coveted back in 2016 when there were Brian Dozier-to-the-Dodgers rumors. The Twins were said to be very interested in the Puerto Rican right-hander, although they were also interested in the likes of Cody Bellinger and another player on a minor league deal with the Twins, RHP Brock Stewart (reportedly). 
On Tuesday night, De Leon made the start for Team Puerto Rico in their matchup against Team Israel. The right-hander started the very first Perfect Game in WBC history as Puerto Rico topped Israel 10-0 in eight innings. De Leon was dazzling. The 30-year-old tossed the first 5 2/3 innings. Obviously, he gave up no hits, walked none, had no errors behind him, and was completely in control. He had a WBC-record 10 strikeouts. 
De Leon showed a very good curveball, a very good slider, and effectively got swings and missed up in and above the zone. 
Team Israel has been sneakily good in recent international competitions. Their lineup in this game included former Twins infielder Danny Valencia, outfielders Joc Peterson and Alex Dickerson, catcher Ryan Lavarnway, and Cubs power prospect Matt Mervis. 
Yacksel Rios replaced De Leon with two outs in the sixth inning. De Leon was at 64 pitches, so he could have pitched to one more batter. Instead, manager Yadier Molina came out and took the ball. De Leon was able to walk off the field in Miami to a huge ovation. 
Edwin Diaz came on and pitched a perfect seventh inning. Duane Underwood pitched the eighth frame. The game ended in the bottom of the eighth inning when Enrique Hernandez singled to score Martin Maldonado to give Puerto Rico a 10-0 lead. With the Mercy Rules of the WBC, the Perfect Game was complete. 
So, where would Jose De Leon fit into the Twins starting pitcher depth chart?
Julien Leads Canada to Win
Team USA and Team Canada are about to start their WBC matchup. Canada's first WBC game came against Great Britain on Sunday afternoon. Twins infielder prospect Edouard Julien, a native of Quebec, was the leadoff hitter and second baseman. 
Great Britain had scored three runs in the top of the first and chased Guardians starter Cal Quantrill after just two outs. 
Julien stepped to the plate for the bottom of the first inning. He got a first-pitch fastball and launched it (110 mph) into the right field seats. While there have been 12 leadoff homers in WBC history, Julien's was the first to come on the first pitch. 
Maybe the British team heard scouting reports on Julien and didn't want to pitch to him after that. He walked the next four times he came to bat to get to Dodgers first baseman Freddie Freeman and Cardinals outfielder Tyler O'Neill. Canada won that game 18-8.
(Monday Night Update - Former Twins starter Lance Lynn has struck out Julien in his first two at-bats tonight. In his third at-bat of the night, Julien was facing Cardinals two-time All-Star pitcher Miles Mikolas. He beat the shift with a single to left field.) 
Pablo Shuts Down Puerto Rico
On Sunday afternoon in Miami, new Twins starting pitcher Pablo Lopez made the start for Team Venezuela against Puerto Rico in a game filled with current and former Twins players. 
Lopez was incredibly impressive, keeping the Puerto Rico batters completely off balance. He went 4 2/3 innings and gave up just one run on two hits. He added six strikeouts. He could have finished the fifth inning. He was at just 58 pitches (65 is the limit in Round 1). However, he was taken out to a standing ovation by many of the fans that watched him as a Marlin for the past four years. 
It may not surprise you that the one run that Lopez gave up came on a solo home run by former Twins outfielder Eddie Rosario. Jose Berrios started for Puerto Rico and was charged with six runs (5 earned) on five hits and two walks in one inning. Jovani Moran got three outs, two on strikeouts, though he also walked two batters. Jorge Lopez pitched a scoreless inning as well. 
TVS Tops Ohtani
Finally, former Twins prospect Todd Van Steensel has had a very interesting baseball career. He's been playing professional baseball for about 15 years. He reached Double-A with the Twins, and actually won a championship with the St. Paul Saints in one of their final seasons as an independent team. Van Steensel has been representing Team Australia for a long time too including previous WBCs. 
For the first time, Australia is advancing to the second round of the WBC. They are the second seed, behind Japan, in their pool, and will head to Taiwan for Round 2. 
Australia lost to Japan 7-1 over the weekend, but Van Steensel had a highlight. He faced, and struck out, Shohei Ohtani. To no one's surprise, he had a comical response to it. 
What have been your highlights from watching the WBC so far? Discuss in the COMMENTS below.