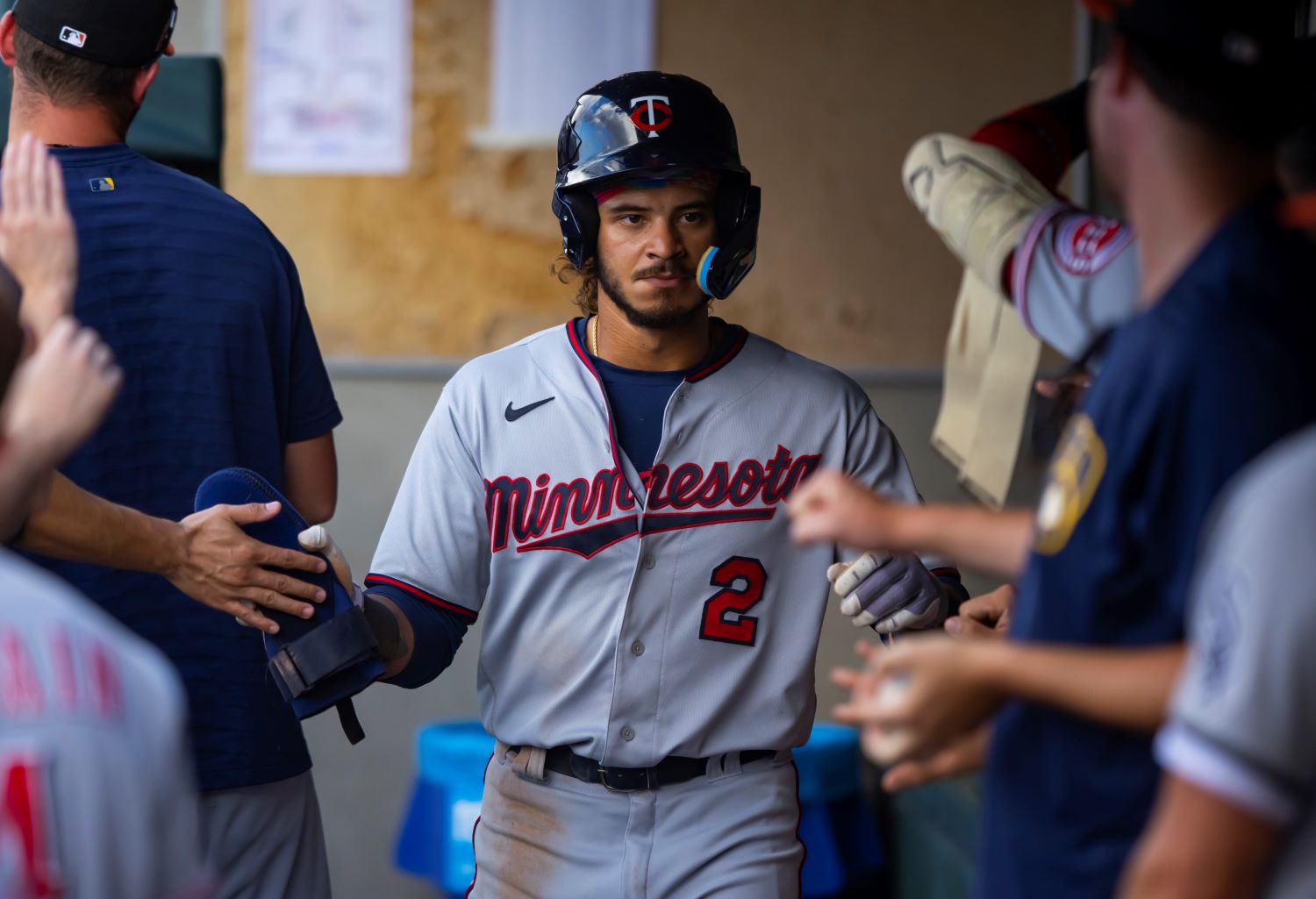 Image courtesy of Mark J. Rebilas-USA TODAY Sports
As we have seen the past two seasons, the Minnesota Twins have needed more than just their 26-man roster to get through the season. In fact, they have not only used their 40-man roster, but another 20+ players each year. That is the reason why we care so much about offseason minor-league signings, many of them will get an opportunity with the Twins at some time during the season. 
Here's a list of the 25 players invited to join the 40-man roster players in Ft. Myers for spring training:
Brooks Lee and Austin Martin are the two headline names. Lee, the Twins' 1st round pick last year, looks to rub elbows with major leaguers for the first time in his career. Martin, now playing in his second spring training, can prove that his AFL performance was not a fluke. Both players will fight for who can pick Carlos Correa's brain the most.
Beyond them are some exciting arms: Cody Laweryson—a gliding righty who struck out over 30% of batters at Double-A; Evan Sisk—a cross-bodied lefty reliever who owned a 1.57 ERA last season between Double-A and Triple-A; and Blayne Enlow, who cleared waivers on Friday and will be looking for a chance to re-establish himself as an impact arm. 
As the post notes, 13 players—Willi Castro (Tigers), Mark Contreras (Twins), Danny Coulombe (A's, Dodgers, Twins), José De Léon (Dodgers, Rays, Reds), Randy Dobnak (Twins), Grayson Greiner (Tigers, Diamondbacks), Ryan LaMarre (Red Sox, White Sox, Reds, Yankees, A's, Twins), Patrick Murphy (Blue Jays, Nationals), Chance Sisco (Orioles, Mets), Elliot Soto (Angels, Twins), Brock Stewart (Dodgers, Blue Jays), Tyler White (Astros and Dodgers), and Tony Wolters (Rockies, Cubs, Dodgers)—can claim previous major-league experience. There's a good chance a few of these players will impact the Twins in 2023. 
If you're looking for an Author's Choice list of players to keep an eye on, it goes as follows: Laweryson, Stewart, and Sisco. Laweryson, while lacking in prominent tools, punches people out with a tricky plane—an upward one, sorry Bert—and intimidating swan-like limbs. Stewart owns over 100 forgettable innings with the Dodgers, but his fastball was sitting in the mid-90s last season, making him one of the first choices when a reliever inevitably bites it. Cisco is a former top prospect whose sheen hasn't sparkled in years. He earned surprisingly few major league opportunities, and a fresh start could produce better results for the catcher.
Certainly more players will be invited in the coming weeks, but who would you say are the leading candidates for Sire of Ft. Myers based on this list? Comment below.