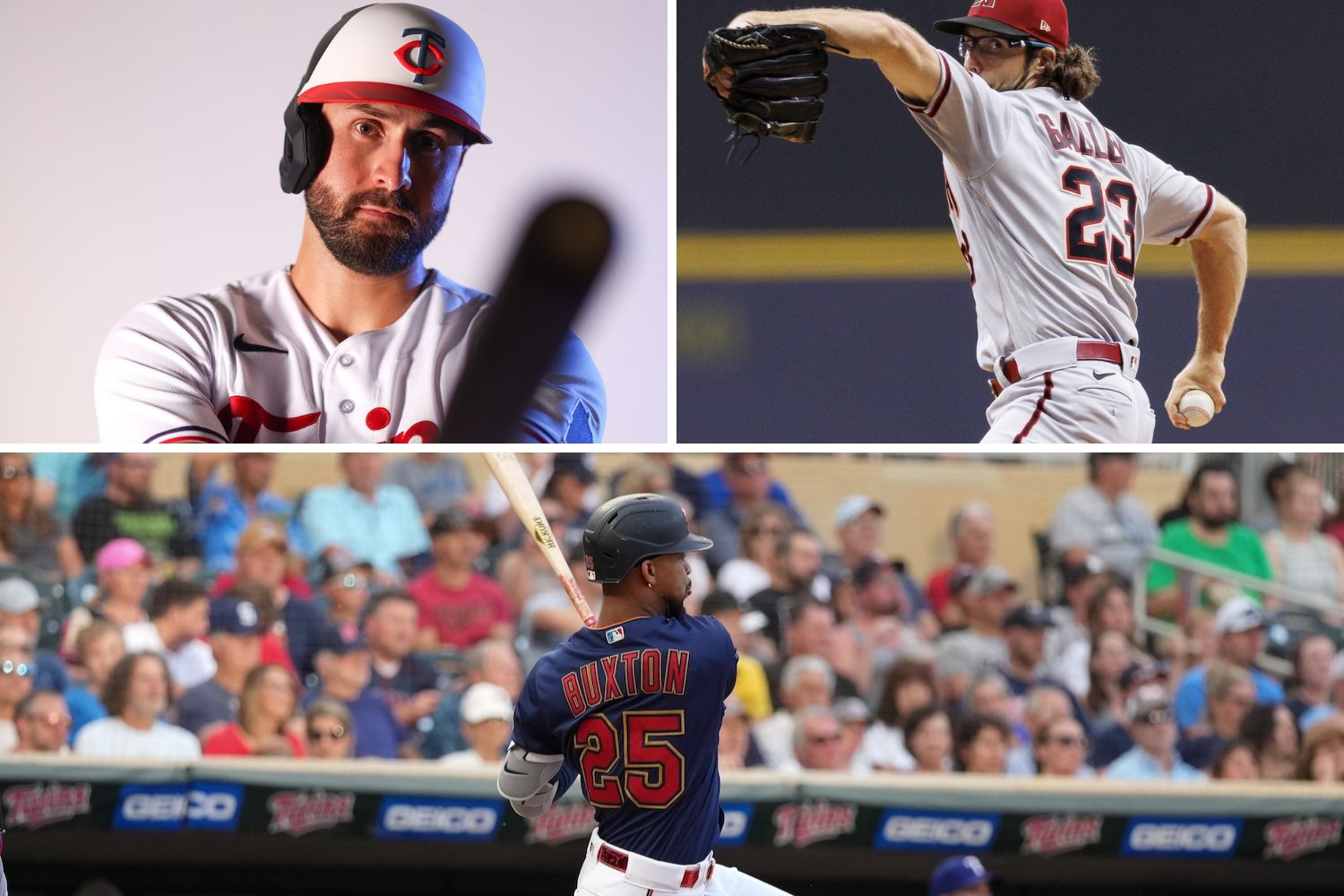 Image courtesy of Nathan Ray Seebeck, Jeff Hanisch, Jordan Johnson – USA Today Sports
After reading one article on quantum physics, I decided I was prepared to build the first-ever functional time machine. I should have waited and watched how the 2023 Minnesota Twins season played out, but I just had to know now! I worked tirelessly constructing a device that could vault me to October to get a peak at how the season shook out. 
What I found may surprise some, so without further ado, here are five headlines from the Minnesota Twins 2023 season.
Joey Gallo Receives MVP Consideration
One of the more highly criticized moves of the offseason was the Twins signing Joey Gallo to a one-year contract. Despite being a two-time all-star for the Texas Rangers in 2019 and 2021, Gallo's career .199 batting average has turned off many of the more "traditional" style Twins fans. However, I am here to tell you that in 2023 Joey Gallo will exceed all expectations and find himself receiving MVP votes at the end of the season. With the new limitations of shifts, Gallo's batting average climbs to .234, and he continues to draw walks at a clip higher than 90% of the league-leading to a .398 OBP. Gallo also belts 38 home runs which are ... second most on the team?
Buxton Hammers 40 Bombs
Byron Buxton's health has been his Achilles heel throughout his career, playing in more than 92 games only once. However, Buxton's fortune changes in 2023, as he appears in 126 games for the Twins. Even though only 85 of those games are in center field, Buxton has a massive impact on the club, contributing 8.4 WAR. Buxton improves his 97th percentile rank in average exit velocity in 2022, bumping up to the 99th in 2023. Buxton remains one of the most elite power hitters in the game, belting 41 home runs.
Pablo López Flashes Ace Potential
When the Minnesota Twins acquired López for Luis Arraez in a trade with the Miami Marlins, the thought was that López would best fit the rotation as a number two or three pitcher. Throughout the offseason, he worked on making adjustments to his pitches. He reshaped his slider to become more of a sweeper and worked on his cutter. Both these pitches work very well in 2023 and accompany his elite changeup nicely. His new pitch mix eventually leads López to posting a 12-4 record with a 3.24 ERA. I'm sure this news is music to Twins' fans' ears, but the following headline may be a bit more controversial.
Twins Go All in on Gallen at the Deadline
When the Minnesota Twins enter the trade deadline in first place in the AL Central for a second straight year, they have to choose an aggressive push, similar to last year, or mainly standing still as they did in 2019. This time, the Twins push every last chip in the middle of the table in pursuit of a championship. On July 31st, they acquire Zac Gallen from the Arizona Diamondbacks in exchange for Brooks Lee and Bailey Ober. The Twins use the depth they've built in the rotation and in the infield to acquire the ace they have been waiting for. Gallen gives the Twins a powerful arm they can lean on throughout the playoff push, plus team control through 2025.
A Star is Born
While the Twins' injury situation in 2023 is much less drastic than in 2022, they still experience some bumps and bruises. This causes prospect Edouard Julien to be called up to the major league club as an extra utility man. Julien continues to display a high-level OBP skill while adding extra power to his profile. He has a stellar campaign and comes in third place in the AL Rookie of the Year voting behind Gunnar Henderson of the Oriels and Oscar Colas of the White Sox.
Unfortunately, due to my lack of knowledge and experience, my time machine only brought me to October 1st, so I could not see how the Twins fared in the playoffs. I can tell you they exceeded regular-season expectations, going 94-68, winning the American League Central, and securing the number three seed in the AL behind the Astros and Yankees. 
One thing is sure; I am very excited to watch the 2023 Minnesota Twins!
What are your bold predictions for 2023? Let me know below! Go, Twins!