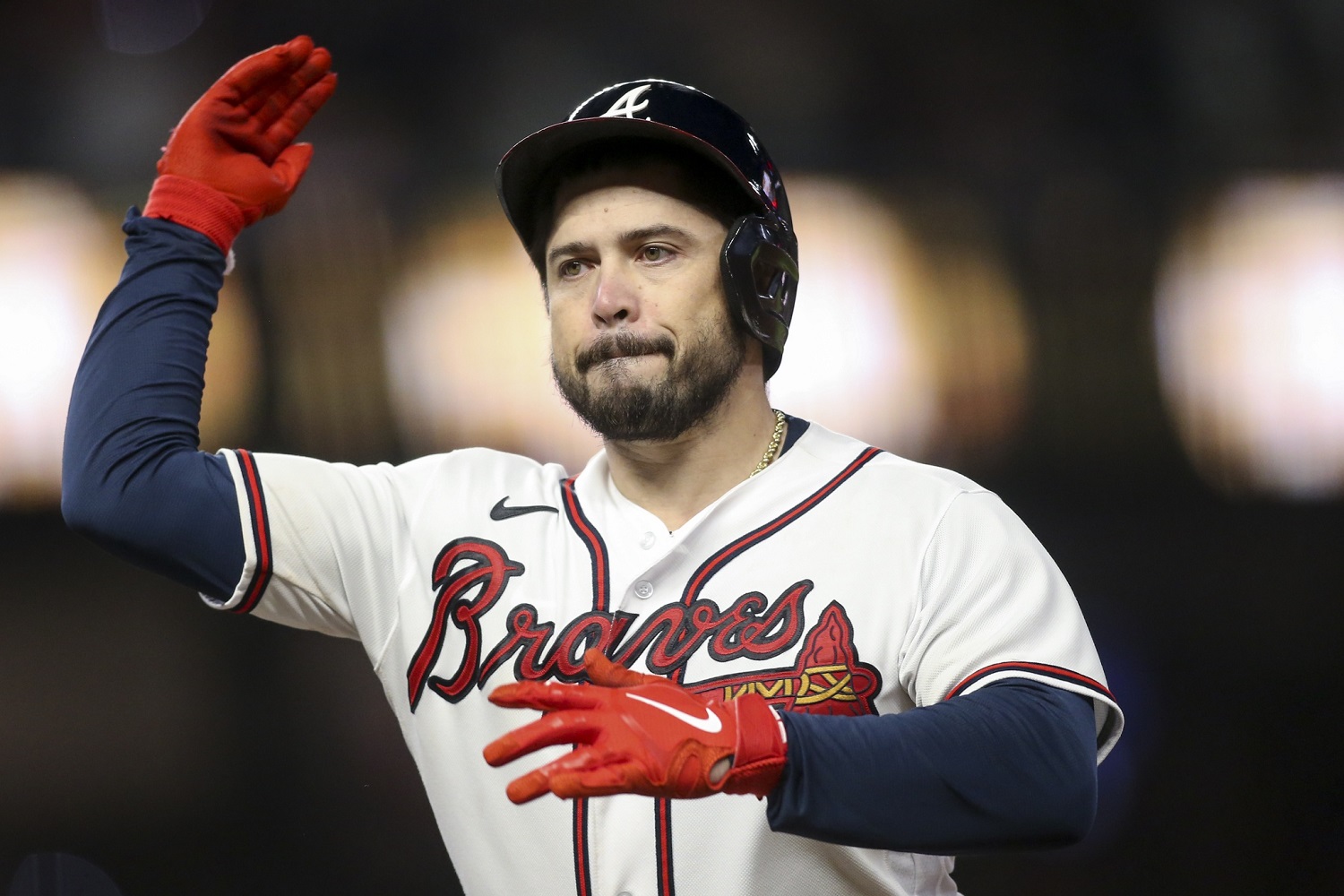 Image courtesy of Brett Davis-USA TODAY Sports
The Twins still have plenty of confidence in Ryan Jeffers, but the club prefers to have catchers split time behind the plate. Last season, Jeffers hit .208/.285/.363 (.648) with ten doubles and seven home runs. However, those numbers only tell part of the story. Jeffers destroys left-handed pitching with a .909 OPS against lefties in 2022. The Twins will still use Jeffers against right-handed pitchers, but adding a left-handed hitting catcher would be the team's preference. Finding a southpaw backstop might be a challenging proposition. 

MLB's Winter Meetings allow front offices to continue trade conversations, and the Twins have already discussed trading for catching depth. According to KSTP's Darren Wolfson, Minnesota has spoken to the Athletics, Blue Jays, and Braves about their catching depth. Let's reevaluate the trade options on each of these clubs. 

Oakland: Sean Murphy 
Murphy's name has swirled in the rumor mill over the last couple of days, with reports saying a deal was getting close. Atlanta (see below) was rumored to be involved, but the Braves have made it clear they are out of the running. Oakland wants to get major league ready players instead of prospects for Murphy, and they have shown the ability to be patient in the past. In 2022, Murphy hit .250/332/.426 (.759) with 37 doubles and 18 home runs in 148 games. He started 111 games at catcher last season and ranked ninth in SABR's Defensive Index. Murphy also ranks in the 96th percentile for pop time to second base and in the 86th percentile for framing. He is under team control for three more seasons, so acquiring him will take quite the offer.   
Blue Jays: Danny Jansen, Alejandro Kirk and Gabriel Moreno
The Blue Jays have a surplus of big-league-caliber catchers on their roster, so it makes sense for the club to deal one of them. Jansen posted a 141 OPS+ in 72 games last season, but he isn't as strong behind the plate as some of the other trade options. Kirk is coming off an All-Star season where he accumulated 3.9 WAR, so it will be hard to pry him away from the Blue Jays. Moreno had an .806 OPS at Triple-A last season and hit .319/.356/.377 (.733) in 25 big-league games. The Blue Jays may want to hang on to their young catchers if a player becomes injured, but the Twins may have something to help Toronto's roster.  

Atlanta: Travis d'Arnaud 
Like the Blue Jays, the Braves have three MLB-caliber catchers on their 40-man roster. William Contreras broke out last season, which might allow the team to trade a veteran like d'Arnaud. Atlanta owes him $8 million in 2023, and there is an $8 million team option for 2024. Last season, he hit .268/.319/.472 (.791) with 25 doubles and 18 home runs on the way to his first All-Star selection. He is an above-average pitch framer (76th percentile) and ranked second among NL catchers in SABR's Defensive Index. If Atlanta acquired Murphy, d'Arnaud might be easier for another team to acquire. 
The Twins clearly need to add to the organization's catching depth. Of the names mentioned above, d'Arnaud is a good target for the Twins. He doesn't form a natural platoon with Jeffers, but left-handed catchers can be rare. His years of team control and past offensive performance make him intriguing, especially if the Twins want an upgrade behind the plate. 

Will the Twins trade for a catcher? Which name is the most logical trade target? Leave a COMMENT and start the discussion.