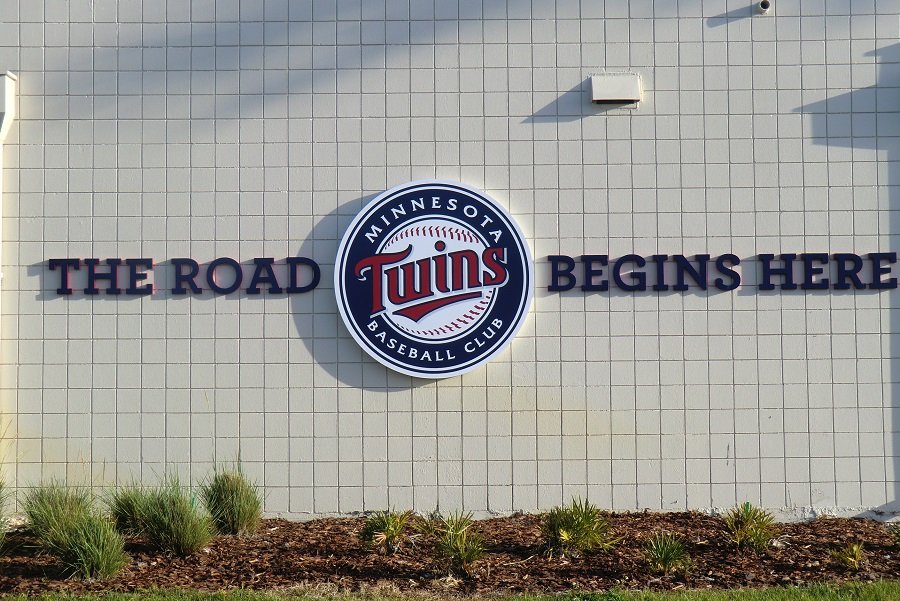 Image courtesy of Seth Stohs, Twins Daily
I enjoy following the Twins minor-league system. I've been doing that for a minimum of 20 years, and really even further back. Why? Well, even when the Twins are struggling, I can follow four more box scores and keep up with over 100 Twins prospects. Well, then in early June when the short-season, rookie leagues begin, there are two more teams and nearly 60 more prospects to keep up with. 
The FCL roster includes several of the Twins top young prospects, like 17 and 18 year olds who were signed to seven-digit signing bonuses six months ago. Soon, you will see the Twins Daily Minor League Week in Review which will discuss the good, the bad and the ugly. That will be limited to the four full-season this week. But we would love your input. Is it better to post a Twins Minor League Report on Monday's for the two Complex teams, or do you think it should be included in the Week in Review? Let us know below. 
Let's get to the report. As always, please feel free to discuss and ask questions. 
TRANSACTIONS
Austin Martin began a rehab assignment with the FCL Twins.  
RHP Miguelangel Boadas has been promoted from the FCL to Fort Myers. 
Infielder Jankel Ortiz and outfielder Argenis Jimenez have been placed on the FCL Twins 7-Day IL. 
RHPs Pierson Ohl and Regi Grace promoted from Cedar Rapids to Wichita. 
RHP Cory Lewis promoted from Fort Myers to Cedar Rapids. 
RHP Orlando Rodriguez activated from Cedar Rapids' Development List. 
Wichita placed RHP Chad Donato on the Development List, and RHP Seth Nordlin was released. 
COMPLEX THOUGHTS from FLORIDA
FCL Twins 4, FCL Rays 1 
Box Score
Opening Day for the Florida Complex League Twins was on Monday at noon local time at Bill Smith Field in Fort Myers. The roster certainly has some intriguing players. 
The first thing to point out is that Austin Martin played in his first game since early in spring training. He has been rehabbing an elbow injury. He batted second and played second base. He grounded out to shortstop in his first plate appearance. Then in the third inning, he came up and hit a solo home run. He came to the plate one more time and was hit by a pitch. He added a stolen base. His game was complete soon after, replaced by Isaac Pena who singled in his line at-bat. He scored the team's fourth run on a sacrifice fly off the bat of Jose Rodriguez. 
The offensive star of the game was Venezuelan catcher Daniel Pena who went 3-for-3. In the fourth inning, the 18-year-old hit a two-run homer to increase the Twins lead to 3-1. 
19-year-old lefty Cesar Lares posted a 2.93 ERA in 11 starts in the DSL last year (with 71 strikeouts in 46 innings). On Monday, he got the nod to make the team's first start. Lares gave up one run on two hits and two walks in four innings. He had an impressive nine strikeouts.
Juan Mercedes then struck out five batters over three scoreless innings. He gave up one hit and one walk. Yon Landaeta walked two and struck out two batters in a scoreless inning.  24-year-old Ricardo Velez struck out the side in a perfect ninth to record the save. 
Velez signed with the Twins in July of 2021 as an undrafted free agent from the University of Science and Arts of Oklahoma, an NAIA school. He had been playing in the United Shore League. He has pitched a lot the last couple of offseasons in the Puerto Rican Winter League. 
Byron Chourio, who came to the Twins in the Luis Arraez/Pablo Lopez deal, batted fifth and played center field. He went 1-for-4 with two strikeouts. Bryan Acuna batted fourth and played shortstop. Ronald and Luisangel's younger brother went 0-for-4 with three strikeouts. 
Finally, the Twins 14th round pick last year was Florida prep infielder Omari Daniel. He didn't play in 2022 because he had Tommy John surgery. So Monday was his professional debut. He batted ninth and played third base. He went 0-for-3 with a walk and a strikeout. 
COMPLEX THOUGHTS from BOCA CHICA
DSL Twins 1, DSL Giants Orange 5
Box Score
The DSL Twins began their season with a home game. Ledwin Taveras started and gave up three runs in the first inning. The 18-year-old responded with two scoreless innings before two unearned runs scored in the fourth frame. The error was his own. In four innings, he gave up five runs (3 earned) on eight hits and two walks. He also notched seven strikeouts. 
Eduardo Soriano (20) came on and tossed three scoreless innings. He gave up four hits and no walks, and he struck out four batters. Eider Machuca (18) worked the final two innings without further runs scoring. He gave up one hit, walked one, and hit one batter. He had three strikeouts. 
Meanwhile, the DSL bats were quiet in their first game of the season. Hendry Chivilli had two of the team's four hits in the game. He played shortstop and hit leadoff. The 17-year-old signed with the Twins in January for $2.1 million. Yilber Herrera had the lone extra base hit, a double, and added the team's lone walk in the game. He also stole a base. Moises Lopez, who turned 17 a month ago, had the team's lone RBI, a single to score Herrera. Lopez also stole a base and was hit by a pitch. 
The Twins top international signing in January was outfielder Ariel Castro who reportedly received a $2.4 million bonus. He batted third and played center field. He went 0-for-4 with a strikeout. The third seven-digit signing bonus the Twins gave in January went to catcher Carlos Silva, who got $1.1 million. On Opening Day, he batted seventh and was the team's DH. He went 0-for-3 with a strikeout.  
TWINS DAILY MINOR LEAGUE PLAYERS OF THE DAY
Pitcher of the Day – Cesar Lares (FCL) - 4 IP, 2 H, 1 R, 2 BB, 9 K.
Hitter of the Day – Daniel Pena (FCL) - 3-for-3, HR(1), R, 2 RBI
PROSPECT SUMMARY
Check out the Prospect Tracker for much more on the new Twins Top 20 prospects after seeing how they did on Monday.

#10 - Yasser Mercedes (EST) - 0-for-5, K
#11 - Austin Martin (St. Paul) - 1-for-2, HBP, HR(1), R, RBI, E (played 2B)
#18 - Jose Rodriguez (EST) - 1-for-3, SF, RBI, K
TUESDAY'S SCHEDULE AND PITCHING PROBABLES
Iowa @ St. Paul (7:07 PM CST) - RHP Jordan Balazovic (0-1, 4.45 ERA)
Wichita @ San Antonio (7:05 PM CST) - TBD
Cedar Rapids @ Dayton (6:05 PM CST) - RHP Kyle Jones (3-3, 4.70 ERA)
Clearwater @ Fort Myers (6:00 PM CST) - TBD
FCL Twins @ FCL Rays (11:00AM CST) - TBD
DSL Twins @ DSL Phillies Red (10:00AM CST) - TBD
Please feel free to ask questions and discuss Monday's Complex League Opening Day games!