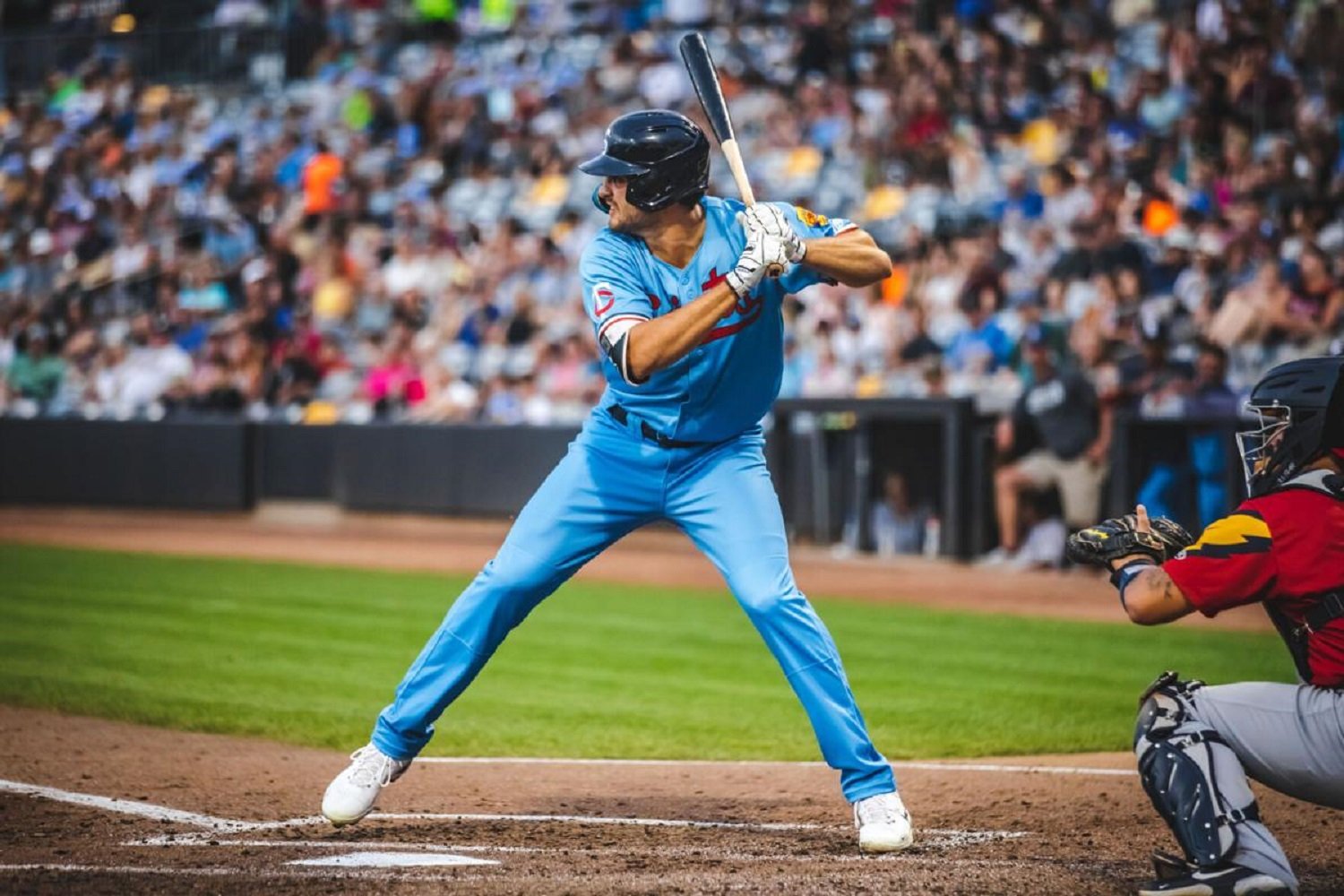 Image courtesy of Rob Thompson, St. Paul Saints (photo of Matt Wallner)
TRANSACTIONS
The St. Paul Saints received two major league pitchers on rehab assignments before Tuesday's game. RHP Kenta Maeda made the start and LHP Caleb Thielbar followed him out of the bullpen.
Ricardo Olivar was placed on the 7-Day IL with a hamstring strain. He was also named the Florida State League Player of the Week. In five games last week, he went 9-for-18 with two doubles, a homer and three RBI. 
They also received OF Gilberto Celestino on a rehab assignment.
SAINTS SENTINEL
St. Paul 9, Buffalo 1
Box Score
The St. Paul Saints got on the scoreboard in the first inning when Andrew Stevenson reached base on an error, stole his 17th base of the season (also his 18th later in the game), and was promptly driven in by a Jose Miranda single.
Already ahead in the game, Kenta Maeda went to work in his first start of a rehab assignment. He struck out the side in the first, getting all three swinging, and worked around a two-out walk in the second by picking up his fourth K of the game to end his outing. Of his 29 pitches, 16 went for strikes (55%), and he topped out at 91 MPH with his fastball.
The second major league-rehabbing pitcher, Caleb Thielbar, then got the third inning. He allowed a leadoff single, but retired the next three hitters, including one with a strikeout. 
When Brent Headrick came on for the fourth inning, that made it three Saints pitchers who have appeared in the majors this season that the Bison's were forced to face. They didn't get anything going against Headrick until the seventh, when they strung together three straight singles to cut the Saints lead in half.
The Saints got their second run in the top of the sixth when Mark Contreras followed Matt Wallner's double with an RBI single.
St. Paul tacked on two more insurance runs in the eighth thanks to an RBI triple from Wallner, and an RBI single from Hernan Perez to make it 4-1.
Headrick finished five innings and allowed just one run on five hits while striking out seven in a strong piggy-back effort to the rehabbers. He threw 87 pitches, with 54 going for strikes (62%), including a solid 16 swinging.
In the top of the ninth, the pieces of the lineup with major league experience continued their assault and broke the game open. With the bases loaded, Miranda delivered a two-RBI single, and was followed by a three-run blast from Wallner.
So I don't leave anyone out who has experience with the Twins, Kyle Garlick DH'd in the game, but was 0-for-5, and Ryan LaMarre left the game with an injury in the second inning after reaching base on an error.
Oliver Ortega closed out the win with a scoreless bottom of the ninth. He walked the leadoff man and allowed a two-out single, but struck out one and kept Buffalo scoreless to seal the victory. 
WIND SURGE WISDOM
Tulsa 9, Wichita 8
Box Score
Wichita starter Blayne Enlow entered this game looking to continue his solid start to the season, where he has amassed a 2-1 record with a 3.02 ERA in eight starts. In his last two outings, he had allowed just one run while striking out ten, followed by one run allowed when striking out just one.
He cruised for the first four innings, retiring ten in a row at one point with multiple strikeouts in each inning, including the side in the fourth.
Then the fifth inning happened. 
A leadoff walk was followed by a two-run home run for the Drillers first runs of the game, then another walk was followed by a botched catch at second base on a double-play ball that would have helped Enlow out of danger. Instead, two batters later, he picked up another strikeout for the innings first out, and allowed a single to end his night.
Hunter McMahon came on and promptly gave up a three-run homer to tie the game at six, and Enlow's pitching line turned into a weird one. In all, Enlow went 4 1/3 innings, allowing five runs (just two earned) on three hits and two walks, while tying his career-high with 10 strikeouts.
Wichita had built their 6-0 lead with a big first inning. The first five hitters of the game reached base, with Pat Winkel delivering a two-run triple, and Alex Isola crushing a two-run homer, his seventh of the season.
Out of the bullpen for the Wind Surge McMahon went 1 2/3 innings, allowing one earned run on three hits, one walk, and struck out two. Michael Boyle  pitched a scoreless inning, giving up one hit and striking out two. Francis Peguero gave up two earned runs on three hits and a walk in his lone inning. Denny Bentley finished off the final inning, allowing one earned run on a hit and walk.
Wichita made an effort at a comeback in the bottom of the ninth. Brooks Lee led off the inning with his second double of the game, and his 16th of the season which leads the Texas League. Two batters later Yunior Severino hit his 11th home run of the season, cutting the Tulsa lead to one. DaShawn Keirsey Jr. extended the inning, and his seven-game hitting streak with a single, but a popup from Jake Rucker ended their attempt.
The Wind Surge got multiple hits from Yoyner Fajardo (2-for-5, R, K), Lee (2-for-3, 2 R, 2 2B, RBI, BB, K), Winkel (2-for-5, R, 3B, 3 RBI, 2 K), and Severino (3-for-4, R, 2B, HR, 2 RBI, BB, K). Alerick Soularie drew three walks and scored two runs.
KERNELS NUGGETS
Cedar Rapids 5, Lansing 4
Box Score
The Kernels sent promising left-hander Jaylen Nowlin to the bump to start their series with the Lugnuts, and he delivered a quality outing. Two of the six hits he allowed were solo home runs, but when you scatter the other four singles and one walk, you will still end up with a pretty good pitching line. He allowed three runs on six total hits, and struck out four in his six innings. Of his 83 pitches, 53 went for strikes (64%). Both of those home runs came on the first pitch of an inning, so the Lansing coaches may have caught onto something as the game progressed.
The Kernels tied the game at one in the top of the third when Misael Urbina drew a walk to lead off the inning, and was later driven in from second on a two-out single from Tanner Schobel.
Down 3-1 in the top of the sixth, Jefferson Morales led off the frame with a double, and scored on a single from Emmanuel Rodriguez two batters later.
Heading into the eighth, it was 4-2 Lugnuts, but a two-out rally pulled them within one on a Ben Ross single, then in the ninth an error on a single from Schobel plated the tying and go-ahead runs.
Charlie Neuweiler was the first reliever for the Kernels, and he gave up another solo home run to the first hitter he faced, but also delivered a scoreless eighth. He allowed three hits and struck out two.
Regi Grace then came on for the save opportunity and set Lansing down in order, getting a strikeout to punctuate the comeback. It is Grace's fifth save of the season and could be due for a promotion soon. In 16 appearances so far this year, he's struck out 26 in 21 1/3 innings, along with a 1.27 ERA, 0.70 WHIP, and sub .430 OPS allowed. 
Schobel led the way on offense by going 3-for-5 and driving in two. Rodriguez was 1-for-4 with a run scored, RBI, and a walk. Morales' double was the only extra-base hit for Cedar Rapids, but they were 4-for-9 with runners in scoring position as a team compared to the 1-for-8 effort from their hosts.
MUSSEL MATTERS
St. Lucie 5, Fort Myers 6
Box Score
Lefty Develson Aria got the start for the Mighty Mussels in Game 1 versus the Mets this week, and he made himself work a bit harder than he would have liked. Although he gave up just three runs, they came in only four innings. He allowed three hits, walked four, and struck out three. His pitch count got ran up to 75, with just 39 going for strikes (52%).
Fort Myers got on the scoreboard in the bottom of the fourth, when Danny De Andrade drilled his second home run of the season, a two-run shot that cut the Mets lead to one.
After Aria's exit, the Mighty Mussels got 1 2/3 innings from Samuel Perez, who allowed one run on one hit and two walks while striking out one.
The home team got a rally started in the bottom of the sixth thanks to Mikey Perez, who took over for the rehabbing Gilberto Celestino, and led off the inning with a single, stole second and third base, and raced home after a throwing error from the catcher. Later in the frame, Maddux Houghton singled in front of Dylan Neuse's first home run of the season that gave them a 5-4 lead. Perez was responsible for their final run of the game in the seventh as well, when his RBI-double gave them a needed cushion.
Johnathan Lavallee picked up the win with two solid innings, allowing two hits, one unearned run, and punching out five Mets hitters. A.J. Labas picked up his first save of the year by pitching the final 1 1/3 innings, walking two and striking out two.
Perez (2-for-2, R, 2B, RBI, 2 SB) and Neuse (2-for-3, R, 2B, HR, 2 RBI, BB) led the way for the Mighty Mussels offense with multiple hits. Celestino finished 1-for-2 with a run scored in the first game of his rehab, playing five innings total.
TWINS DAILY MINOR LEAGUE PLAYERS OF THE DAY
Pitcher of the Day - Brent Headrick, St. Paul Saints (W, 5 IP, 5 H, 1 ER, 7 K)
Hitter of the Day - Matt Wallner, St. Paul Saints (3-for-5, 3 R, 2B, 3B, HR, 4 RBI)
PROSPECT SUMMARY
#1 - Brooks Lee (Wichita) - 2-for-3, 2 R, 2 2B, RBI, BB, K
#2 - Royce Lewis (Minnesota) - 1-for-4, R, 2B, 3 K
#3 - Emmanuel Rodriguez (Cedar Rapids) - 1-for-4, R, RBI, BB, K
#4 - Edouard Julien (Minnesota) - 1-for-4
#9 - Matt Wallner (St. Paul) - 3-for-5, 3 R, 2B, 3B, HR, 4 RBI
#12 - Jose Salas (Cedar Rapids) - 1-for-4, R
#13 - Noah Miller (Cedar Rapids) - 0-for-3, BB
#15 - Brent Headrick (St. Paul) - W, 5 IP, 5 H, 1 ER, 7 K
#17 - Blayne Enlow (Wichita) - 4 1/3 IP, 3 H, 5 R (2 earned), 2 BB, 10 K
#19 - Yunior Severino (Wichita) - 3-for-4, R, 2B, HR, 2 RBI, BB, K 
WEDNESDAY'S PROBABLE STARTERS
St. Paul @ Buffalo (12:05 PM CDT) - RHP Aaron Sanchez (2-4, 4.17 ERA)
Tulsa @ Wichita (7:05 PM CDT) - RHP Carlos Luna (0-3, 5.68 ERA)
Cedar Rapids @ Lansing (10:05 AM CDT) - RHP Kyle Jones (2-3, 5.13 ERA)
St. Lucie @ Fort Myers (6:00 PM CDT) - RHP C.J. Culpepper (1-2, 3.08 ERA)
Please feel free to ask questions and discuss Tuesday's games!