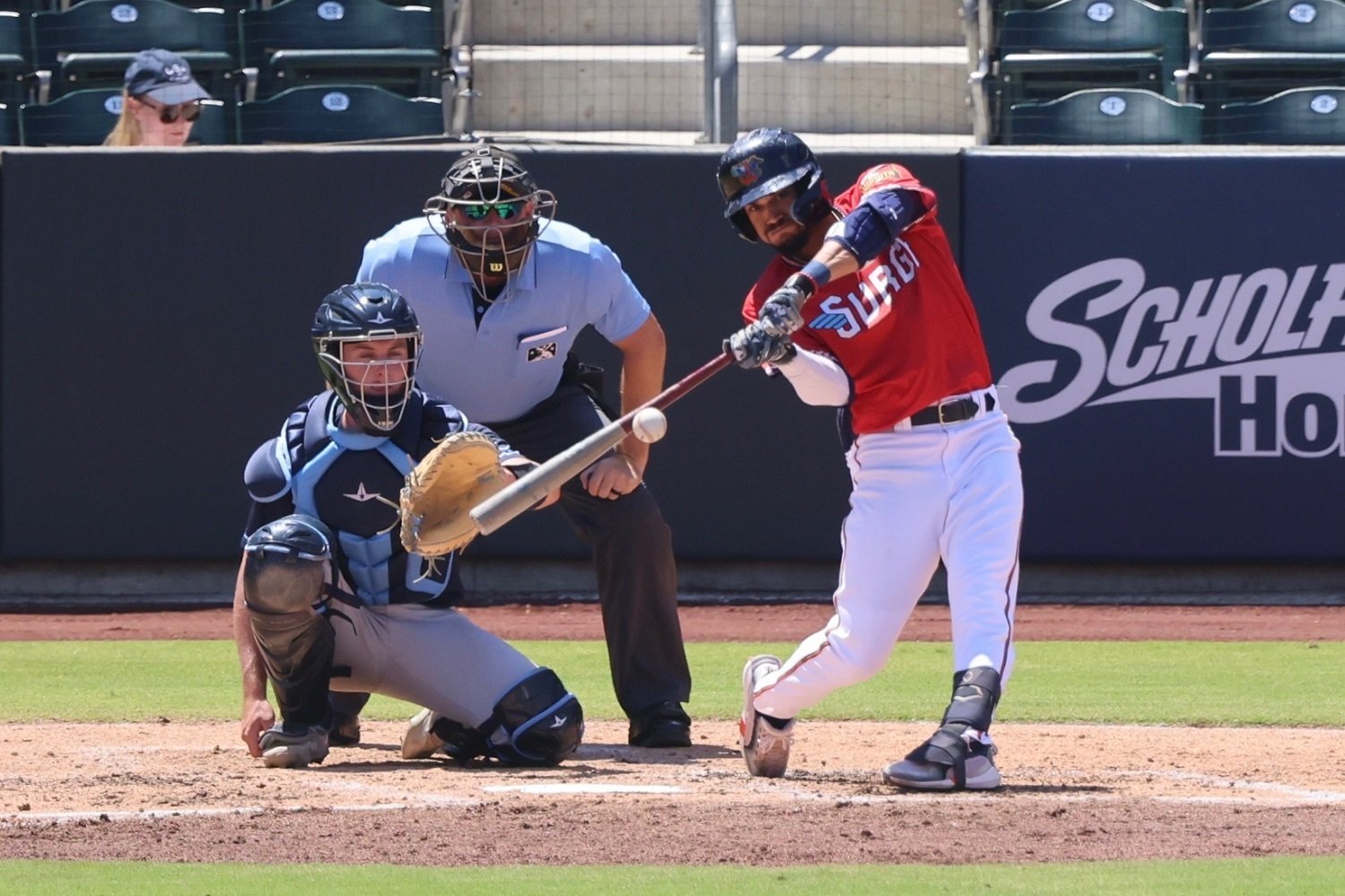 Image courtesy of Ed Bailey (photo of Will Holland)
The Twins got a fun extra-innings win against the Padres on Wednesday night. In the minor leagues, a lot of good things happened, especially with the hitters in Wichita and Fort Myers. 
TRANSACTIONS
Infielder Kyle Farmer was activated from the Injured List after missing about a month after being hit in the face by a Lucas Giolito fastball.
To make room for Farmer, Jose Miranda was optioned to Triple-A St. Paul. (Discussion here) 

LHP Christian MacLeod started a rehab assignment with the Mighty Mussels on Wednesday. 
SAINTS SENTINEL 
St. Paul 2, Indianapolis 4
Box Score
The Saints had seven hits and four walks, but managed just two runs and fell to Indianapolis. 
Jose De Leon started and gave up three runs on five hits over 5 1/3 innings. He struck out seven batters without issuing a walk. Kody Funderburk came on and recorded the final two outs of the sixth inning, stranding an inherited runner. Ronny Henriquez came on and worked two innings in his first rehab appearance with the Saints. He gave up one run on three hits and two walks over two innings. Cole Sands gave up two hits, but no runs, in the ninth. 
Trevor Larnach went 2-for-3 with a walk and a double, and is now 4-for-8 with four RBI in his two games. He also played a little defense! 
Andrew Stevenson went 2-for-4 with a double. He stole his 11th base of the season. Edouard Julien went 1-for-3 with a walk and his eighth double. Jair Camargo hit a solo homer in the fifth inning. He now has three on the season. 
WIND SURGE WISDOM
Wichita 16, Frisco 8
Box Score 
This was a game for the hitters. Big performances. Big innings. Eight out of nine Wind Surge hitters had at least one hit. Seven out of nine in the lineup had two or more hits. It might surprise you that leadoff man and top prospect Brooks Lee went 0-for-6. The Wind Surge scored four in the second inning, five in the third inning, and four runs in the sixth inning. Let's just go through the lineup, starting with the second spot. 
DaShawn Keirsey went 3-for-5 with a walk and two doubles. Yunior Severino went 2-for-5 with a walk, his fifth double, and his seventh home run. Alex Isola went 2-for-4 with two walks and his third homer. Yoyner Fajardo's hitting streak ended at 11 games on Tuesday night, so he started a new one. He went 3-for-5 with a walk and his fourth double. Jake Rucker went 1-for-4 with two walks. Will Holland went 2-for-2 with four walks. Armani Smith went 2-for-6. David Banuelos went 3-for-5 with his second homer and six RBI. Holland and Fajardo each had three RBI in the game. In addition, Fajardo stole his 11th and 12th bases while Holland stole his eighth and Smith stole his first. 
Chad Donato put together one of his better starts of the still-young season. He gave up two runs on six hits and four walks in four innings. Jose Bravo gave up three runs on three hits (2 homers) and a walk and only recorded one out. Osiris German went the next 2 1/3 innings and gave up three runs on six hits and a walk. Seth Nordlin got the final seven outs and gave up only one hit. 
Reminder: Royce Lewis is set to begin his 20 days of rehab with the Wind Surge. On Thursday in Frisco, he and the team will face Jack Leiter. 
KERNELS NUGGETS
Cedar Rapids 2, Quad Cities 12 
Box Score
The Kernels fell behind 3-0 after one, and a seven-run sixth inning put it well out of reach. 
Orlando Rodriguez started and gave up four runs (3 earned) on five hits and three walks over four innings. He had five strikeouts. Malik Barrington gave up four runs on two hits and two walks in 1 2/3 innings. Matt Mullenbach then was charged with four runs on six hits and a walk in one inning. Charlie Neuweiler got the final four outs, two on strikeouts. 
The Kernels had just five hits in the game, although they actually had five walks as well. Willie Joe Garry led the way. He went 2-for-2 with a double and a triple. Ernie Yake and Kala'i Rosario each walked twice. 
MUSSEL MATTERS
Fort Myers 8, Tampa 3 
Box Score 
The Mighty Mussels put up a three-spot in the first inning, another in the fourth inning, and got some strong pitching along the way. 
However, the big news (from a big-picture perspective) was the return of lefty Christian MacLeod. The talented lefty, and son of former minor-league pitcher Kevin MacLeod, from Mississippi State was the Twins fifth-round pick in 2021. He had Tommy John surgery last March and has been working his way back since. He is on the Cedar Rapids roster, so technically this is a rehab start. Semantics. 
Certainly MacLeod wasn't at his finest. He gave up one run on four walks over 1 1/3 innings. He struck out one batter. Just 19 of his 41 pitches were strikes, but none of that is as important as getting the first appearance out of the way and feeling healthy. 
His catcher, Andrew Cossetti, understood the struggles but was impressed with MacLeod. "I thought MacLeod battled today in his start. Anytime you're making your first start in a while, it can be difficult to get in a rhythm, but he stayed strong in a tough situation and kept us in the game. I think that's a tribute to his mentality as a competitor and a teammate."
Johnathan Lavallee went the next 2 2/3 innings. He gave up two runs on two hits> He struck out five batters. Then Zebby Matthews came out of the bullpen tossed 4 2/3 scoreless innings. He gave up two hits, walked one and struck out four batters. Jackson Hicks came in and got the final out. 
Cossetti has worked with Matthews several times already this season. The Twins Daily Hitter of the Month of April said of the Twins Daily Starting Pitcher of the Month of April, "Matthews just continues to dominate. He's fun to catch because he has confidence throwing any pitch in any count. He continues to upgrade his arsenal day in and day out. Anytime he's on the mound you know you're going to be in the game."
In addition to his work behind the plate, Cossetti continues his assault on pitchers in the Florida State League, the 2012 11th round pick from St. Joseph's went 2-for-3 with a walk tonight. In the first inning, he hit a two-run homer, his fifth of the season. It was followed immediately by the fourth homer of the season for Carlos Aguiar. Then in the seventh inning, Cossetti hit his second home run of the game to give the Mussels some insurance. 
Finding success takes a lot of work. After the game, Cossetti told Twins Daily, "I've been working a lot with the hitting coaches to create a better and more efficient bat path, and focusing on that process has definitely been bringing me success. I'm just trying to use my opportunity with the Mussels to become a more complete hitter and allow me to have more success in the future." He continued, "I would call myself a power hitter. I've always been able to hit the ball out of the yard, and my goal is to continue to tap into more power. "
In between the Cossetti home runs, Jorel Ortega - who had four hits on Tuesday - hit a three-run homer. Ortega is now hitting .308 with a .942 OPS on the season. Aguiar went 2-for-4. Dillon Tatum went 2-for-4. 
TWINS DAILY MINOR LEAGUE PLAYERS OF THE DAY
Pitcher of the Day – Zebby Matthews (Fort Myers Mighty Mussels) - 4 2/3 IP, 0 R, 2 H, 1 BB, 4 K. 52 pitches, 34 strikes.  
Hitter of the Day – David Banuelos (Wichita Wind Surge) - 3-for-5, HR(3), R, 6 RBI.
PROSPECT SUMMARY
Check out the Prospect Tracker for much more on the new Twins Top 20 prospects after seeing how they did on Wednesday. 

#1 - Brooks Lee (Wichita) - 0-for-6, K  
#2 - Royce Lewis (Minnesota) - IL (Rehab begins Thursday in Wichita) 
#3 - Emmanuel Rodriguez (Cedar Rapids) - 0-for-4, K 
#5 - Edouard Julien (St. Paul) - 1-for-3, BB, 2B(8), R
#8 - Jose Salas (Cedar Rapids) - 0-for-3, BB, R
#11 - Matt Wallner (St. Paul) - 0-for-4, 2 K.
#14 - Noah Miller (Cedar Rapids) - 0-for-4, K 
#17 - Ronny Henriquez (St. Paul-Rehab) - 2 IP, 1 ER, 3 H, 2 BB, 1 K, 29 pitches, 13 Strikes. 
#18 - Tanner Schobel (Cedar Rapids) - 1-for-4, K. 
#20 - Misael Urbina (Cedar Rapids) - 0-for-4, 2 K. 
THURSDAY'S SCHEDULE AND PITCHING PROBABLES 
Indianapolis @ St. Paul (6:37 PM CST) - RHP Simeon Woods Richardson (0-3, 6.35 ERA) 
Wichita @ Frisco (6:35 PM CST) - RHP Carlos Luna (0-1, 5.89 ERA) 
Cedar Rapids @ Quad Cities (DH at 5:00 PM CST) - RHP Pierson Ohl (2-1, 2.25 ERA), RHP Mike Paredes (0-0, 2.00 ERA).  
Tampa @ Fort Myers (5:45 PM CST) - LHP Develson Aria (0-0, 4.41 ERA) 
Please feel free to ask questions and discuss Wednesday's games!