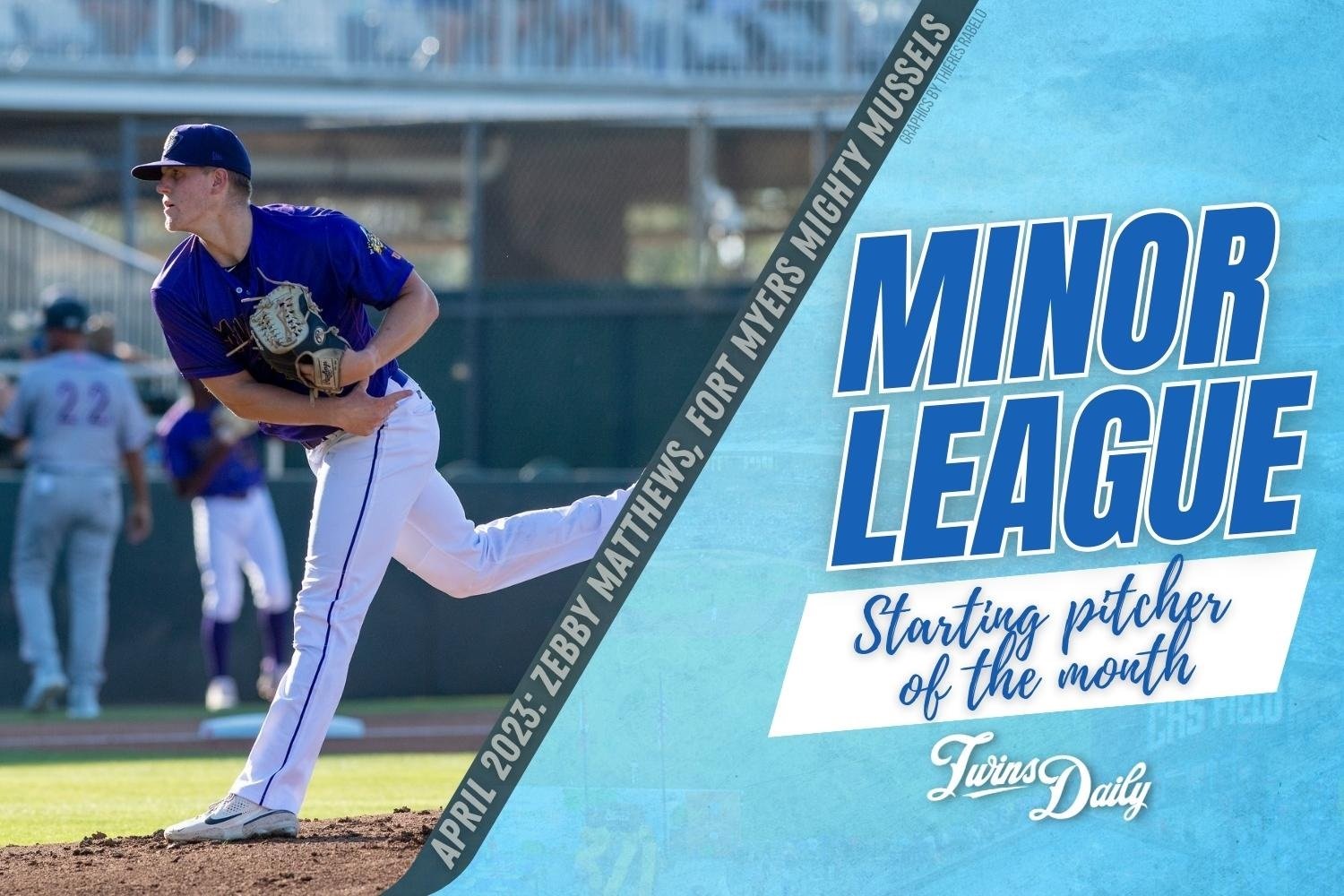 Image courtesy of William Parmeter
Cody Christie covered the hitting portion of our awards the other day, making it time to crown the best pitcher in the Twins system for April 2023. We start with the starting pitchers. Of course, in minor-league baseball, there are a lot of starters and potential starters. Sometimes teams strategically piggyback a couple of starters together, but one looks like a reliever in the stat line. We will take a look at the starters who began the 2023 season with a strong month. Coming Soon will be the top relievers in April. 
But before we jump into our Top 5 Twins Minor League Starting Pitchers for April, here some honorable mentions:
RHP Blayne Enlow, Wichita Wind Surge
The last cut, Enlow was great in April, striking out 24 batters while pitching more than 20 innings in his most effective month since returning from Tommy John surgery last summer. 
LHP Jaylen Nowlin, Cedar Rapids Kernels
Nowlin walked a few too many batters, holding him back from greater honor, meaning a higher ranking on this list, but he also struck out 20 batters—something only six other pitchers in the system accomplished in April.
RHP Kyle Jones, Fort Myers Mighty Mussels
Inhaling more than 19 frames, Jones posted a 2.42 FIP thanks in large part to a miniscule walk rate (5.3%). Jones was a 7th-round pick in the 2022 draft. 
5. RHP Bailey Ober - AAA St. Paul Saints, 17 2/3 IP, 30.1 K%, 2.55 ERA, 2.70 FIP
Too good to be contained by the AAA confines that limit him, Bailey Ober turned in an excellent month of pitching for the Saints, earning a 2.55 ERA and a 2.70 FIP while striking out a hair over 30% of batters faced. He allowed just one homer. The walks were troublesome, though—an 8.2% rate is far higher than his typical, trustworthy command allows—and in a cutthroat environment like the Twins Daily Minor League Monthly Awards, these are the lines that must be drawn to determine dominance. Better news comes knocking for Ober, however: recent injuries in the starting rotation open up a chance for the tall righty to prove himself once more; he appears very likely to take over a starting spot as Kenta Maeda and Tyler Mahle deal with their ailments.
4. RHP Louie Varland - AAA St. Paul Saints, 15 IP, 40.3 K%, 4.20 ERA, 1.77 FIP
A similar figure as Ober, Louie Varland is simply too good for AAA. His peripherals—good lord, his peripherals—were overwhelmingly dominant in April as the Minnesota native one-upped Ober, striking out over 40% of the batters he faced in the month. That's deGrom territory. He also walked just four hitters. So why not rank him higher? Needing to be a stickler over such minor sample sizes necessitates a certain meanness when looking at one's body of work, and Varland lacked the innings the other starters provided (15).
With ever-increasing velocity, Varland's ascent appears never-ending; his movement from fun hometown story, to legitimate minor league performer, to potentially dominant major leaguer has been breathtaking, astounding. His final hurdle appears to be the all-important playing time—something he should run into very soon. For now, he'll settle for 4th place on this prestigious list. 
3. RHP Cory Lewis - Low-A Fort Myers Mighty Mussels, 19 IP, 34.2 K%, 3.32 ERA, 3.50 FIP
And now we reach the unicorn. Minnesota's 9th-round pick in the 2022 draft carries the usual pitching repertoire—a spinny fastball; a dazzling curve; ideal extension—on top of a true wild card: "an impressive knuckleball." More than a freak side-show, Lewis' game has translated well to the minor leagues, as the starter pitched 19 innings in April, punching out 34.2% of batters while carrying an ERA of 3.32. The peak of his bat-missing madness came on April 26th, when the 22-year-old elicited 19 swings and misses over just 4 2/3 frames. 
The effectiveness has more to do with his fastball/curveball punch, potentially disappointing those hoping to see MLB's first consistent knuckleballer since Steven Wright in 2019. Still, his success may not be a fluke, and continued production may result in night classes for Twins catchers unsure of handling the dancing, unpredictable nature of the 82-mph knuckleball. 
2. RHP David Festa - AA Wichita Wind Surge, 19 IP, 35.5 K%, 3.79 ERA, 3.35 FIP
Back to your regular, normal right-handed prospecting. David Festa popped up in 2022, elevating from a random 13th-round pick from Seton Hall—the college of Craig Biggio, Mo Vaughn, and Zack Granite—into a respectable potential rotation fixture. He "pops mid-90s heat and pairs it with a potential plus mid-80s slider with power 11-6 depth," giving him a classic modern starter's profile—with more apparent limbs than your prototypical hurler. 
And his tools served him well in April; the righty covered 19 innings while striking out 35.5% of batters at AA, a level he had not yet touched, while in the Texas League, a division famous for hitting. The early returns favor a repeat of 2022 for Festa, and such a development could push him into rotation plans for the big-league club in 2024. 
1. RHP Zebby Matthews - Low-A Fort Myers Mighty Mussels, 20 1/3 IP, 34.7 K%, 3.10 ERA, 2.39 FIP
One of the most apparent, sweeping movements in the Twins system under Falvey and Levine has been the rapid improvements made by anonymous college pitchers suddenly breaking out after draft day. Zebby Matthews is no exception. While he's actually the highest-drafted arm of the five we talked about today—a regal 8th-round selection—Matthews' immediate impact was not well-predicted.
But it has been glorious. Combining the efficiency of a command artist with the punch outs of a workhorse, Matthews walked just three batters, struck out 26 of them, and swallowed 20 1/3 innings over four promising starts. One was a clunker, but the other three flashed brilliance; he didn't allow a run for 13 consecutive frames to begin the season. 
What's fascinating and different about Matthews' success is his approach: a full serving of almost every pitch a pitcher can throw (except for that one, you know which), that has apparently befuddled Low-A hitters. When a batter must react to the four-seamer, sinker, slider, curveball, changeup, or cutter, it evidently leads to missed hacks, foolish takes, and the Twins Daily Minor League Starting Pitcher of the Month Award.