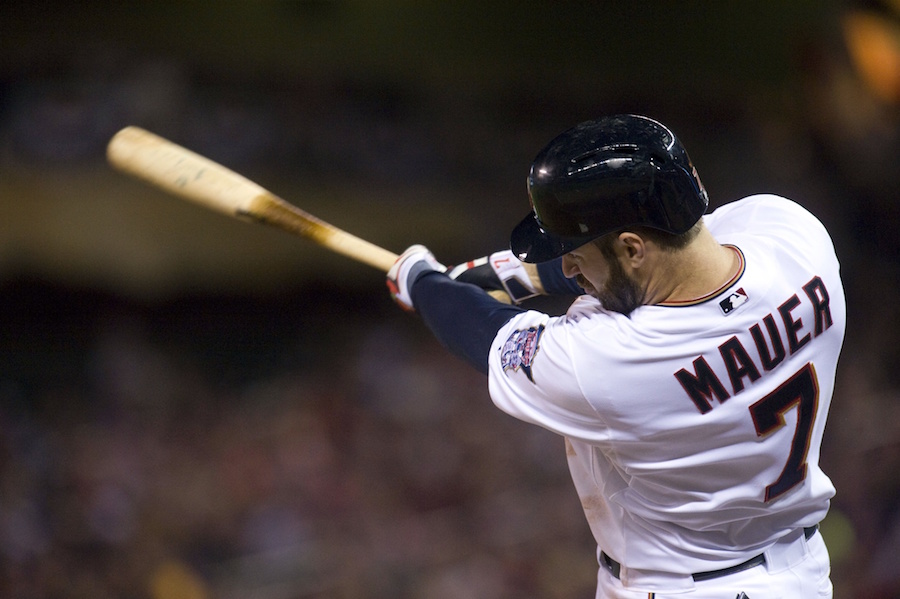 Image courtesy of Marilyn Indahl-- USAToday Sports
For the Twins, the ballot was void of any Minnesota presence. In upcoming years, the most closely tied name will be that of Jim Thome. While he won't go in as a member of the Twins, he provided plenty a bright spot in Twins Territory as he rounded out his career. It's not Thome though who is the next most likely Twins player to gain consideration for enshrinement.
For Minnesota, an opportunity may be presented when Torii Hunter is first eligible. It's almost guaranteed he will be inducted into the Twins Hall of Fame, but despite the potential to reach Cooperstown, he should fall short. Hunter has a better resume than that of Jim Edmonds, but it's not 70% better, which is what will be needed to reach enshrinement. Edmonds fell off the ballot after missing out on the needed 5% this year, Hunter will likely do better. Regardless, don't expect him to break the Twins drought.
No, instead that honor could most likely go to a player twho is still a member of the Twins. 32 year-old Joe Mauer is the Minnesota Twins next most likely candidate for Hall of Fame consideration. Had he not been given the injury hand he has been dealt, and still was behind the plate, I'd feel good about forecasting him as a first-ballot type player. As things stand currently, he presents a very strong case with a few more years left to push the needle one way or another.
At this point in time, Hall of Fame voting principles don't seem to rely heavily on the golden numbers. While 3,000 hits, 500 home runs, and other milestones seemingly should guarantee induction, other factors such as character and performance enhancers have muddied the waters. For Mauer though, those numbers will be left out of consideration entirely.
Sitting currently at just under 1,700 hits for his career with just over 115 home runs, Mauer's case for the Hall will be built on some different principles. As a catcher, Mauer garnered four All-Star appearances, an MVP award, three Gold Gloves, and four Silver Slugger titles. He was arguably the best in the game, at one of its most demanding positions for the first seven years of his big league career.
Following concussion issues, Mauer's game has been transformed. He's become a relative shell of the hitter he once was, and has had to adapt to playing an entirely new position. Despite the downturn in production, Mauer still owns a career .313/.394/.451 slash line and can claim three batting titles to his credit.
Most importantly for Mauer's prospects regarding the Hall of Fame, is how the story ends up being written. As the 2016 season kicks off, Mauer will be 33 years old. Under contract for the Twins until 2018, there are probably at least another 400 plus hits in his bat, and production that could be boosted by some lineup changes.
Should Mauer trend back towards what he once was, or at least to an high average and contact hitter, he should be seen favorably in the eyes of voters. If the trend of a dipping average combined with mediocre peripheral numbers continues, Mauer's longevity could actually hurt him down the stretch. Hanging on and compiling stats while diluting and distancing from the catching days likely won't do him any favors.
At the end of his career, Joe Mauer is not going to be Mike Piazza. He could (and likely should) surpass the 2,127 hits of the Mets backstop. Mauer probably will lay claim to a better average and on-base percentage. He's going to have the MVP and batting titles to his credit, and his Gold Gloves should make a difference. He isn't the power hitter his current position is expected to be though, and the injuries that have changed the course of his career will be held against him
Sometime within the next ten to twelve years, Joe Mauer is going to get his turn on the Hall of Fame ballot. He's not a lock the first time around, but expecting him to come up with 75% of the vote through the first half of his voting eligibility is far from a fool's proposition.