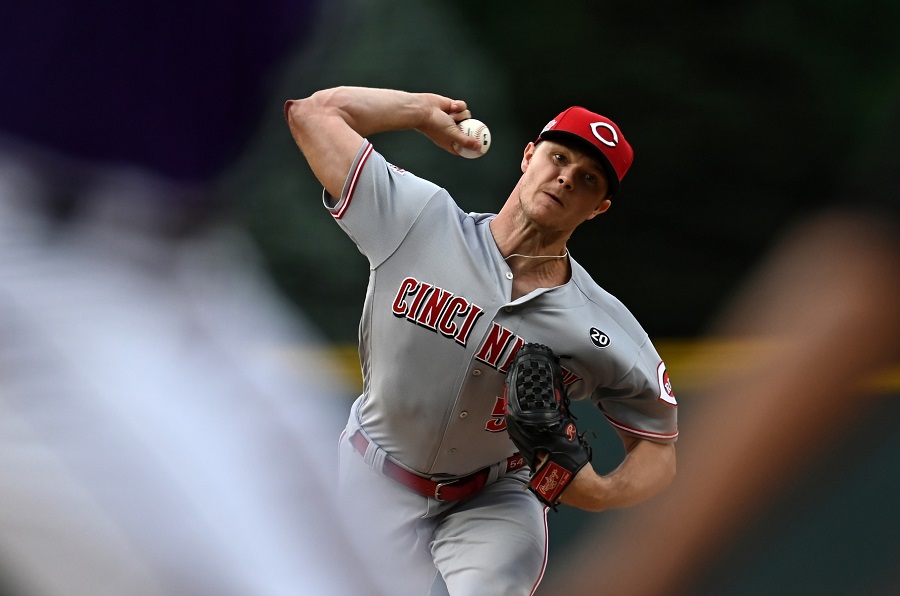 Image courtesy of © Ron Chenoy-USA TODAY Sports
Sonny Gray
Contract: 2-years, $20.33 million ($12 million team option for 2023)
Gray has revamped himself since joining the Reds rotation. Over the last two seasons, he has a 3.07 ERA with a 1.12 WHIP and 277 strikeouts in 231 1/3 innings. He might be the best starting pitcher available on the trade market this winter and the asking price will likely be high based on his recent performance and his years of team control. Gray would help bolster the top of Minnesota's rotation that already includes the trio of Kenta Maeda, Jose Berrios, and Michael Pineda. Gray would help the team in the short-term, but the asking price might be higher than the front office wants to pay.
Luis Castillo
Contract: First-year arbitration eligible (Earliest Free Agency 2024)
While Gray can help the Reds to cut cost, Castillo is still relatively cheap since he is entering his first year of arbitration. A team looking to acquire Castillo might also have to be willing to take on a veteran with a higher salary to help the Reds cut costs (see below). Since the start of the 2019 season, the 28-year-old has posted a 3.35 ERA and a 3.42 FIP in 260 2/3 innings. He has an electric fastball that sits in the upper-90s and his slider is improving. It seems like someone Wes Johnson would love to help take to the next level.
https://twitter.com/JonHeyman/status/1340696149972365326?s=20
Nick Castellanos
Contract: 3-years, $46 million ($20 million mutual option for 2024)
Twins fans are likely familiar with Castellanos from his time in a Tigers uniform and his contract might be one that a team will have to acquire to have a chance at Castillo. Castellanos can fit multiple roles with the Twins including corner outfielder or designated hitter. Over the last two seasons, he has hit .273/.327/.515 with 41 home runs and 69 doubles in 211 games. Making a deal that includes Castellanos likely puts the Twins out of the running for Nelson Cruz, but it can mean the club acquires a big-time arm like Castillo.
Amir Garrett
Contract: First-year arbitration eligible (Earliest Free Agency 2024)
Garrett is one of the players that will have a chance to take over the closer's role in Cincinnati following the departure of Iglesias. Like Castillo, he is in his first year of arbitration so there won't be urgency to trade him unless a perspective team is willing to take on other salary. Since the start of 2019, he has a 3.03 ERA and a 4.19 FIP while racking up 104 strikeouts in 74 1/3 innings. Minnesota has multiple holes to fill in their bullpen, so would the team be willing to overspend to get a very good left-handed arm.
Lucas Sims
Contract: Pre-arbitration eligible (Earliest Free Agency 2025)
Sims was a first-round pick in 2012 out of high school and he joined the Reds organization back in 2018 in a deadline deal with the Braves. He hasn't even reached arbitration yet and so the cost to acquire him will be steep. Over the last two seasons, he strikes out nearly 12 batters per nine innings with a 1.08 WHIP and a 125 ERA+. Cincinnati can put him in the closer's role for a couple seasons and get a higher return for him after he has the "proven closer" label applied to him.
Which players would you like the Twins to target? Leave a COMMENT and start the discussion.
MORE FROM TWINS DAILY
— Latest Twins coverage from our writers
— Recent Twins discussion in our forums