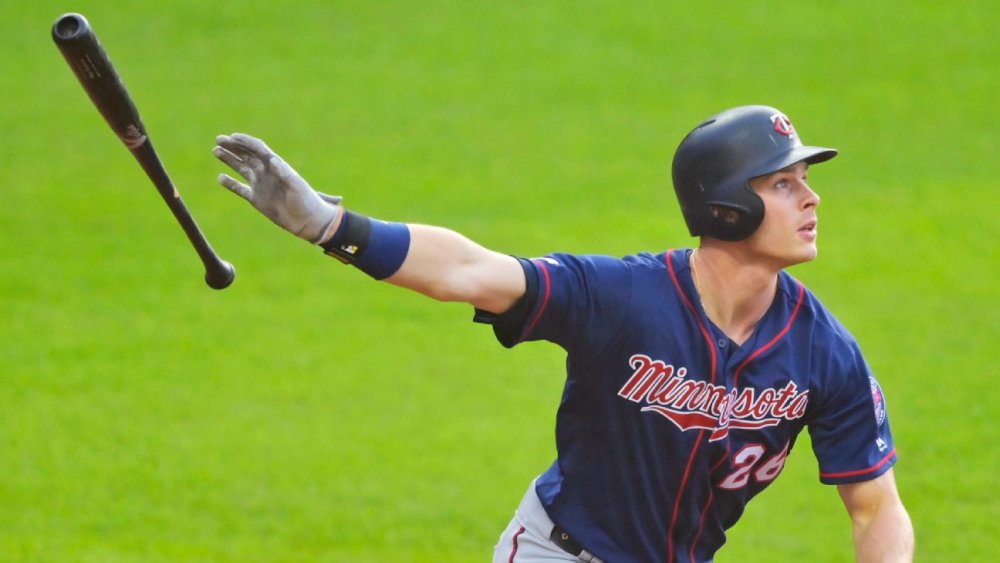 2019 has been a breakout year for Max Kepler. Kepler's talent and upside has been on display since his days in the minor leagues but he has seemingly put it all together this season. In the year of the home run, Kepler has been no exception as he has led the best home run-hitting team in baseball with 36 long balls. His previous career high was 20, which Kepler will more than likely double. He will put up career highs in all of the traditional batting stats and has been good for a team best 4.4 fWAR. Defensively he is among the best right fielders in baseball and he has filled in admiringly in center field during Byron Buxton's trips to the IL.
When dreaming about Max Kepler's upside a comp that has often been made is to Milwaukee Brewers outfielder Christian Yelich. Like Kepler, Yelich spends the majority of his time in right field, hits for a lot of power despite not having a traditional power hitter's build, and leads his team in home runs and WAR. Yelich's contract situation is also very similar to Kepler's as he is currently signed to a seven year, 49.57 million dollar contract that ends in 2021 with a club option in 2022. Kepler is also signed to a seven million dollar AAV through 2023 with a club option for 2024. Needless to say both Minnesota and Milwaukee can be nothing less than thrilled with those contacts.
While Kepler's power surge came to fruition this season, Yelich had a similar transformation in 2018. Prior to being traded over to Milwaukee before the 2018 season, Yelich's previous home run high with the Miami Marlins was 21 in 2016. However, last season Yelich exploded for 36 dingers in his first season with Milwaukee and has hit a career high 43 so far this year. Yelich's 2018 numbers (.326/.402/.598, 166 wRC+, 7.6 fWAR) were good enough to win the NL MVP award and lead his team to within a game of the World Series. Although Milwaukee is now on the outside looking in for a wild card spot, Yelich has been every bit as good, hitting .326/.421/.672 for a 169 wRC+ and a 7 fWAR.
Kepler's numbers have not yet reached the level of Yelich's, but his great leap forward has happened at the same age as Yelich's. Both players were consistent and above average players in their earlier years, but something clicked in their age-26 seasons. As both players became more familiar with major league pitching and most likely added some strength, there power numbers surged. Both started hitting the ball harder than ever as Yelich's hard hit percentage went from 35.2% in his age-25 season, to 47.6% at age 26 (and 50.3% this year!), while Kepler has gone from 37.1% to 42.9% (and up from 33% for his first two seasons).
Both players have had similar power trajectories but there are clear differences in their overall skill sets. Kepler and Yelich both have good speed, but Yelich is a very good base stealer (26 SB on the year with only 2 CS) while Kepler very rarely attempts to take a bag. Yelich is also a much better overall hitter than Kepler thus far in their careers. Yelich has a career .301 batting average with a .381 on-base-percentage and a .373 wOBA. Kepler on the other hand has hit just .239 with a .320 OBP and .326 wOBA. Yelich has the advantage of having an extra year of being an elite hitter on Kepler, but his overall numbers would still be much better than Kepler's.
Their career walk rates are similar (Yelich 11.0%, Kepler 9.9%) and Kepler actually has the better isolated power numbers (.208 ISO to .190) but Yelich has a huge advantage when it comes to batting average on balls in play (BABIP). Kepler has always had a notoriously low BABIP (career .254) and this season has been no different at .246. Contrast that to Yelich who has always been able to "hit it where they ain't" with a career .358 BABIP. While BABIP can fluctuate a fair amount from season to season and is somewhat luck based, a career difference of over .100 is certainly more than just luck. Yelich's ability to hit the ball slightly harder than Kepler and his faster sprint speeds probably helps a bit, but Yelich is also less pull-heavy than Kepler which makes him less susceptible to hitting into the shift. Kepler is currently pulling the ball at a 53.7 % clip while going opposite field just 19% of the time. Yelich hits the balls to all fields, pulling 38.5 %, going to center 38.3 %, and going opposite field 23.2 % of the time.
With Kepler hitting for as much power as he has, the Twins are probably loath to change his approach in order to improve his average. There is, however, one area where Kepler already exceeds Yelich – defense. Yelich is not a bad defender per say, but he is probably average at best and is rated negatively by both FanGraphs and Baseball Reference (which could be the deciding factor in Cody Bellinger winning the NL MVP this year). Conversely, Kepler rates as one of the best right fielders in the MLB with a 19.8 UZR/150 and has played well in center with a 12.8 UZP/150. FanGraphs even has Kepler rated as the best defensive outfielder in all of baseball.
Christian Yelich is already one of the top players in all of baseball, but Max Kepler is not so far behind. If Kepler can continue to improve his overall offensive game and maintain his homerun power, he could join the elite few in baseball. MVP awards may be hard to come by with arguably the best player in MLB history also playing in the American League (Mike Trout, in case you've been living under a rock), but at the young age of 26 Max Kepler is starting to turn some heads. Minnesota would naturally be happy if Kepler can continue to replicate the success he has had in 2019, but it may even be possible that the best is yet to come.