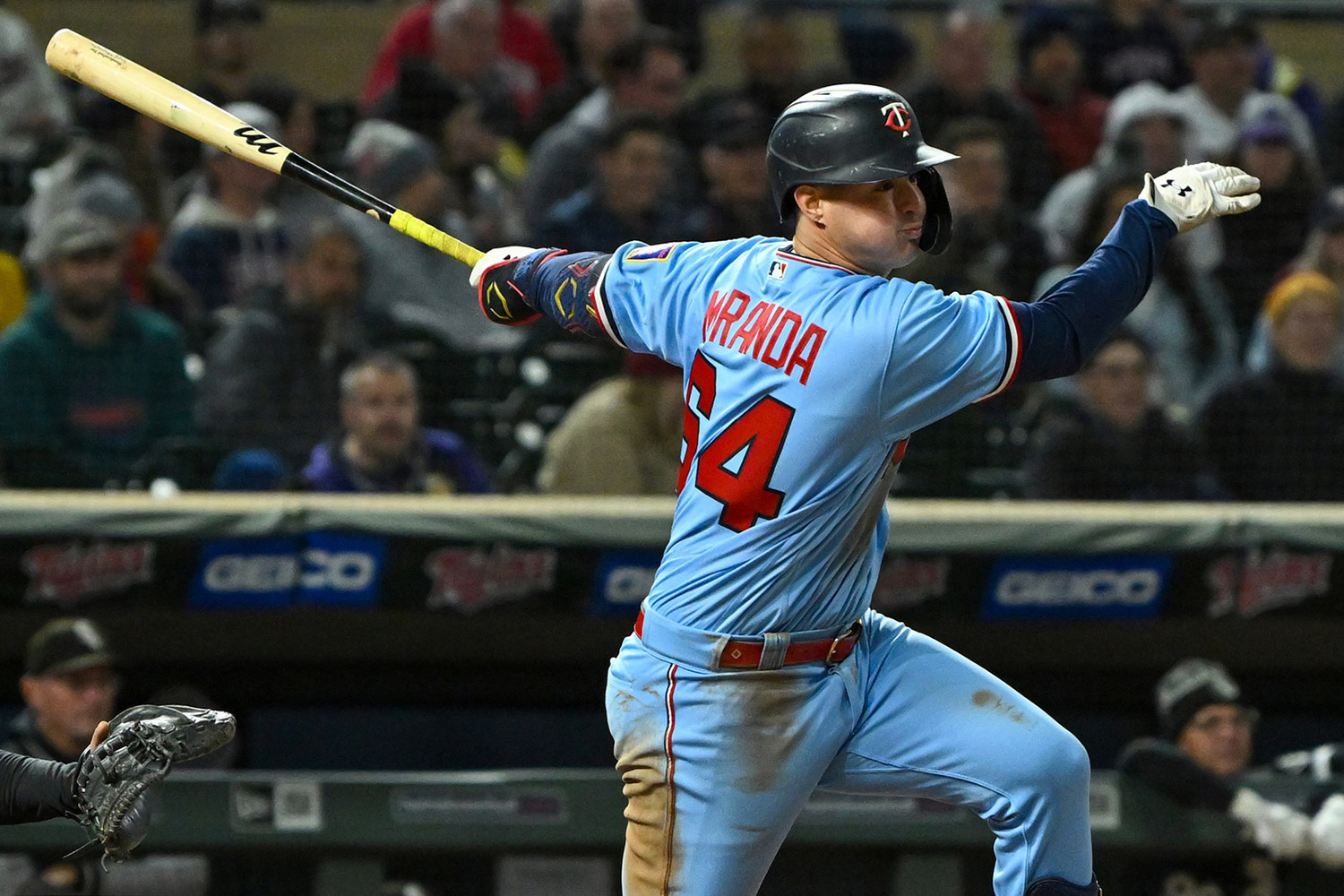 Image courtesy of Nick Wosika-USA TODAY Sports
Before we start disparaging Miranda's late-season performance, let's consider some of his strengths. 

His 117 weighted runs created plus – a rate stat that takes into consideration park factors and current run environment of the league – was the seventh-best by a Minnesota Twins rookie and tied with notable legend Rod Carew.

From June through August, he led the team with 49 runs driven in and collected 74 hits (behind the eventual AL hit king, Luis Arraez). He was anointed the AL's Rookie of the Month in July. He carried the Twins offense as best he could through a stretch in which the team was preparing for a late season nosediIn that time Miranda showed a keen ability to hit non-fastballs well. His .325 average against non-fastballs during that stretch was the 5th best in major league baseball. This is noteworthy considering how often rookie hitters struggle with spin: Over the last ten years, rookies have posted a .230/.270/.378 line against non-fastballs. 

Unsurprisingly, pitchers adjusted their game plan to Miranda after he showed the propensity to wallop non-fastballs left in the strike zone. In August, teams started to shift to throwing him more sliders and locating them off the plate. Miranda began to swing more often and chased more frequently and so teams continued that trend throughout the rest of the season. 

We have arrived at the point of the analysis where I normally post heat maps, charts, and video clips to support the trends and tendencies outlined above. I have done that and more but that content is reserved for Twins Daily Caretaker's eyes only. 

Fear not: You too can become a Caretaker for as low as $4/month. In addition to getting to read the rest of the meaty Miranda post, you also get free Twins Daily publications, Winter Meltdown tickets and other special recognition. 

Finally, if you do jump into the TD Caretaker pool and read the rest of this article and are not completely satisfied, you can totally call me out publicly on Twitter – @HagemanParker -- and… I will likely mute you. I have a very fragile ego.