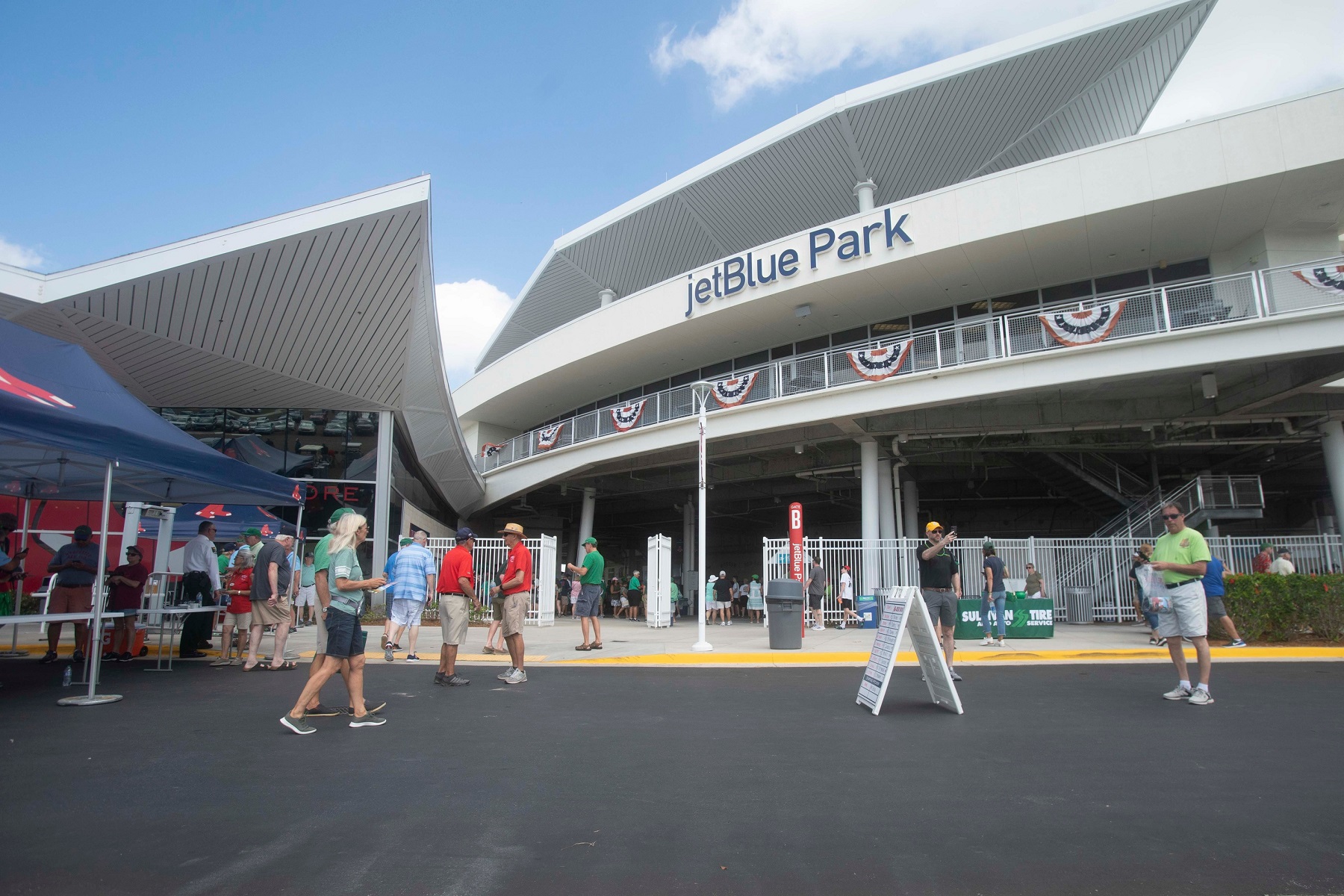 Image courtesy of Paul Rutherford-USA TODAY Sports
The Twins pitching rotation struggled on and off this season from starters to the bullpen. Injuries early on created a lack of starting pitching for the Club, putting lots of pressure on the bullpen to perform; they also suffered a significant loss with Pitching Coach Wes Johnson leaving mid-way through the season. Because of the pitching woes, Twins fans got a glimpse of what the farm system has in store by bringing up players such as Louie Varland, Simeon Woods-Richardson, and Jordan Balazovic. The arms in the farm system give hope that the Twin's pitching could match the Guardian's deep farm pitching model.
 
Brayan Medina 
He is focused and driven but has components that will need to improve if he wants to make his appearance in 2023. He was the top Venezuelan pitching prospect in the 2019-20 international class. Medina initially signed with the Padres for $700,000 on July 2, 2019. The Twins acquired him as the player to be named later in the deal that sent Taylor Rogers and Brent Rooker to the Padres. The pandemic canceled the 2020 season, so Medina spent some time in San Diego's fall instructional camp. He had his professional debut in 2021 with the Dominican Summer League and the Arizona Fall League. 
He has three pitches: slider, fastball, and changeup. His pitches already have good velocity, and as he grows from his 6'1", 180-pound frame, he should be able to add a bit more velocity in the future. His fastball sits in the mid-90s and touches the upper-90s on occasion. He also throws an above-average slider, and his slider continues to improve.
Medina has focused delivery and the ability to be aggressive with hitters. In seven starts, he struck out 24 in 23 2/3 innings in 2022 with the FCL Twins. Medina never saw more than three innings in a game in 2022. He posted a 6.46 ERA, and his strikeout-to-walk ratio was 24-to-20. Medina is only 20 years old and has plenty of room to grow in size and craft. The concern with Medina is the high pitch count due to lack of control, working himself out of the game sooner and putting more pressure on the bullpen. If Medina can garner control of his pitches and perfect them, he is equipped with the proper elements but needs to work heavily on his plate command to bring his ERA and walk down.
Steven Cruz 
If Cruz can harness his control and improve on his strike zone, there is potential for him to make an appearance in 2023. The Twins signed Cruz back in March 2017 for just $30,000 as an international free agent. He spent his first two seasons playing with the Gulf Coast League and Appalachian League, Elizabethton Twins. In 2021 he started in Single-A Fort Myers and, late in the season, was promoted to High-A Kernels. 
After two starts with the Kernels, he struggled to harness his control, posting an 8.10 ERA in 3 1/3 innings; the Twins sent him back down to focus on improving. He finished the 2021 season with Fort Myers and, in 2022, was sent to AA Wichita Surge posting a 5.14 ERA and 72-to-35 Strikeout to Walk ratio.
Finding the strike zone has been Cruz back; the right-hander walked more than six batters per nine innings early in his Minor League career. The 6-foot-7 Cruz has a ton of power and throws his fastball in the 95-101 mph range, and it's a pitch with some riding life. He also has a hard slider, thrown around 89 mph, a potential out pitch that can miss a lot of bats. 
His walk rate continues to trend down each year, and his strike count over nine innings continues to increase. How much he can refine his control and strike zone will determine whether he can handle a high-leverage role in the future. 
Marco Raya
The 2022 season was the first time Raya pitched in affiliated games since the Twins selected him in the fourth round of the 2020 draft due to a shoulder strain that sidelined him for most of the 2021 season. Raya returned more robust and better after his injury and didn't disappoint, throwing extremely well with Single-A Fort Myers with three wins and two losses.
At six feet tall and 165-pounds, what the right-handed pitcher lacks in size, he makes up for with athleticism and pure stuff. He's got a few pitches in his arsenal and relies on a big four-seamer alongside a high-quality curveball, a slider, and a changeup with great pitch profiles. The Twins feel like there's only a little work needed on those. His fastball continued to sit in the high 90s in the 2022 season, hitting 98. 
If Raya can stay healthy, he will be one of the system's best pitchers. At 19 years old, in his first season with Fort Myers, he posted a 3.05 ERA and had a 76-to-23 Strikeout-to-Walk ratio over 65 innings. With less than four walks per nine innings and over ten strikeouts, Raya doesn't hold back.
Raya pitches with a chip on his shoulder. The chip may have helped him make significant strides in his development toward the close of 2021. Like many young pitchers, the Twins hope he'll simplify and attack the strike zone with his quality stuff, which he's done in the past. Moving to Double-A would be a big jump, and with a small sample size, inviting him to spring training would give the organization an opportunity to see if he has the tenacity to jump directly over the Kernels.
Do you think these prospects could see action with the Twins in 2023? Probably not, but what are your thoughts on these pitchers and which pitchers do you anticipate breaking out in 2023?