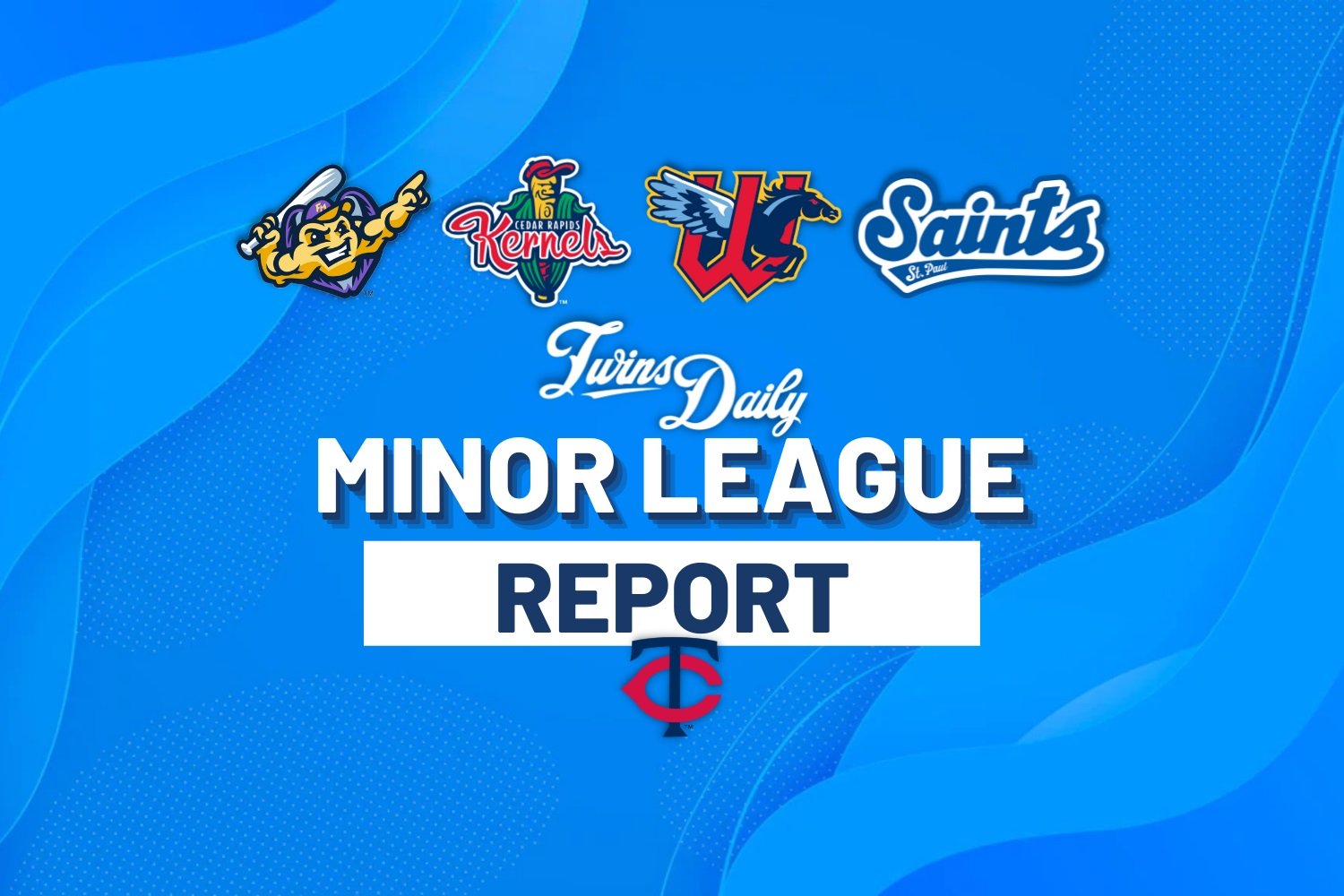 TRANSACTIONS
SAINTS SENTINEL 
St. Paul 8, Buffalo 5
Box Score
Rehabbing Minnesota Twins starter Kenta Maeda worked three innings for the Saints. He allowed two runs on five hits including a home run. Maeda struck out four in what was his second time rehab start with St. Paul.
The hot-hitting Matt Wallner continues to make a case for playing with Minnesota rather than with the Saints. His 12th double of the season allowed for Andrew Stevenson to race home.
Buffalo took a 2-1 lead in the second inning, but St. Paul broke out with six runs in the third inning. Jose Miranda singled in Stevenson to start things off, and then Wallner's 13th double brought Miranda home. Edouard Julien lifted his fifth home run of the season, a three-run shot scoring Trevor Larnach and Wallner. Before the inning was over, Elliot Soto grounded into a double play that still allowed Mark Contreras to come home.
In the fourth inning Julien kept going with a double, his 11th of the year, and Miranda raced across the plate. Up 8-2, that was enough to withstand a pair of Bisons runs for the attempted comeback.
Stevenson grabbed three hits out of the leadoff spot with Miranda, Wallner, Julien, and Tony Wolters all tallying two apiece. Brent Headrick operated as the long man after Connor Sadzeck took over for Maeda. He pitched five innings and picked up his third win of the season.
WIND SURGE WISDOM
Tulsa 6, Wichita 5 (F/10)
Box Score
It was David Festa's day for the Wind Surge and he worked 3 2/3 innings. Giving up two runs in the outing, he allowed four hits while walking none and striking out three. Blayne Enlow also got some work in relief. He went three innings and allowed a pair on a hit and a walk. He struck out three as well.
By the time Wichita stepped in for the fifth inning the Wind Surge found themselves looking at a 4-0 deficit. Posting three runs, they nearly came all the way back in that inning alone. Anthony Prato dropped down a sacrifice bunt that was misplayed and allowed Aaron Sabato to score the first run. Will Holland then recorded his fifth double of the season to drive in Prato before Yunior Severino plated Holland with a single of his own.
In the seventh inning DaShawn Keirsey Jr. clubbed his fifth dinger of the year to even the score.
Needing extras to sort this one out, the Drillers put pressure on by scoring a pair in the top of the tenth inning. Alex Isola drew a bases loaded walk in the bottom half to bring home David Banuelos, but Wichita left the bags loaded.
Keirsey Jr. and Holland both had a pair of hits while Patrick Winkel picked up three.
KERNELS NUGGETS
Lansing 3, Cedar Rapids 2
Box Score
Zebby Matthews took his turn for the Kernels and was again great for Cedar Rapids. He worked six innings allowing just a single run on a solo shot. He limited the Lugnuts to only three hits and struck out six while walking zero.
Getting behind in the first inning, Cedar Rapids answered with a run in the third inning. Ben Ross used a sacrifice fly to drive in Tanner Schobel. After they gave back the lead in the seventh inning, Kala'i Rosario answered with a solo shot to draw things even. It was his ninth of the season.
Unfortunately the Kernels gave up a Lansing run in the eighth inning and that was enough to drop this contest. 
MUSSEL MATTERS
Fort Myers 8, St. Lucie 3
Box Score
The Mighty Mussels used Wilker Reyes as an opener. He went two innings and allowed a single run on a hit and a walk. He struck one out. Jarret Whorff picked up his second win of the season going three innings. He allowed just one run on three hits but struck out five and walked none.
St. Lucie kicked off the scoring first with a run in the second inning. In the bottom half, Kyle Schmidt hit his first Low-A home run of the year and his three-run shot brought in Rubel Cespedes with Alec Sayre.
Fort Myers extended their lead during the third inning when Cespedes got aboard on a fielder's choice. A rehabbing Gilberto Celestino scored and the bases were loaded. Schmidt then drove in both Mikey Perez and Cespedes with a single to centerfield. Up 6-1, Fort Myers had a commanding grasp of the lead.
With St. Lucie looking to claw back in the game, it wasn't until the sixth inning that the Mighty Mussels added again. Luis Baez ripped his first double of the year to score Schmidt, and then Baez came home on a wild pitch. The 8-3 tally is where this one ended.
Schmidt was the only batter to record a multi-hit game, but his 3-for-3 effort also came with five RBI.
TWINS DAILY MINOR LEAGUE PLAYERS OF THE DAY
Pitcher of the Day – Zebby Matthews (Cedar Rapids) - 6.0 IP, 3 H, 1 R, 1 ER, 0 BB, 6 K
Hitter of the Day – Kyle Schmidt (Fort Myers) 3-3, 2 R, 5 RBI, 3B, HR(1)
PROSPECT SUMMARY
We will again keep tabs on the Twins top prospects. You'll probably read about them in the team sections, but if they aren't there, you'll see how they did here. 
Here's a look at how the current Twins Daily Top 20 performed:
#1 - Brooks Lee (Wichita) - 0-0, BB (pinch hit)
#2 - Royce Lewis (Minnesota) - 0-4
#3 - Emmanuel Rodriguez (Cedar Rapids) - 1-3, BB
#4 - Edouard Julien (St. Paul) - 2-4, R, 4 RBI, BB, 2B, HR(5)
#8 - David Festa (Wichita) - 3.2 IP, 4 H, 2 R, 2 ER, 0 BB, 3 K
#9 - Matt Wallner (St. Paul) - 2-5, R, 2 RBI, 2 2B(13)
#12 - Jose Salas (Cedar Rapids) - 1-4, 2 K
#13 - Noah Miller (Cedar Rapids) - 1-4
#15 - Brent Headrick (St. Paul) - 5.0 IP, 5 H, 2 R, 2 ER, 4 BB, 4 K
#17 - Blayne Enlow (Wichita) - 3.0 IP, H, 2 R, 2 ER, BB, 3 K
#19 - Yunior Severino (Wichita) - 1-5, RBI, 2 K
TUESDAY'S PROBABLE STARTERS
Iowa @ St. Paul (7:07PM CST) - TBD
Wichita @ San Antonio (7:05PM CST) - TBD
Cedar Rapids @ Dayton (6:05PM CST) - TBD
Clearwater @ Fort Myers (6:00PM CST) - TBD
Please feel free to ask questions and discuss Sunday's games!