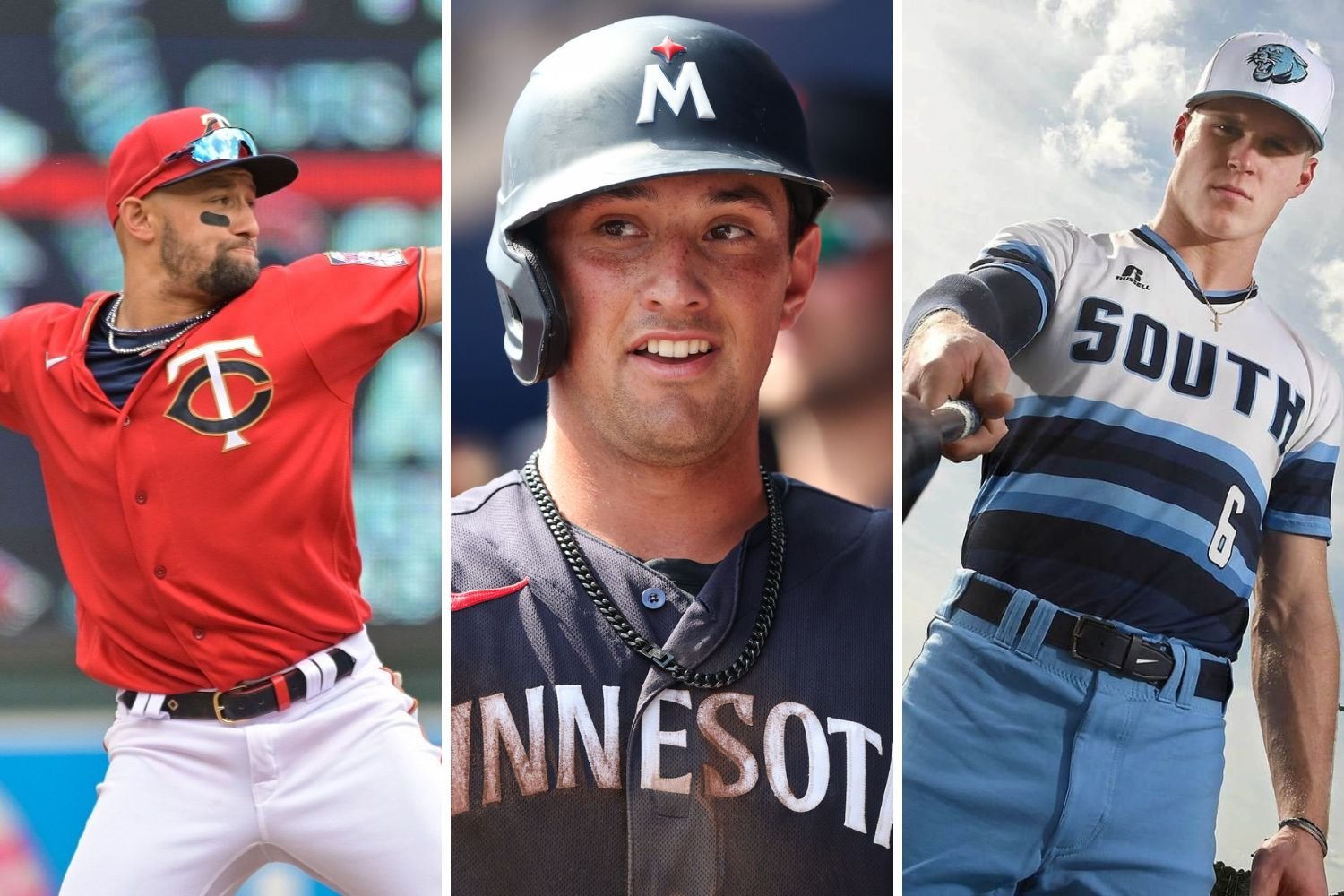 Image courtesy of Jeffrey Becker, Nathan Ray Seebeck, Ken Blevens – USA TODAY Sports
At a basic level, most people in MLB front offices would likely agree that "Best Player Available" is a proper guiding principle for the amateur draft. It's a smart approach to drafting in any sport, really, but especially one with such lengthy, circuitous, and unpredictable development timelines. 
With that said, determining the "Best Player Available" is not so straightforward in practice. After a certain early point in the first round, this assessment becomes very subjective, and even at the highest picks, opinions tend to vary wildly about who is better than who. Moreover, you have different organizational metrics and evaluation systems, different priorities, and different strategies in play.
The bottom line: looking back at players chosen with the highest-stakes draft picks can tell you a lot about a front office's philosophies. Reviewing how those decisions have panned out can be telling in terms of how effective these philosophies have been, and what lessons might be carried forward.
Is the Walker Jenkins selection reflective of an adaptive front office evolving its mentality? Or are they merely following their usual blueprint? Let's run it back to the start and see what patterns or takeaways we can find.
Top Twins Draft Picks Under the Falvey/Levine Front Office
2017: Royce Lewis, SS (1st overall)
By virtue of joining the reigning worst team in the major leagues, Derek Falvey inherited the No. 1 overall pick in the first draft he would oversee as Chief Baseball Officer. Quite a welcoming gift.
The top of the that class was a fascinating one. Sometimes there is a clear-cut No. 1 pick, sometimes there are two or three guys who could reasonably be the choice. In 2017, there were a handful of plausible options. Lewis was among them, but generally considered lower in that mix.
Two-way player hysteria was taking over in the face of Shohei Ohtani's looming stateside arrival. There was a pair of talents billed as such at the top of the 2017 draft class: Louisville's Brendan McKay and high school phenom Hunter Greene. 
To the extent there was a consensus choice for the top pick, it was probably Greene. He would've been an exciting addition as a teenager throwing in triple digits along with that trendy two-way potential. Alas, that also made for a highly experimental path, and a costly one to boot with Greene expected to command a big signing bonus.
The Twins opted for Lewis in a move that preserved draft pool funds for a later splash. (They took prep pitcher and LSU commit Blayne Enlow in the third round, and signed him overslot with the leftover budget.) 
Interestingly, they used their second pick, which was essentially a late first-rounder at No. 35 overall, to select college slugger Brent Rooker – a much "safer" draft pick after dominating higher-level competition at Mississippi State.
Takeaways:
While the Twins would later develop a reputation for highly preferring college players in the draft under Falvey, the first and most significant draft selection under his regime was a high schooler. Take note of this.

They did, however, aim to offset the volatility of a raw prep talent with their first pick by adding a more polished college slugger shortly after. Take note of that also.

Six years after being drafted with the No. 1 and 2 overall picks, Greene and Lewis are still working to establish themselves as big-leaguers: Greene has thrown 199 MLB innings, Lewis has accrued a whole 140 plate appearances. This despite the fact that both have mostly delivered on their promise when healthy and on the field. A reminder that with high school prospects – even the small percentage who don't fizzle out – it can take a while.
2018: Trevor Larnach, OF (20th overall)
In the second draft under the new regime, Minnesota went back to the Rooker profile with their first pick. Larnach was an established collegiate masher who featured on a star-studded, national champion Oregon State team. There were no illusions about Larnach being a defensive maven or future batting champ. He was drafted for his proven power at the highest amateur level, which theoretically made him a low-risk pick in the second half of the first round. 
Looking back, that assessment was ... pretty accurate? It's definitely fair to say the 26-year-old Larnach has fulfilled the "high floor" part of his scouting report. He can hit. He has a .292/.379/.463 career slash line in the minors and a respectable career OPS+ of 93 in the majors. 
Has he hit enough to justify regular MLB playing time at a bat-first position? Not really, as evidenced by his current presence in Triple-A. 
Then again, neither had Rooker at age 26. Now he's an All-Star at 28.
Takeaways:
College bats like Larnach might be appealing for their ostensible quicker path to the majors, but it doesn't always work out that way. Rooker took every bit as long as Lewis to find his footing in the majors. Larnach's breakout might still be ahead, five years in.

We probably shouldn't be super hasty to give up on Trevor Larnach? 
2019: Keoni Cavaco, SS (13th overall)
This pick seemingly went against the organization's scruples. Not only was Cavaco an unrefined prep talent out of high school, he was also generally viewed as a reach this high in the first round. (Cavaco ranked 28th on MLB Pipeline's pre-draft board.) The Twins had scouted him heavily and bought into their favorable assessment of his tools and potential.
"I think upside is the right word to use here." scouting director Sean Johnson said at the time. "He's got electric bat speed. We think he's going to have home run power. He's one of the best third basemen I've seen in the high school ranks in my time scouting, and most of the guys who saw him -- that's including guys that's done it 20-plus years -- so a great defender."
Most great infield defenders don't play third base in high school. Never mind. Like so many other promising high school players who enamor scouts with their conceptual ceiling, Cavaco didn't reach his. In fact, he has never come close. He's had no success in the pros and currently has a .544 OPS at Single-A as a 22-year-old, on the verge of fizzling out of the system. 
In this draft, as they did two years earlier when they took a high schooler with their top selection, the Twins aimed for some level of assurance in their next two picks, going with college slugger Matt Wallner (39th overall) and college fireballer Matt Canterino (54th overall).
Takeaways:
Toolsy teenaged high schoolers are risky, especially near the top of the draft – even when they amaze with their tantalizing potential against prep competition. Cavaco is shaping up as a banner example; he might not even make it Double-A.

While the Twins were showing a willingness to gamble on prep picks in the draft, they also were noticeably balancing those gambles out with college standouts in the following selections.
2020: Aaron Sabato, 1B (27th overall)
The Twins picked near the end of the first round in 2020 due to their 101-win season the prior year. This was a weird draft – because of COVID, it was cut down to five rounds, and teams had relatively little data to evaluate the class. 
Under the circumstances, Minnesota opted for what they viewed as the safe pick to pan out into something of substance. Like Larnach and Rooker, Sabato was a proven college slugger seemingly poised for a quick path to the majors on the strength of his bat alone. 
Unfortunately, we've witnessed the downside of a one-dimensional, strikeout-prone slugger who doesn't slug. (Sound familiar?) The Twins liked his offensive profile, in part, because of advanced metrics. (Sound familiar?) "If you look at him analytically, he lined up with some of the guys that went at the very top of the board," said Johnson at the time.
While patience and power have kept his numbers afloat, Sabato has never dominated pro pitching as hoped. He owns a .785 OPS through two-and-a-half minor-league seasons, and is currently batting .226 with a 34% K-rate as a 24-year-old at Double-A. 
Takeaways:
Again: there is no such thing as a safe bet in the MLB Draft. Even the apparent sure-thing bat – drafted solely for that purpose, already at the bottom of the defensive spectrum – can fail to figure it out against professional pitching. 

Probably not a good idea to use a first-rounder on a position player with zero likelihood of offering any defensive value at any point. 
2021: Chase Petty, RHP (26th overall)
Another division-winning season in 2020 left the Twins drafting late in the first round again. This time, they reversed course dramatically from the prior year's strategy – from collegiate slugger to prep pitcher. High school arms are notoriously the most high-risk proposition for a top draft pick, and it's a profile the Twins have resolutely avoided with their highest picks under Falvey.
Petty was a big exception, due in large part to his big fastball. While reaching triple digits as a high schooler might not have been as novel as it was four years earlier when Hunter Greene was doing it, Petty had plenty of steam behind him and flashed impressive stuff during a brief pro debut.
That was enough to sell the Cincinnati Reds on him. They flipped Sonny Gray to Minnesota for Petty in a one-for-one swap, securing the Twins a frontline starter who's made a huge impact over two seasons. 
In many ways, for a team that fancies itself in immediate contention mode, this is the most ideal use of a late-first-round pick you could ask for. 
Takeaways:
Major-league teams like upside. Would the Twins have enticed Cincinnati if they'd instead selected and offered some 22-year-old college pitcher, or run-of-the-mill high school shortstop? Maybe. I kind of doubt it. The allure of age and projection adds a lot of shine to young pitching prospects.

Sometimes it's good to sell high on these assets when the shine is still there. Sometimes that comes back to haunt you. While the Twins have certainly gotten back a lot of value on this pick already, it may ultimately be another we look back at with dread. 
2022: Brooks Lee, SS (8th overall)
I think most Twins officials would agree that, among all draft picks covered on this list, Lee was the least difficult choice. Possessing a top 10 pick for the first time since Falvey took over, the team had eyes on Lee but didn't figure he would fall to them at No. 8. When he did, the decision was a no-brainer. 
Lee is a pretty prototypical first-round draft pick: standout collegiate shortstop with a chance to stick at the position. This profile offers a nice mix of polish and floor with upside and ceiling. Surprisingly, he was the first (and only) player of this ilk that the Twins have drafted under this front office. In fact, it's the first such player they've drafted since 2011 when they took Levi Michael, who could aptly be described as Brooks Lee Lite. Outside of Lee and Michael, the Twins haven't taken a college infielder in the first round in almost 30 years ago, when they took Todd Walker out of LSU in 1994. 
Michael was emblematic of the downside in these types; he had already basically reached his ceiling when the Twins drafted him. Walker better represented the upside – a readymade impact player – and he's probably a better comp for Lee, given that he too was taken with the eighth overall pick.
Takeaways:
Due to preference or circumstance, the Twins have been really averse to drafting college infielders in the first round! 

In the MLB draft, things fall where they may and sometimes you have to take what you're given. That looks to have worked out well for the Twins last year. As for this year... 
2023: Walker Jenkins, OF (5th overall)
For months leading up to this year's draft, consensus solidified around five distinct standout talents atop the class. The three college stars were likely to be off the board by the time Minnesota's selection swung around at No. 5, leaving them with the proposition of taking whichever prep outfielder was left, or pivoting to a different strategy.
The Twins chose not to get cute. And that shouldn't surprise anyone. As we've seen while going through this review, the idea that Minnesota's current front office heavily favors college players is pretty off-base. They have used all of their highest-stakes picks on high-school players. Jenkins is merely a continuation of that trend.
This front office has amassed lefty-hitting outfielders, having added Larnach and Wallner with previous first-rounders. And it's an affinity that predates the current regime. In recent Twins draft history, Jenkins best approximates Alex Kirilloff, who was taken 15th overall in 2016, just before Falvey took over.
A good reminder that while Falvey now ultimately calls the shots, scouting director Sean Johnson runs the draft, and he's a carryover from the previous regime. Some old habits die hard. The Twins love drafting high-school outfielders in the first round and frankly it ain't hard to see why.
Of the six prep outfielders the Twins have drafted since the turn of the century – Denard Span (2002), Chris Parmelee (2006), Ben Revere (2007), Aaron Hicks (20008), Byron Buxton (2012), and Kirilloff (2016) – all six have reached the major leagues. A six-for-six hit rate. That just doesn't happen in the crapshoot known as the MLB Draft.
Jenkins seems to blend the best of many worlds from the history of Twins drafts. He offers the exhilarating upside of an ascendant teenaged talent, in a historically safe profile. And the team didn't go out on a limb one bit to draft him.