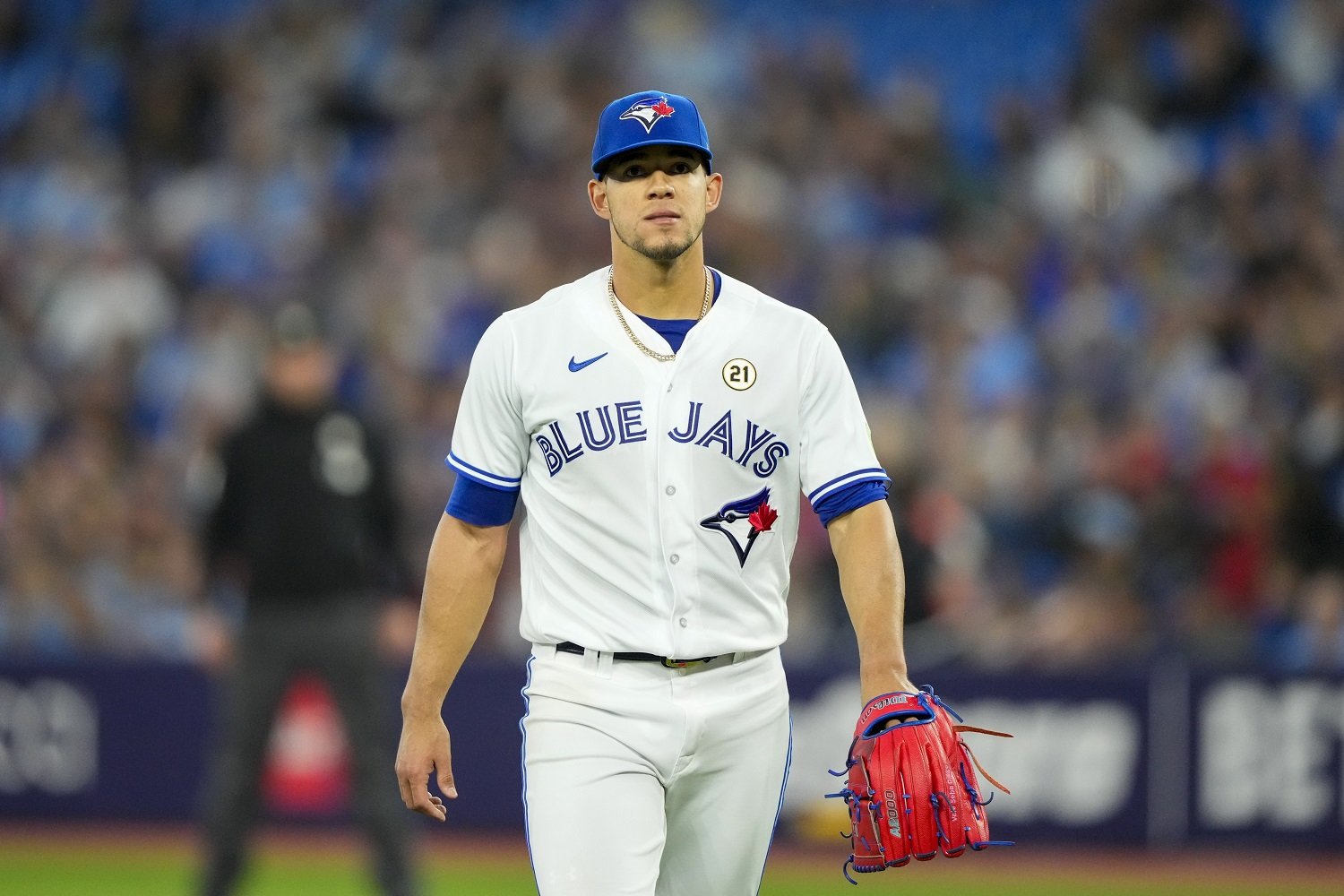 Image courtesy of Kevin Sousa-USA TODAY Sports
With the Texas Rangers, Houston Astros, Seattle Mariners, and Toronto Blue Jays all in play as potential opponents for the Minnesota Twins during the wild card round, it's the team north of the border that will oppose Rocco Baldelli's club. Minnesota hasn't seen Toronto since early-June, and their Target Field series against the Blue Jays came at the end of May. For both squads, a lot has changed since that time.
Although the Twins have home-field advantage against Toronto, the two teams are very evenly matched. Looking at comparisons up and down the board, here's how things shake out:
Records
Toronto Blue Jays 89-73 (89-73 pythag) 3rd AL East
Minnesota Twins 87-75 (93-69 pythag) 1st AL Central
The pair are split by just a pair of tallies in either column of their overall record on the season. Of course the American League East was a more tightly contested division than the American League Central, but both played to similar results across their 162 games.
Minnesota played to the tune of a 47-34 record at Target Field, and they took off in the second half going 43-28 after the All-Star Break. On the flip side, Toronto had near neutral splits regardless of which dugout they were in during 2023. On the road, the Blue Jays went 46-35, but they slid a bit in the second half playing to a 39-32 record.
Seeing each other six times earlier in the year, each side won their away series. Splitting the season series, Minnesota had a plus-two run differential against Toronto.
Rotation
In a short series, the rotation becomes just three pitchers. Minnesota will send Pablo Lopez, Sonny Gray, and Joe Ryan to the mound as starters. Skipping arms to keep them healthy, Toronto lines up Kevin Gausman, Jose Berrios, and Chris Bassitt on their side.
Lopez has been great in his first season after being acquired from the Miami Marlins for Luis Arraez. Gray has looked the part of a Cy Young pitcher, and his 5.3 fWAR is tied with the Blue Jays Gausman to lead American League pitchers. Ryan has struggled since the All-Star break, most notably with the long ball, but he will start Game 3, if necessary. Kenta Maeda will work out of the bullpen.
Gausman will finish near the top of the Cy Young voting behind Yankees Gerrit Cole. He's been great during both of his season with the Blue Jays, and he earned the second all-star appearance of his career this season. Berrios is well known in Minnesota, having been a prolific prospect and former staff ace for the Twins. After a disastrous 2022, Berrios has bounced back in 2023. He has made three postseason appearances, all for Minnesota, and the most recent was his only start at Target Field. Each of them has been a loss. Signed to a lucrative three-year deal this offseason, Bassitt has had a strong first season in Toronto. His 200 innings were the most of his career.
Toronto could look at throwing either Yusei Kikuchi or Hyun-Jin Ryu if they want to keep Minnesota's lineup off balance with a left-handed arm. The Twins have struggled against southpaws most of the season, but Toronto will have to tip their hand when the roster is announced as it's unlikely the full complement of starters will head to the United States. The Blue Jays rotation has slumped of late, so it could be more about matchups than predictable performance.
Bullpen
The pecking order for Baldelli is well established in relief. Jhoan Duran is the Twins closer, and the setup men are largely reflective of the situation. Griffin Jax has operated in that spot at times, while Brock Stewart has looked the part of an elite shutdown arm when healthy. Emilio Pagan has also been in that group, and Caleb Thielbar has worked as much more than just a lefty specialist.
In the postseason, Minnesota will have a bit of a different look in terms of length. Starter Kenta Maeda will be available in relief, and Chris Paddack has worked his way into the picture. Minnesota transitioned starter Louie Varland to a relief role, and he has looked great while throwing near-triple digits. Adding another lefty for Baldelli to use, Kody Funderburk should be in the mix as well.
The Blue Jays bullpen ranks ninth in baseball in terms of fWAR, and they sit eighth by ERA. Jordan Romano is the closer, but the group has plenty of depth to it as well. Tim Mayza has been an elite left-handed option, and (West Fargo native and current northern Minnesota resident) Erik Swanson has had a nice year as well.
Toronto acquired former St. Louis Cardinals star Jordan Hicks at the trade deadline, and he's done nothing but get outs for the Blue Jays. His 2.05 ERA hides a 3.57 FIP, and while the strikeouts have dipped some. He's stopped allowing free passes at a breakneck pace. How manager John Schneider utilizes his relief group remains to be seen, but they are a strong sum of parts.
Romano was shaky in the final few games of the season, and the bullpen may be tasked with picking up for a rotation that has seen somewhat of a slide. How they eat innings as a whole will be something Schneider must prepare for.
Hitters
The strength of Minnesota's lineup is multi-faceted. The Twins can build a threat or score in a hurry. This isn't the Bomba Squad of 2019, but Matt Wallner, Max Kepler, Carlos Correa, Royce Lewis, and a handful of others can all send the ball into the seats. They also have players like Edouard Julien, Alex Kirilloff, and Ryan Jeffers that can get deep in a count and make an opposing pitcher work.
While Minnesota struggled to get things going for most of the first half, they are one of the better teams in baseball with the bases loaded at this point, and they have been scoring runs in bunches. Building a lead for starters capable of going deep in ballgames is certainly a strong blueprint toward coming up victorious.
Toronto's hitters have posted the 8th highest fWAR across baseball, whereas the Twins sit 10th. The big names include George Springer, Matt Chapman, Vladimir Guerrero Jr., and Bo Bichette. Bichette is leading the club with a 3.8 fWAR, closely followed by Chapman. Both are plus defenders, with the latter being among the best defensive third basemen in the league.
Defense is something the Blue Jays write home about, and their defensive runs saved metric leads baseball by a good margin. Daulton Varsho is a great asset in left field, and centerfielder Kevin Kiermaier has been a Gold Glove candidate for the vast majority of his career. Springer remains a strong fielder even as he has aged, and Alejandro Kirk has often been viewed favorably behind the dish.
Like Minnesota, the Blue Jays don't have a single player with gaudy home run numbers. Guerrero Jr. leads the team with 26. He's had quite a down year by his standards, but a player with that much talent is never one to overlook. The Blue Jays have four players with 20 or more homers, and they have a handful of players that can ambush the opposition.
Managers
This will be the third time in five years that Baldelli will manage in the postseason. He brings a 376-332 (.531) regular-season record. While being 0-5 in the postseason, the Twins can end an ugly streak that this team has no business worrying about. Baldelli managed during a three-game wild card series last time the Twins were in the playoffs but nothing was normal about a 2020 season in which no fans were present.
Baldelli, 42, is the youngest manager in baseball. He will be opposed by the Blue Jays John Schneider who, at 43, is the second youngest in the sport. Having taken over for Charlie Montoyo midseason last year, this is his first full season at the helm for Toronto. He owns a 135-101 (.572) regular-season record, and he experienced two postseason losses in a wild card series against the Seattle Mariners a season ago.
From our look at the postseason managers over the weekend, the Blue Jays and Schneider had a few different notes. "After stealing at an above-average clip last season, the Blue Jays have dialed it back significantly in 2023. They don't give away outs while sacrifice bunting, and Schneider isn't a huge proponent of pinch hitters. Toronto has inserted pinch runners at a clip 37% higher than the league average, however, making them one of the more aggressive teams in the space across the American League postseason field."
Minnesota will look to defend Target Field and advance to the American League Division series next weekend. What are your thoughts about the Blue Jays as the Twins first-round opponent? What are you most looking forward to from the matchup?