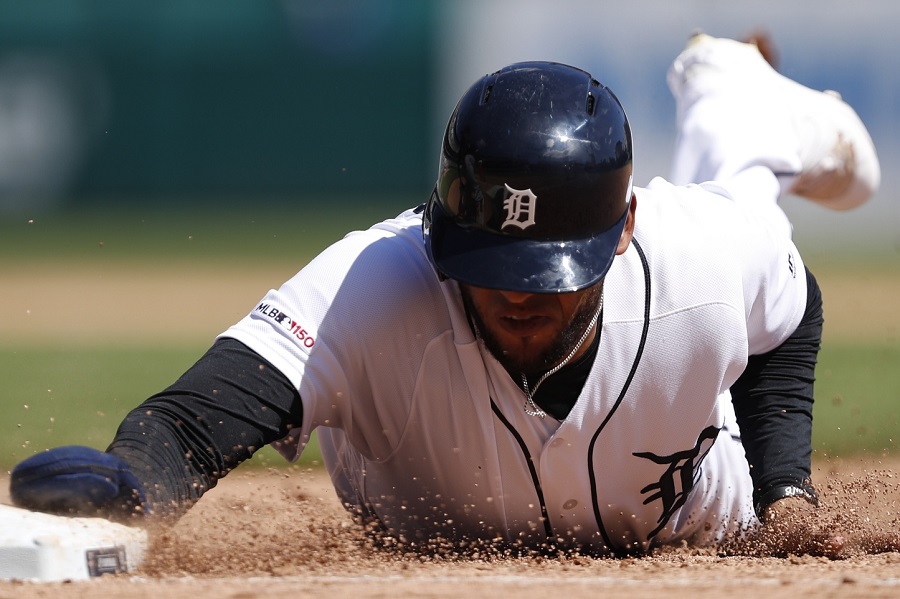 Image courtesy of © Raj Mehta-USA TODAY Sports
Brief Overview:
Last week I wrote that Detroit was a poor team and they were so offended by that statement that they decided to take the first game of that series and then subsequently lose every other game heading into this series. A perfect 0-5 sums up their season quite well as they have already been eliminated from playoff contention, have hit 92 losses, have had their awfulness quantified in a historical context, and their manager, Ron Gardenhire, has already said that he understands if the Tigers choose not to retain him next year. Again, it's August and the Tigers' grave has already been dug and the funeral procession has apparently already come and gone, this is now just the after-party.
What They Do Well:
No other business can say that they have single-handedly kept the flight from Toledo to Detroit alive and flourishing quite like Detroit can. A mean-spirited joke yes, but the Tigers have had 52 different players play for them at this year and all I can think about is the executives at Delta swimming in money. Although that was probably going to happen regardless of Detroit's 40-man situation.
Beyond my snark, Detroit still has an average starting rotation by fWAR as they rank 15th in baseball in that stat. Again, it's mainly Matt Boyd, Spencer Turnbull, and Daniel Norris carrying them in that stat, but for a team with this record, even mediocrity can feel like a miracle. Beyond them, it's a drop-off into the abyss (sans Jordan Zimmermann's actually decent peripherals) but the Tigers should have a fighting chance to win a game with any of those guys pitching.
What They Do Not Do Well:
This could literally end up being a masters thesis if I were so inclined but I'll try to cut to the chase here. The Tigers were able to BABIP themselves into a decent offensive showing against the Twins last weekend, but the mirage did not last long and the numbers for the year as a whole remain ugly. A league-low 77 wRC+ paired with a bottom three ISO of .149 reflects an offense without many threats. The ISO especially is indicative of the kind of offense the Tigers possess as in a day and age of power, the Tigers' need for extra-base potential is greater than the Indians' thirst for actually having people come to their games. Can I quantify that? Yes, actually. The Tigers' leader in ISO (Ronny Rodriguez) holds a mark of .222 while the Twins as a team hold a mark of .230.
Can they at least pitch? Well, not really. The Tigers have the third highest team ERA in baseball and it hasn't gotten better recently. In the month of August, the Tigers' pitching staff has a lower fWAR total than Trevor Hildenberger has earned in 2019 (.3 to .4). Hildenberger has thrown 14 innings in the majors this year, you do not really need me to tell you that that isn't ideal, but finding fun ways to slant stats is half of the point of these articles so allow me to continue.
Individuals Of Note:
Unfortunately, I mentioned Niko Goodrum here last week because he was having a solid year, but he then suffered an injury and will most likely not return this year, sorry for that one, Niko.
After Niko, the next best position player by fWAR is Victor Reyes whom the Tigers picked up in the Rule 5 draft last year and somewhat stashed in their savings account in order to get full team control over him. Reyes has responded by BABIP-ing his way to .4 fWAR season over 41 games. Most of his value has been earned through his great defensive metrics as his 85 wRC+ is incredibly whelming, and that's even with a massive .359 BABIP.
Beyond that, this is a vast wasteland of lost hope as no other position player really deserves notoriety in this sprawling array of sadness. The Tigers' position player fWAR leaders list would be the perfect place to hide secret government codes or laundered money. Maybe "Mikie Mahtook" is actually code for one of those things, maybe I'll get back to that later.
Let's talk about Daniel Norris, because why not. Norris was part of the return when the Tigers dealt David Price to the Blue Jays, which is a very old-fashioned statement, but a true one nonetheless. Norris struggles with staying healthy and has gone through the general wringer that most young starters are subject to as they adjust to major league hitters. This year has been a step in the right direction for him as he has already set a new high for MLB innings in a year with 126 1/3 and he may hit the 2.0 fWAR mark if the last month of the season goes well for him. He's no longer a young gun at 26 but there is still a good chance that he turns into a quality big league pitcher.
Recent History:
The Twins and Tigers have played a handful of times this year and the Twins are 8-4. The most recent series was won by the Twins as they took two games and the Twins also took two games the last time they were in Comerica (which was in early June).
Recent Trajectories:
The Twins are 11-4 over their last five series while the Tigers are 4-10 over their last five series.
Pitching Matchups:
Friday: Gibson vs Jackson
Saturday: Pérez vs Boyd
Sunday: Pineda vs Turnbull
Monday: Odorizzi vs Zimmermann
Ending Thoughts:
This is one of those weird series where they play four straight games against each other but it's technically a three game series with the fourth game being a makeup game from an earlier rain out. Anyway, the Twins are coming into the series hot while the Tigers are literally the farthest from hot as a team can be. Taking three games will be the absolute minimum expected from the Twins and taking four should not be out of reach at all. Granted, I am now on a three-series losing streak, but I will call that the Twins will take three games exactly, so who knows what actually will end up happening here.