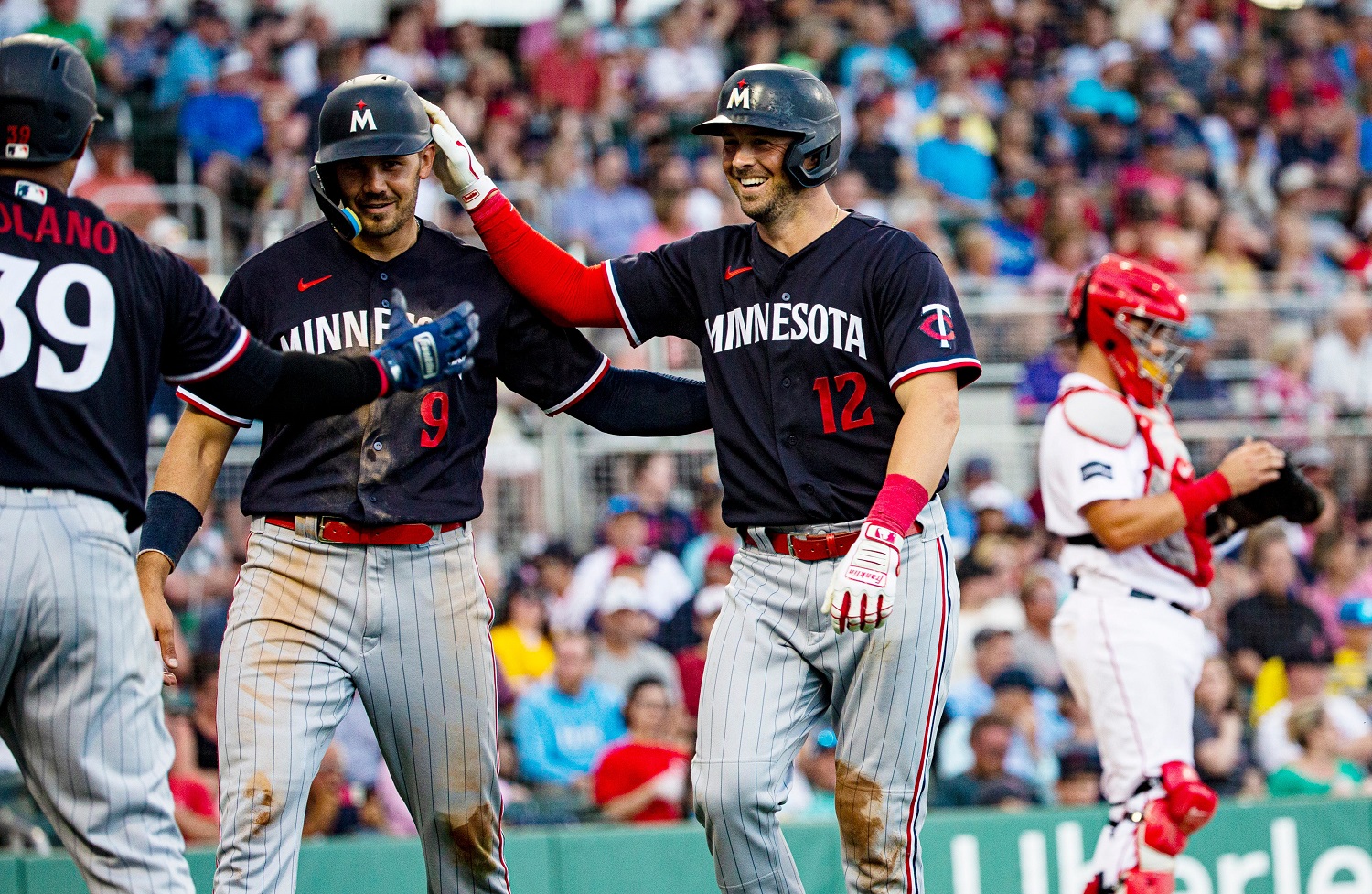 Image courtesy of Andrew West/The News-Press / USA TODAY NETWORK
Last season, the Twins saw firsthand how fun it is to have a fantastic shortstop. Carlos Correa is one of the best players in Major League Baseball, and while it was an odd route to re-sign him, he now can call Minnesota home for the better part of a decade. At first, that may have been disappointing for Kyle Farmer, who was initially penciled in to play the spot, but he's going to carve out plenty of run for himself.
Rocco Baldelli's squad struggled mightily at times to score runs a year ago. Much of that lineup returns. Correa returns alongside Jorge Polanco, Alex Kirilloff, Jose Miranda, and Max Kepler. Some of that group still needs to get healthy, but the bulk of a lineup that routinely was called upon last year remains the same. Yes, Joey Gallo is a high-profile offensive addition, but Farmer also brings a skillset that Minnesota desperately needed.
A late-blooming Dodgers prospect, Farmer didn't debut until his age-26 season in 2017. He played in just 59 games for Los Angeles before heading to Cincinnati, and it wasn't until 2021 that he surpassed the century mark in a single season. In the past two years, though, Farmer has shown an ability to produce at a level that the fringes of a good roster should be excited about.
Farmer is not an average or on-base juggernaut, but he provides enough pop from the middle infield to be something plenty at those positions cannot handle. A career-best 16 home runs happened two seasons ago, and Farmer nearly replicated that last year when he hit 14 for the Reds. It's not as though he'll be an integral power threat as a utility guy for Minnesota, but having enough pop at their disposal is something the team would've liked more of last year.
The Twins also have the benefit of platooning Farmer alongside their own developed utility star. Farmer is a right-handed hitter, whereas Nick Gordon is on the opposite side of the plate. The two can help mask Polanco's initial absence and should be expected to get plenty of run at second base. 
Last season Farmer mashed southpaws to the tune of a .309/.380/.568 slash line. Given how left-handed that group tends to be, Minnesota has had platoon players in the outfield during recent seasons. Kyle Garlick carved out a role by being able to show right-handed power, and Farmer could benefit from similar usage.
Going from Correa to Farmer as the everyday shortstop would have been underwhelming, but some initial plan needed to be hatched. Similar to the Isiah Kiner-Falefa move two offseasons ago, the Twins front office kept working and exceeded even their initial expectations. While Farmer could have been disappointed in losing some playing time or opportunity, he'll now be put in even more advantageous situations.
For a manager that likes to look at matchups, Baldelli should have the most flexibility and depth he has ever had for the Twins. A bench including a regular like Farmer is evidence of that. Minnesota making noise during the regular season and into the postseason will reflect the roster as a whole.