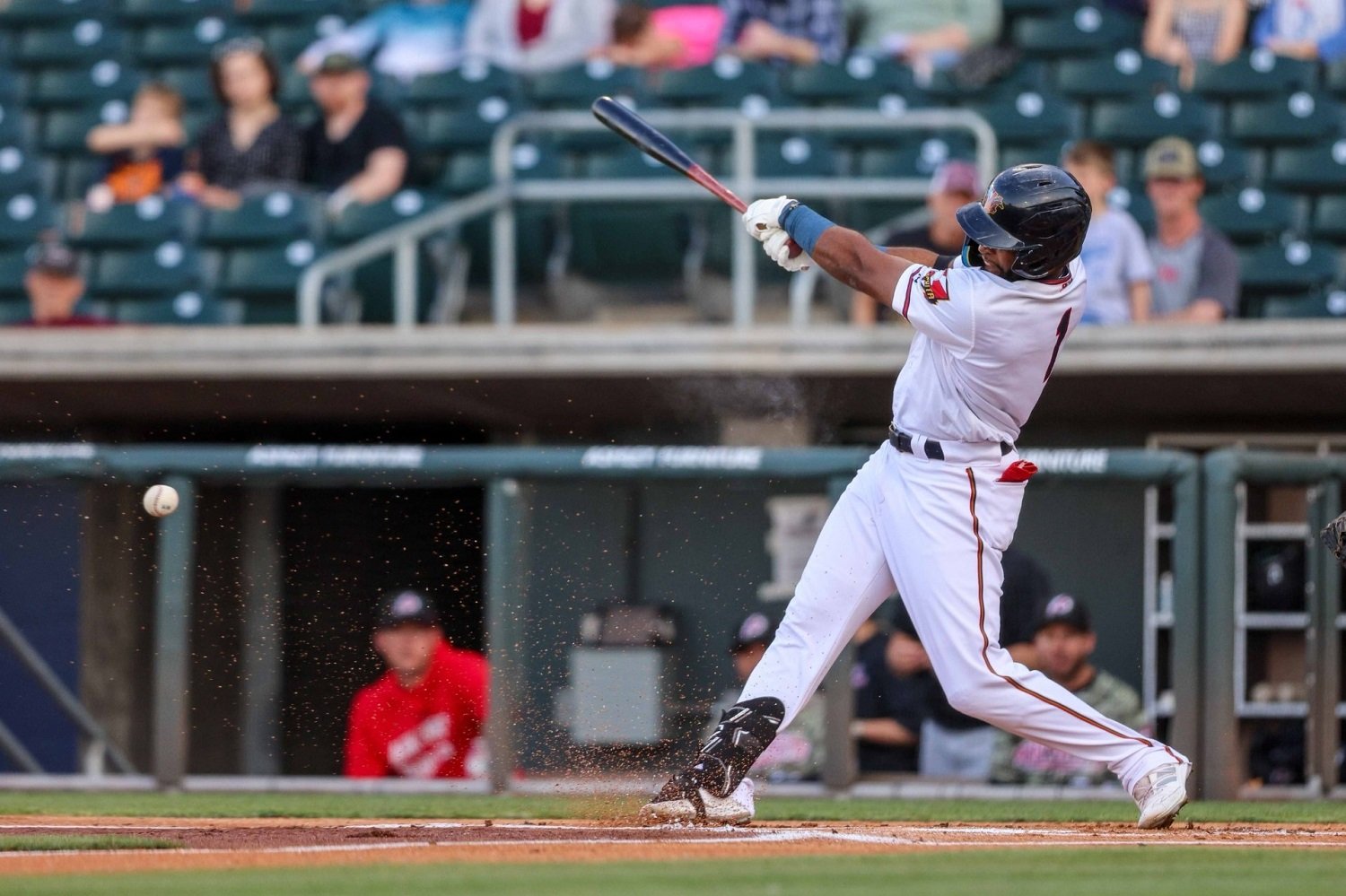 Image courtesy of Ed Bailey, Wichita Wind Surge (photo of Yoyner Fajardo)
As you all know, Wins and Losses are not as important in affiliated, minor-league baseball as player development. So, the fact that all four affiliates lost on Wednesday night doesn't matter at all in the big pitcher. Of course, you also like to think that part of the development process is learning how to win, and that development and improvement could lead to more Wins over time. There have been several days when all four affiliates have won. And, three of the four Twins affiliates have winning records. 
St. Paul Saints: 22-17 
Wichita Wind Surge: 16-18
Cedar Rapids Kernels: 19-16 
Fort Myers Mighty Mussels: 20-15 
Let's get to the report. As always, please feel free to discuss and ask questions. 
TRANSACTIONS
No transactions on Wednesday. However, three Twins players left their Wednesday afternoon game in Los Angeles. Nick Gordon has a fractured shin. Jorge Polanco has a "minor" hamstring strain. And, Joey Gallo left after being hit in the foot with a foul ball. In other words, the Twins have an off day on Thursday, but expect them to make some moves before their Friday night game in Anaheim, and you'll want to watch the Saints and Wind Surge lineups on Thursday. 
SAINTS SENTINEL 
St. Paul 3, Columbus 4
Box Score
The Saints fell behind 2-0 in the second inning. Both runs were unearned after a throwing error by starter Simeon Woods Richardson. The Clippers added a third run in the third inning. The Saints scored one in the fourth and one in the sixth inning to cut the lead to just one. Columbus scored a run in the bottom of the sixth inning. So when the Saints added one more run in the top of the seventh, it only cut the deficit to one, and that is where the score remained. 
Woods Richardson has had a tough start to his season. In this game, he went five innings and was charged with all four runs (two earned). He gave up six hits, walked four and struck out three batters. Connor Sadzeck, who has spent big-league time with the Rangers, Mariners and Brewers, came in and allowed an inherited runner to score. However, he worked two innings and gave up just one hit. Josh Winder pitched a scoreless eighth inning. He walked one and struck out one. He also had two pitch-clock violations. 
On the offensive side, the Saints got two hits from Andrew Stevenson, Jose Miranda, and Mark Contreras. Contreras, Chris Williams, and Andrew Bechtold each hit a double. 
Elliot Soto had to leave the game in the second inning because of injury. Manager Toby Gardenhire was told to leave the game in the fifth inning by the umpire for disagreeing with the call on a double play. 
WIND SURGE WISDOM
Wichita 1, Arkansas 2
Box Score 
Carlos Luna made his sixth start of the season for the Wind Surge. He gave up two runs on two hits and two walks. Unfortunately, the runs scored in the fifth inning on a Connor Hoover two-run home run that put Arkansas ahead 2-1. Unfortunately, that was the end of the scoring in the game. 
Luna got one more out in the sixth inning before Alex Scherff came in to replace him. He gave up two hits, but he recorded five outs, four of them on strikeouts. Michael Boyle gave up four hits, but no runs in 1 1/3 innings. Hunter McMahon came on and walked two before getting the final two outs in the ninth. 
Wichita had plenty of opportunities in the game. They had nine hits and two walks, but they went 1-for-8 with runners in scoring position and left nine runners on base. Yoyner Fajardo continues to rake. The minor-league Rule 5 pick from the Pirates is now hitting .315 after going 2-for-4 with a walk in this game. He also stole his 13th base. Alex Isola went 2-for-4 and his fourth-inning, solo home run scored the lone run on the day. Pat Winkel had a single and a walk, and Seth Gray hit a double. 
As with the Saints game, the Wind Surge manager didn't get to see the end of the game from the home-team's dugout. He was ejected in the seventh inning for arguing a call at first base. 
KERNELS NUGGETS
Cedar Rapids 4, Peoria 6 
Box Score
Pierson Ohl had his first tough start of the season for the Kernels. He gave up five runs (4 earned) on six hits over four innings. However, it won't surprise you to hear that he had five strikeouts and no walks. In 30 innings this season, he now had 31 strikeouts… and just two walks. 
John Stankiewicz worked two scoreless innings and gave up only one hit. Malik Barrington worked 1 1/3 innings. He gave up one run on three hits and two walks. Niklas Rimmel got the final five outs, two on strikeouts. He gave up just one hit. 
Kala'i Rosario had two of the team's seven hits in the game including his 10th double. Misael Urbina and Jose Salas each had a double. Kyler Fedko mashed his first home run of the season. Tanner Schobel had a single and a walk. Unfortunately, the Kernels also had 14 strikeouts in the game. 
MUSSEL MATTERS
Fort Myers 1, Lakeland 7 
Box Score 
A short start with minimal offensive production is not a great means to victory in baseball at any level. The Mussels have been playing well of late, but not so much on this night. 
Lefty Develson Aria was on the mound to start and tossed a scoreless first inning. However, the southpaw gave up five runs on three hits and two walks in 1 2/3 innings. Jackson Hicks came on and got out of that second inning, but he gave up two runs on two hits in the third frame. He recorded four outs, all four on strikeouts. 
The Mussels were down 7-0 after three innings, but if you're looking for positives, the pitching over their final five innings was good. Danny Moreno, just added to the roster, tossed three scoreless innings. He gave up just one hit, walked three, and struck out two batters. Then Juan Mendez struck out three batters over two scoreless innings. He gave up one hit and one walk.
Fort Myers managed just five hits in the game and walked twice. Dylan Neuse went 1-for-2 with a double and a walk. They went 0-for-8 with runners in scoring position and left six runners on base. 
Fun with Statcast (Here are the reports on the four Mighty Mussels pitchers in this game. If not interested, scroll down to the Hitter and Pitcher of the Day.)
Lefty Develson Aria wasn't in the game long. He threw 47 pitches and 22 of them were four-seam fastballs. He got 12 swings on that pitch including seven whiffs. His fastball ranged between 91.4 mph and 94.2 mph. It averaged 93.2 mph. His next most-used pitch was his changeup, with 17 of them. The velocity on those pitches were between 87.9 mph and 91.1 mph with an average of 89.7. One of two things is going on there. First, it's possible they were being recorded wrong and maybe should have been called 'sinkers.' However, if those were in-fact changeups, then one thing to work on is throwing that about 7-10 mph slower to keep the hitters off balance. He threw six sliders that averaged 80.3 mph. 
Jackson Hicks threw 23 pitchers, 14 of them were sliders. He got 12 swings on the slider including nine whiffs! The slider's average velocity was 83.4 mph. He threw just five fastballs which averaged 90.7 mph. 
Danny Moreno is one of those names that we've seen in the Twins organization for quite some time. He signed with the Twins way back in July of 2017. He pitched in the DSL in 2018. He worked two games in the GCL in 2019 before the arm injuries started. He also pitched out of the GCL Twins' bullpen in 2021 and 2022. Wednesday night was his first game of the year. So why keep the 23-year-old around? Well, 39 of his 57 pitches were designed as sinkers. Those pitches were clocked between 92.6 and 96.4, with an average of 94.6. He also threw some sliders, changeups and a slower curveball. 
Finally, Juan Mendez came in. Of his 36 pitches, 16 were four-seam fastballs, and 14 were sliders. Those fastballs were thrown between 95.1 mph and 98.5 mph. Three of the pitches were over 98.0 mph. He got just two whiffs on that pitch. However, he got whiffs on six of the 14 sliders he threw, especially good when he only got nine swings on it. The slider was between 81.9 and 84.4 mph. He also threw five cutters, which could have been sliders and called-out differently. The pitches act very similarly, but the velocity separation is really solid. 
TWINS DAILY MINOR LEAGUE PLAYERS OF THE DAY
Pitcher of the Day – Danny Moreno (Fort Myers Mighty Mussels) - 3 IP, 0 R, 1 H, 3 BB, 2 K. 57 pitches, 30 strikes. 
Hitter of the Day – Alex Isola (Wichita Wind Surge) - 2-for-4, HR(5), R, RBI, 2 K. 
PROSPECT SUMMARY
Check out the Prospect Tracker for much more on the new Twins Top 20 prospects after seeing how they did on Wednesday. 

#1 - Brooks Lee (Wichita) - 0-for-4, K
#2 - Royce Lewis (St. Paul-on Rehab) - Scheduled Day Off. 
#3 - Emmanuel Rodriguez (Cedar Rapids) - 0-for-4, 3 K.  
#4 - Edouard Julien (St. Paul) - 0-for-3, K
#7 - Simeon Woods Richardson (St. Paul) - 5.0 IP, 4 R, 2 ER, 6 H, 4 BB, 3 K (87 pitches, 52 strikes) 
#9 - Matt Wallner (St. Paul) - 0-for-4, 4 K
#12 - Jose Salas (Cedar Rapids) - 1-for-4, 2B(4), R, RBI. 
#13 - Noah Miller (Cedar Rapids) - 1-for-4.   
#19 - Yunior Severino (Wichita) - 1-for-4, K. 
THURSDAY'S SCHEDULE AND PITCHING PROBABLES 
St. Paul @ Columbus (6:05 PM CST) - LHP Brent Headrick (1-0, 5.60 ERA) vs RHP Aaron Civale. 
Arkansas @ Wichita (7:05 PM CST) - RHP Blayne Enlow (0-1, 3.56 ERA)  
Peoria @ Cedar Rapids (6:35 PM CST) - LHP Jaylen Nowlin (1-3, 3.96 ERA)
Fort Myers @ Lakeland (5:30 PM CST) - RHP C.J. Culpepper (1-2, 3.09 ERA) 
Please feel free to ask questions and discuss Wednesday's games!