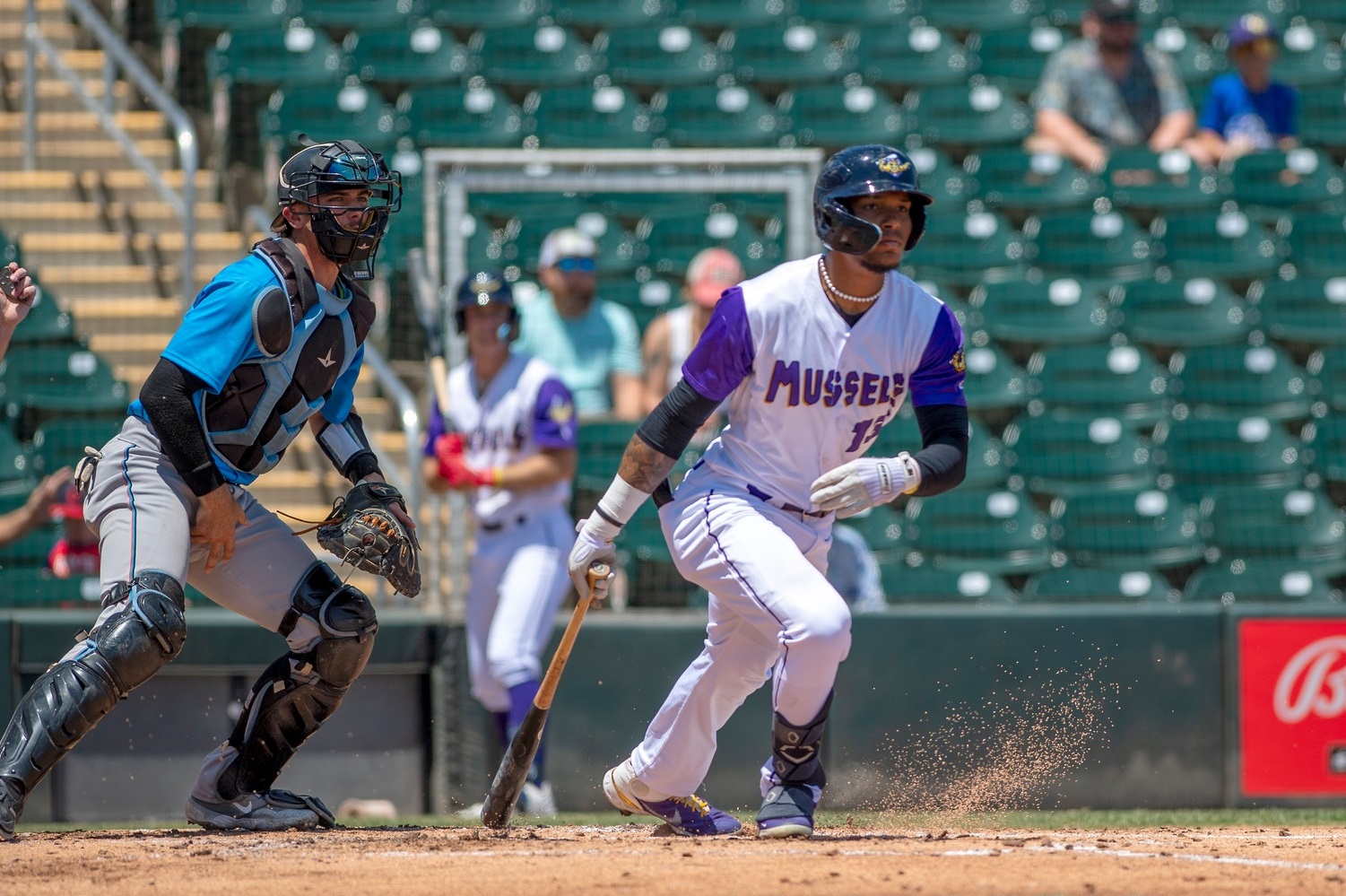 Image courtesy of William Parmeter (photo of Carlos Aguiar)
Let's get to the report. As always, please feel free to discuss and ask questions. 
TRANSACTIONS
There were no transactions in the Twins minor leagues on Friday. However, we know that Bailey Ober will be starting for the Twins on Saturday, and for that to be OK, the Twins will have to put a player on the Injured List. If I were to guess… I'd take my chances that the player will be Kenta Maeda.    
SAINTS SENTINEL 
St. Paul 1, Rochester 2
Box Score

Simeon Woods Richardson fell to 0-3 on the season, but he really put together a terrific start. In fact, he carried a perfect game through four innings. He faced the minimum number of batters through five innings. In the sixth inning, a Derek Hill single broke up the no-hit bid. He advanced to third base on a single. Darren Baker bunted and Woods Richardson flipped it home but Hill was safe. The second run scored on a wild pitch. Richardson was charged with the two runs on three hits and two walks in seven innings. He had four strikeouts. Austin Schulfer tossed a perfect eighth inning. 
Unfortunately, Red Wings (Nationals) pitcher Cory Abbott also kept a no-hit bid into the sixth inning. Alex Kirilloff had a walk in the fourth inning to end the perfect game bid, and Elliot Soto broke up the no-hitter with a double in the sixth inning. 
Down 2-0 going into the ninth inning, the Red Wings mounted a bit of a comeback. Mark Contreras doubled in Kyle Garlick to cut the deficit to 2-1 with nobody out. Andrew Bechtold followed with a walk. Andrew Stevenson bunted the runners to second and third with one out. However, two strikeouts later and the Saints had a 2-1 loss. 
The Red Wings had five walks, but they also struck out 18 times in the game. Not much for base runners, but the team went 0-for-6 with runners in scoring position and left seven runners on base in the game. 
WIND SURGE WISDOM
Wichita 1, Springfield 9
Box Score 

Chad Donato is a 27-year-old pitcher that the Twins signed in the offseason to provide innings and maybe some mentorship. He was originally drafted by the Astros in 2016 out of West Virginia and spent the 2022 season at Triple-A Sugar Land where he went 4-8 but tossed 124 2/3 innings. Upon becoming a free agent, he signed with the Twins this offseason
On Friday, he made his third start for the Wind Surge, and it didn't go well. He went 3 2/3 innings and gave up six runs, two each in the first, third and fourth innings. He gave up seven hits, walked two and struck out two. 
Andrew Cabezas came off of the Development List on Thursday. On Friday, he struck out four batters over two scoreless innings. Hunter McMahon is off to a slow start this season. In this one, he gave up three runs (2 earned) on two walks in just 1 1/3 innings. He did strike out three batters. Michael Boyle came in and allowed both inherited runners to score. But he was able to complete the final two innings. Wichita pitchers have given up 30 runs over the past three games. 
The Wind Surge bats just weren't able to get much going in the game. They had just six hits and walked just twice. Alex Isola went 2-for-4 in the game. Jake Rucker went 2-for-4 with an RBI double. 
KERNELS NUGGETS
Cedar Rapids 7, West Michigan 5  
Box Score

Marco Raya made the start for the Kernels in this game. The youngster completed the first three innings. He gave up three runs on three hits (including 2 homers) and a walk. He struck out two batters. Orlando Rodriguez came on and worked four innings out of the bullpen. He gave up two runs on four hits and a walk. He struck out five batters. Niklas Rimmel walked one and struck one out in a scoreless eighth inning. Regi Grace has had a nice breakout in the first month of this season for the Kernels. In this game, he had a perfect ninth and ended the game with a big strikeout to earn his first Save. 
Rimmel gets the Win because the Kernels scored three runs to take the lead in the eighth inning. Kala'i had an RBI double to tie the game. Then Tanner Schobel and Misael Urbina hit back-to-back sacrifice flies to give the Kernels the two-run lead. 
The first three runs of the game for the Kernels came off of the bat of Noah MIller. He had an RBI single in the second inning. Then in the fifth inning, he hit a two-run single. Miller went 2-for-5 with those three RBI. 
Ben Ross went 2-for-4 with a walk. He stole a base too. Noah Cardenas walked once and added his third double of the season. 
The Kernels gave up three home runs in the game. Two of them came off of the bat of the #12 overall pick in the 2022 draft, Jace Jung. 
MUSSEL MATTERS
Fort Myers 3, Daytona 2
Box Score 

Zebby Matthews, the Twins eighth round pick last summer out of Western Carolina, has started off his season 3-0 after another solid start on Friday night. In this game, he gave up two runs on four hits and a walk in 5 2/3 innings. He struck out eight batters. Jonathan Lavallee struck out three over 1 2/3 scoreless innings in relief. Jackson Hicks struck out three batters over the final 1 2/3 innings to record his first save as a pro. 
The Mussels had plenty of baserunners that this game could have been a blowout. They had nine hits and six walks, but they were just 1-for-10 with runners in scoring position and left 10 runners on base. However, Dylan Neuse and Carlos Aguiar provided the big hits. 
In the second inning, Neuse gave the team a 1-0 lead with an RBI single. In the third inning, Aguiar drove in a run to make it 2-0 Fort Myers. The Tortugas got on the board with a run in the fourth inning. In the sixth frame, Neuse came up big again with another run-scoring hit to provide the team with just enough insurance since Dayton scored a run in the bottom of that inning to make it 3-2. 
Neuse went 2-for-3 with a walk in the game. He also stole his fifth bag of the season. Aguiar added a triple to his run-scoring double. Jorel Ortega went 2-for-4 with a walk. Rubel Cespedes went 2-for-4. 
TWINS DAILY MINOR LEAGUE PLAYERS OF THE DAY
Pitcher of the Day – Simeon Woods Richardson (St. Paul) - 7 IP, 3 H, 2 ER, 2 BB, 4 K. 
Hitter of the Day – Carlos Aguiar (Fort Myers) - 2-for-5, 2B (4), 3B (1), RBI.
PROSPECT SUMMARY
Check out the Prospect Tracker for much more on the new Twins Top 20 prospects after seeing how they did on Wednesday. 
#1 - Brooks Lee (Wichita) - 0-for-4, K 
#2 - Royce Lewis (Minnesota) - IL (news came out on Friday that he is playing three games in Extended Spring
Training games every other day. They hope to have him start a rehab assignment in May.) 
#4 - Marco Raya (Cedar Rapids) - 3 IP, 3 H, 3 R, 1 BB, 2 K, 50 pitches, 30 strikes. 
#6 - Simeon Woods Richardson (St. Paul) - 7 IP, 3 H, 2 ER, 2 BB, 4 K. 78 pitches, 55 strikes. 
#11 - Matt Wallner (St. Paul) - 0-for-3, BB, 2 K.  
#14 - Noah Miller (Cedar Rapids) - 2-for-5, 3 RBI 
#18 - Tanner Schobel (Cedar Rapids) - 0-for-3, R, RBI, HBP, SF.
#20 - Misael Urbina (Cedar Rapids) - 1-for-4, 2 RBI, 2 K, SF. 
THURSDAY'S SCHEDULE AND PITCHING PROBABLES 
St. Paul @ Rochester (12:05 PM CST) - RHP Randy Dobnak (1-0, 5.94 ERA) 
Springfield @ Wichita (2:05 PM CST) - RHP Carlos Luna (0-0, 4.09 ERA) 
West Michigan @ Cedar Rapids (1:05 PM CST) - RHP Pierson Ohl (1-2, 2.70 ERA) 
Fort Myers @ Daytona (5:35 PM CST) - RHP Tomas Cleto (0-1, 2.57 ERA) 
Please feel free to ask questions and discuss Friday's games!