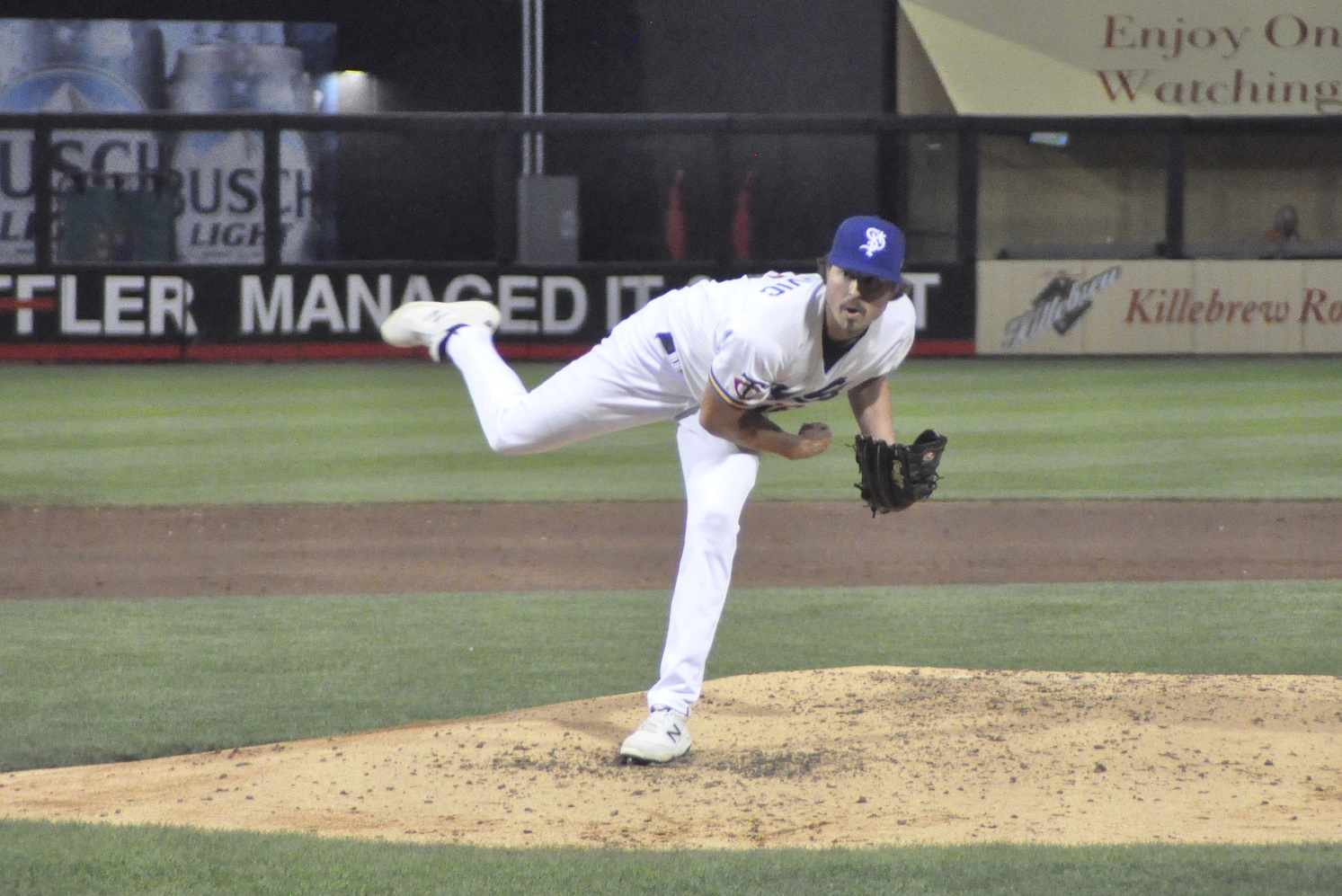 Image courtesy of Theo Tollefson, Twins Daily
Jordan Balazovic was held to a mere 70 2/3 innings at the Triple-A level where he posted a mind-numbingly poor 7.39 ERA, by far the worst of his career. His peripheral numbers weren't much better. Below is a comparison of how Balazovic has performed in many key stats over his last three seasons. (He didn't pitch in 2020 due to the pandemic.)
Like many young arms with natural talent, Balazovic crushed the lower minors. However, as he ascended through the ranks, his performance has dipped, culminating in his forgettable 2022 season at Triple-A. It's not uncommon for an individual's stats to decline as he moves up the minor league ladder—each level consists of better and better players, after all—but Balazovic's represent a relatively steep decline.
What stands out the most is the increase in hard contact he has surrendered, particularly last season. As he has only appeared in the minors, we don't have publicly available Statcast data for Balazovic, but at a certain point average exit velocities and hard-hit percentages aren't needed. His BABIP against has increased nearly 40%, while his line drive percentage has gone up 81% and his home runs per fly ball by a staggering 471% from High-A to Triple-A. In short, his pitches are getting hit harder and harder by better and better hitters.
Additionally, his walk rates have increased while his strikeout rates have simultaneously dropped from 2019 to 2022. Balazovic has never been one to have pinpoint command despite respectable strikeout numbers (see his K-BB%), and that lack of command has become more troublesome as the opposing batters' patience has improved at each level. It would be interesting to see his opposing batter chase and whiff rates at all three levels—almost assuredly they would both decrease—but that data isn't publicly available.
So that belies the question: What can Balazovic due to improve his stuff and get back on the top prospect hype train?
Well, I don't know. At least not entirely. Pitching is a complex endeavor, both mentally and physically, so rarely is there a simple answer. But I do have a few ideas that my be helpful.
Potential Option #1: Increase elbow flexion at foot plant
This is something that the team of biomechanics wizards at Driveline has looked into quite a bit. Elbow flexion is measured by the degree of bend at the elbow. A fully extended elbow would have 0 degrees of flexion while a fully flexed elbow—biomechanically impossible—would be 180 degrees. Driveline has found that, on average, their most elite pitchers (i.e. fastest throwers) achieve 107 degrees of elbow flexion when the foot of their lead leg hits the ground. 
As seen in the picture above, Balazovic frequently fails to reach beyond 90 degrees of flexion, and at times seemingly doesn't even reach 90 degrees. (Granted, it's difficult to say with 100 percent certainty from the behind-the-mound camera angle, but this is the best option available to the public.)
Potential Option #2: Decrease posterior trunk lean (i.e. extension) at foot plant
Another Driveline favorite. They have found that most elite pitchers that train with them have, on average, negative 10 degrees of anterior trunk lean at foot plant. In English, that means that the best-of-the-best pitchers generally bend backwards slightly when their foot hits the ground. It's difficult to put an angle on Balazovic without biomechanics tracking software, but eyeballing it, it seems as though he frequently leans too far back at foot plant. This can contribute to a number of flaws during the throwing motion, particularly making the arm "drag" behind, decreasing command.
Potential Option #3: Increase knee extension power throughout arm swing
All pitchers land with a certain degree of knee flexion (i.e. knee bend) at foot plant. The pitchers who through hardest are able to forcefully extend (i.e. straighten) the knee as they thrust their pitching arm forward. This creates a rigid lever that increases torque and, thus, pitch velocity. 
Last season, Balazovic seemingly struggled with this. Perhaps of note, his lead leg is his left and he was reportedly dealing with left knee discomfort all season. It's possible that the lingering pain caused him to diminish his knee extension after foot plant, impacting his velocity and command.
Potential Option #4: Increase efficient separation between his trunk and pelvis
Watch the video below. The first frame resulted in a ball while the next three were strikes. See if you can parse a difference between Balazovic's trunk and pelvis between the three pictures.
 Ok, now here's a video with my notes.
When Balazovic is able to get his hips pointing toward the plate at foot plant, he's able to efficiently rotate his torso and throw strikes. When he isn't his arm lags behind and the result is more often than not a ball. 
In short, in order for Balazovic to improve and become a solid MLB pitcher, I would argue that he needs to not only tighten up his mechanics but improve his motion's consistency. His windup consists of many long levers and moving parts, both of which serve to reduce consistency (and, theoretically increase strain on the low back; he's struggled with back pain at time during his brief career). The options I've laid out above may help accomplish the opposite.