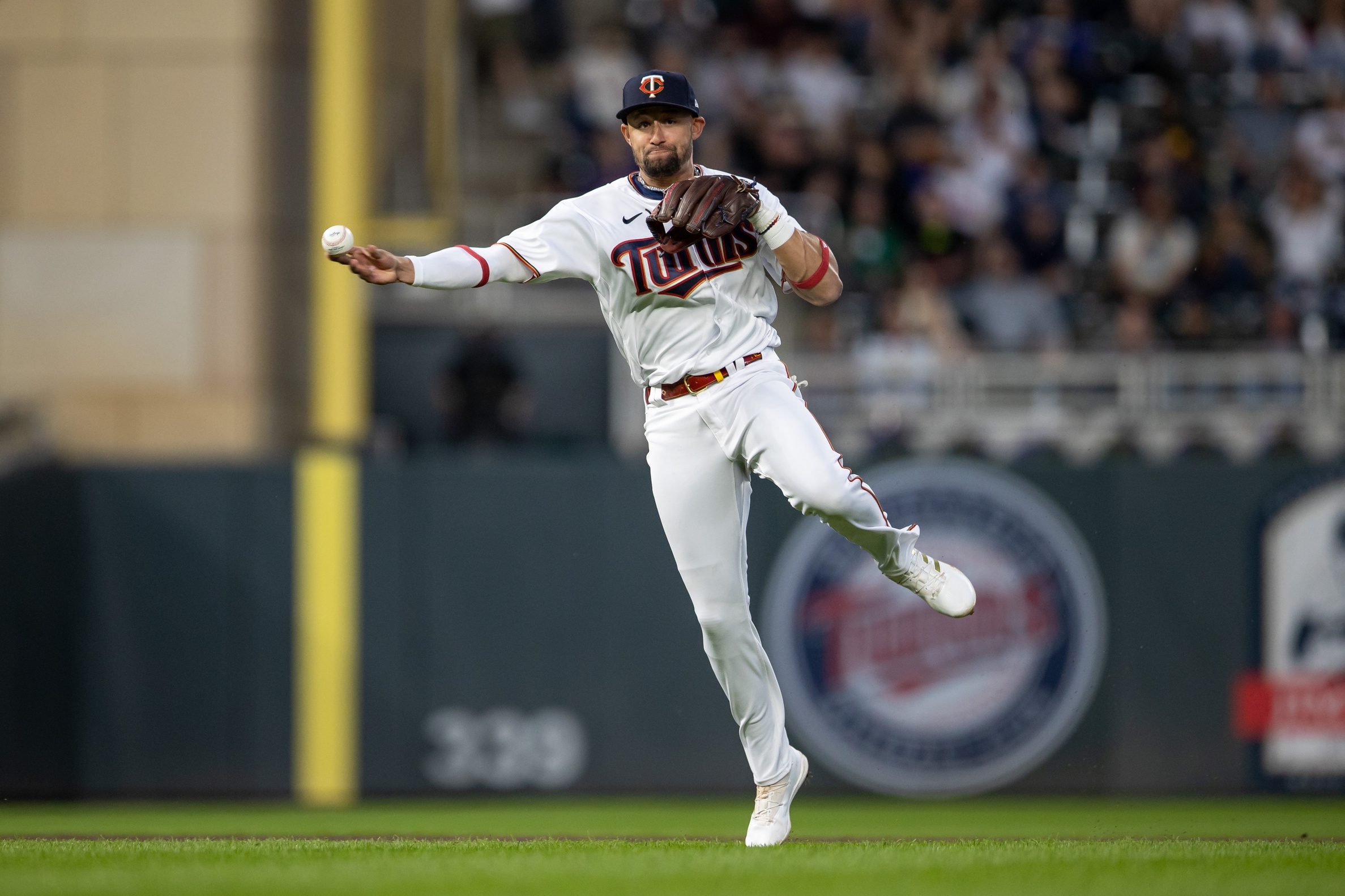 Image courtesy of Jordan Johnson, USA TODAY Sports
With Correa back in Minnesota, the Twins have three shortstops on the 40-man rosters with an additional three in their top 20 prospect rankings across many publications. Some fans (if they know little about baseball) may argue the Twins have more shortstops than they know what to do with. 
Fortunately for Twins president of baseball operations, Derek Falvey, the surplus of shortstops is not a problem to be had. 
"I will take having more shortstops than we have spots for every day of the week," said Falvey in an interview following Correa's press conference. "That tends to lead to good outcomes over time in different spots on the team. If you can play shortstop, you can move around on the dirt. And you're probably going to be pretty good at that."
Kyle Farmer 
For some time this off-season, Kyle Farmer was looking to be the Twins primary shortstop, but when the Twins acquired him from the Reds via trade, they knew they were getting him for more than just one position. 
"We really did feel that when we traded for Kyle. He's a good player, a good shortstop. [We had] a unique situation. So we think Kyle can play in multiple slots. We actually still think he fits our current team, even in a slightly more hybrid role than what he plays, because he deepens our team [defensively]," Falvey said.
While Farmer has only played four games in the outfield his entire professional career (all in left field), Falvey feels confident Farmer can extend his utility infield role into the corner outfield positions. Especially as a way to balance the heavy amount of left-handed hitters in the outfield. Though the team has yet to officially announced this, Farmer is anticipated to be the "emergency catcher" given his previous time at the position during his call up with the Dodgers in 2017.
Royce Lewis
With Royce Lewis, the situation is not entirely a downside with Correa's return. Yes, his main position is blocked, but that is not the only position that Lewis feels comfortable playing on the infield. 
"Third base. I played three years in high school and that was my first position," Lewis said in an interview with Twins Daily in May 2022. "That move is actually very easy for me. It's the same side of the infield and the ground balls are very similar and it's usually just more topspin [of the ball] over at third base."
Prior to his season-ending injury on May 29, 2022, Lewis played only nine games at positions that weren't shortstop with two of those games at third for the St. Paul Saints. 
Jose Miranda is still set up to be the team's everyday third baseman and while the Twins may not put Lewis back in centerfield, considering that is where he re-injured his knee, for his return. He has the ability and arm strength for third base as well as corner outfield positions. 
Brooks Lee
The last primary shortstop that some people expect to break onto the Twins roster sometime in 2023 is Brooks Lee. Since being drafted last July by the Twins, Lee has only played games at short or as the designated hitter at Cedar Rapids and Wichita. 
Lee played a handful of games between second and third base in college at California Polytechnic State University, San Luis Obispo. Falvey acknowledged that there are conversations in the organization on how the Twins handle his primary defensive position based on his overall progression as a player in the minors this season. 
By signing Correa, Lee's progression has no need to be rushed to the big leagues, and Lee and the organization can figure out what his next best position is. And to go a step further, Lee has received the invitation as a non-roster invitee to Spring Training, which will give him plenty of time for tutelage under Correa himself. 
Other Shortstop Prospects
There are three other notable shortstop prospects that the Twins have to work with at other positions with Correa's return; Austin Martin, Noah Miller, and Tanner Schobel. 
Martin has transitioned more into an outfielder throughout the 2022 season and there are those who see him as an ideal backup to Byron Buxton in center field when the time comes for his call-up. Martin had his value plummet with a down year in Wichita for 2022. He went to the Arizona Fall League and regained his value and played 95% of his games at shortstop, but with Correa back, the Twins can expect his move to the outfield to be full-time.
Miller is an interesting case as he is the only one of the Twins top five picks from the 2021 Amateur Draft that remains in the organization. A high school pick from eastern Wisconsin, Miller spent the full 2022 season in Fort Myers. He still has not played a position other than shortstop but his defense is not the problem on the diamond, more so the results of his hitting. Given he is only 20, there is time to figure out what other positions he can play.
Finally, Schobel, who was the third pick out of this last year's draft, has already been shifted to second base. Schobel played only a handful of games at short after he was drafted, and will likely start his 2023 season on the other side of Miller in Ft. Myers or Cedar Rapids.