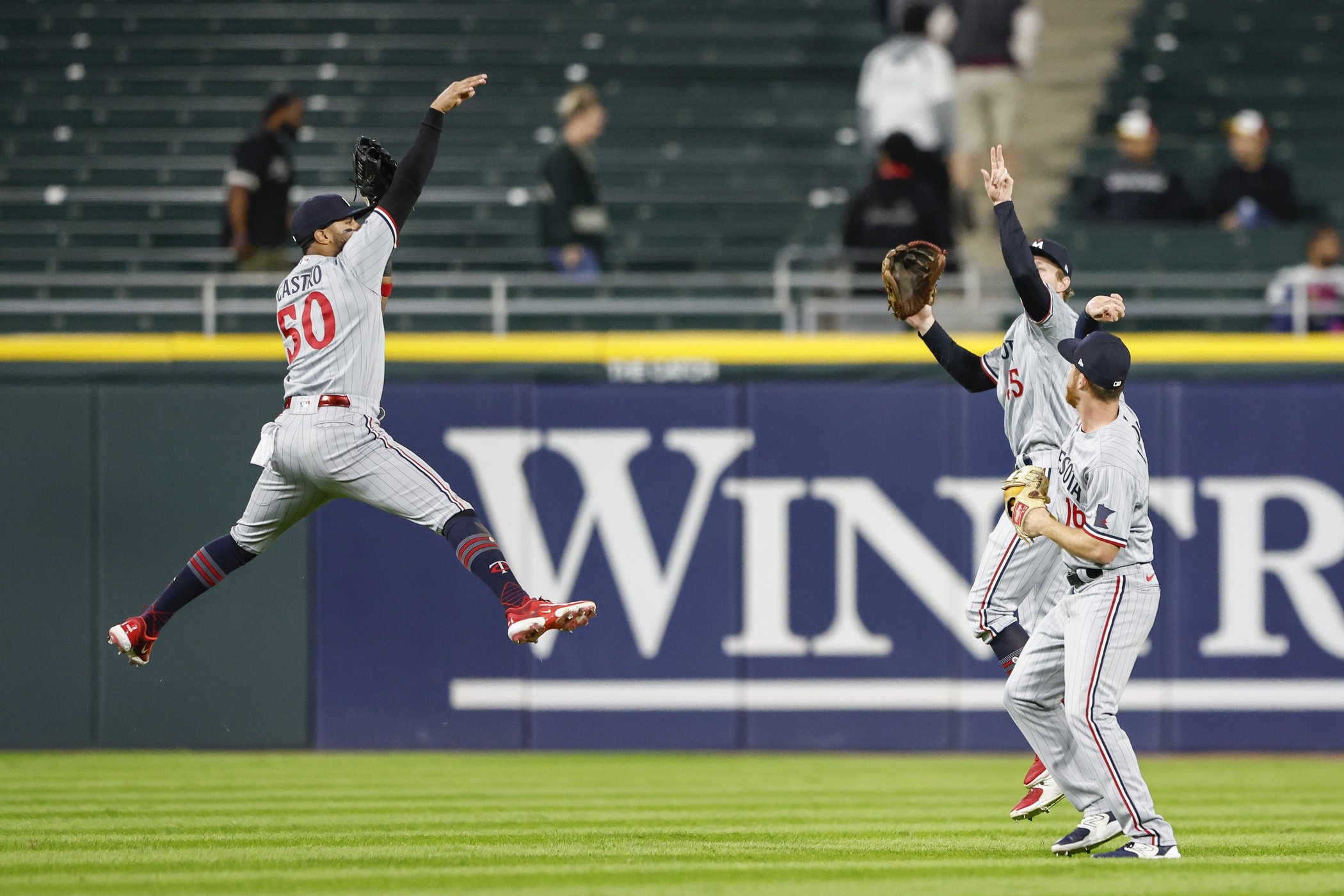 Image courtesy of Kamil Krzaczynski-USA TODAY Sports
By the time I made it to out to the ballpark to catch my first game in the series, the Twins had already taken firm control with back-to-back 10-2 victories on Thursday and Friday night. 
On Saturday, the brutal first inning from Pablo López barely even fazed me. The late comeback that fell short would've merely been icing on the cake.
On Sunday, I returned to Guaranteed Rate Field and watched the Twins more properly exert their will on the lowly White Sox, clinching a series victory and lowering their magic number to six. 
It was a breezy, carefree experience – and suffice to say, a polar opposite of my emotional state as a fan in the same ballpark a year before.
There were already a lot of negative trends and ominous signs in play for the team when I visited Chicago on Labor Day weekend of 2022. But the Twins were still, technically, very much in the AL Central race at the time, trailing Cleveland by just a game for the division lead.
Already it was growing hard to believe in this hobbled Minnesota squad. On this particular night, September 3rd, they fielded a lineup with Jake Cave, Gary Sanchez and Gilberto Celestino comprising the bottom third of the order. 
Alas, I was in attendance, hoping to see some miracle signs from this beleaguered lineup and starting pitcher Tyler Mahle, who'd been acquired at the deadline with a sizable price tag.
That's not what happened.
Mahle gave up four runs in the first inning and came out after the second, his velocity once again dropping to alarming levels. It'd be his last appearance of the season for the Twins. 
This moment essentially made it clear to me that whatever faint glimmers of hope still existed had been snuffed out. I tweeted as much from the stands.
The White Sox proceeded to stack 13 runs on the Twins that night – including six on Nick Gordon, who entered in the eighth – as their starter Dylan Cease carried a no-hitter into the ninth. I can't say I was still in the building when Luis Arraez singled with one out to go, but I was pleased to inform a few smug Sox fans on the train once I saw the notification on my phone.
The bottom line and biggest takeaway from this past weekend is that it's damn nice to be on the other side. Setting aside the embittered rivalry, I do feel empathy for White Sox fans, who've been done dirty by the organization's rudderless management. Their short and fruitless contention window appears to have snapped shut, and unlike the Twins, it's tough to see an immediate path back. 
Mix in the ugly performance put forth by Justin Fields and the Bears on Sunday, and let's just say the collective vibe of Chicagoan sports fans was not great. It's a bummer. Attending these games and experiencing other ballparks and fanbases is much more fun when the games matter, the stands are full, and the local product is less depressing. 
One thing I always try to center in my writing – and if you've read my work, hopefully it's something that comes through – is a sense of perspective. No matter how you feel about the Twins, their leadership, the quality of their season, or their future ... it's simply undeniable that things are way better than they were a year ago, and better than they are for the rest of the teams in this division.
My own sense of perspective got a jumpstart during my trip to Chicago, and I return home with a renewed appreciation and enthusiasm for what lies ahead. The season is winding down but the excitement is just beginning.