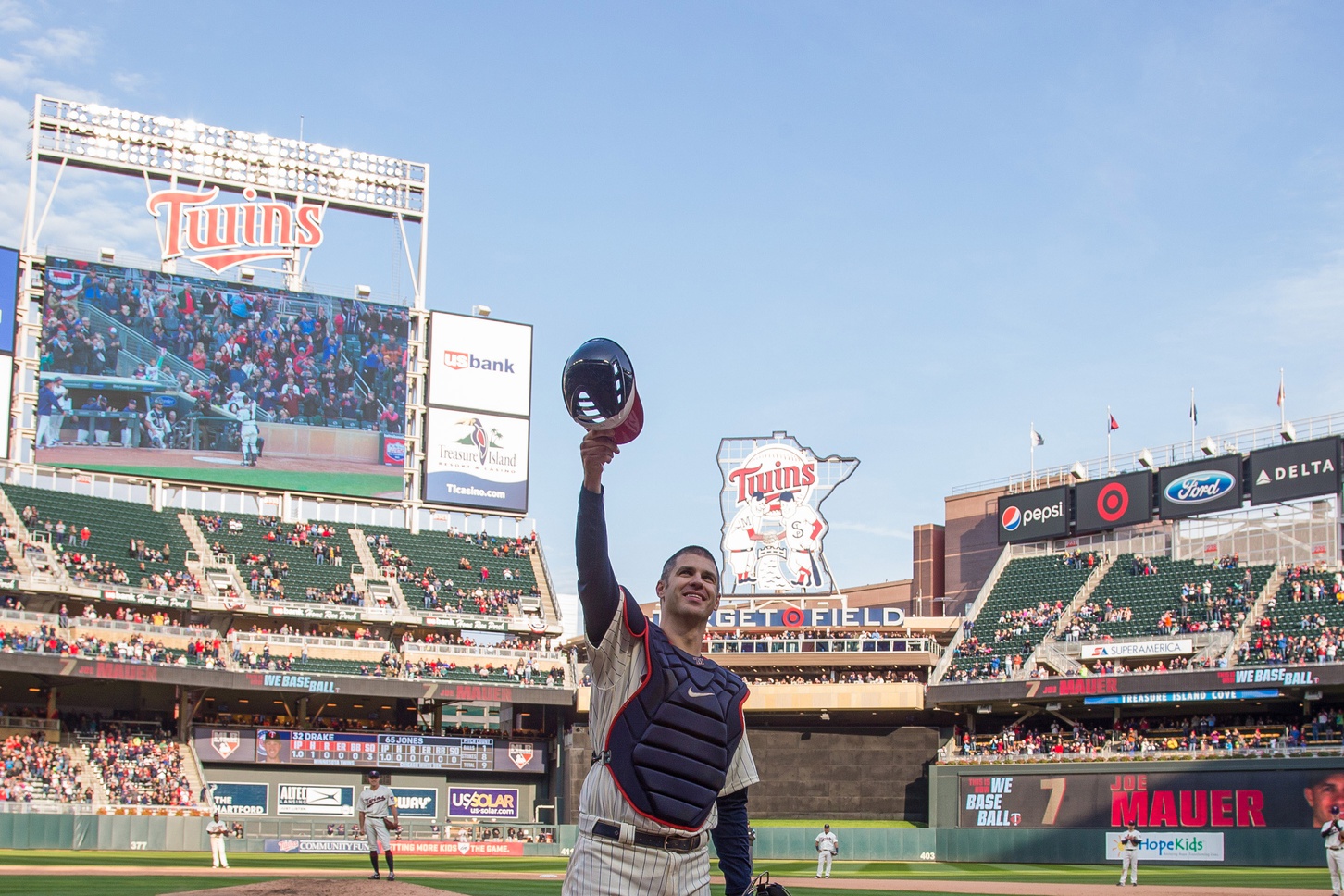 Image courtesy of Brad Rempel-USA TODAY Sports
10: Outdoor baseball returns to Minnesota (4/12/10)

On April 12th, 2010, the Twins christened their new ballpark, hosting the Red Sox on a cloudy and cool Monday afternoon. It wasn't the team's first game at Target Field (a pair of exhibitions against the Cards had been played there 10 days earlier) but this one made it official. For the first time in almost 30 years, Twins fans were able to watch meaningful baseball at home under blue skies rather than a Teflon roof.

It was a crisply played 5-2 victory for Minnesota, keyed by Carl Pavano's six strong innings along with three-hit games from Jason Kubel and reigning MVP Joe Mauer. The Twins went on to win their first four series at Target Field and finished 53-28 (.654) at home in the new stadium's inaugural season.

9: Byron Buxton races for record-setting inside-the-park home run (8/18/17)

As with many of the moments on this list, I picked this one because it is emblematic of the man behind it. Buxton has had plenty of amazing moments at Target Field since debuting there in 2015, but his inside-the-parker against Arizona in August of 2017 epitomizes the electricity and incredible athleticism that make him such a tremendous joy to watch.

Blazing around the bases in 13.85 seconds after his towering drive caromed off the wall in right-center, Buxton set a new Statcast record for the feat, breaking... his own. (Of course.)

https://twitter.com/statcast/status/898722220096212992

8: Ben Revere channels Willie Mays in center field (8/22/11)

Target Field has seen its share of phenomenal defensive plays, and Mr. Buxton has been responsible for quite a few of them. In my humble opinion, however, none can top this dazzling catch from Revere, which to me is one of those "You remember where you were and who were you with when you saw it" kinds of moments. Defensive play of the decade for Minnesota, from my view.

7: The Rally Squirrel becomes legendary (8/21/19)

The beauty of outdoor baseball is that it brings so many variables into play: wind, weather, and the occasional wildlife.

In the first year at Target Field, there was the famous moth-eating falcon, which came to be known as Kirby the Kestrel. But the most beloved unticketed visitor waited nearly until the end of the decade to make its appearance: The Rally Squirrel.

https://twitter.com/cjzero/status/1163990505140752385

He (or a cohort) had scampered out the previous night, during a losing effort, but this time the squirrel's appearance coincided with a big comeback and flurry of runs for the Twins, who rallied to blow out the White Sox and earn the newly minted mascot its nickname.

https://twitter.com/fsnorth/status/1164018758052007937

6: Eddie Rosario homers on first MLB pitch (5/6/15)

From the Department of Can't-Make-This-Stuff-Up: Rosario's big-league debut. Stepping up for his first major-league at-bat in 2015, with his family watching from the Target Field stands, Eddie offered at the first pitch he saw from A's lefty Scott Kazmir and sent it over the left-field wall.

For fans, it was the perfect introduction to Rosario, conveying his confidence, aggressive approach, and flare for theatrics.

5: Brian Dozier caps epic comeback against Tigers (7/10/15)

Two months after his splashy arrival, Rosario played a role in one of the most exhilarating victories of the decade, setting the stage for Dozier's heroics.

The Twins, flirting with contention for the first time in years, were looking to finish out the first half strong with a series against Detroit heading into the break. They'd fallen in the first game and were at risk of another setback, with a 6-1 deficit entering the bottom of the ninth.

Rosario delivered an RBI single to bring Minnesota within four. A bases-loaded HBP from Kurt Suzuki and two-run single from Danny Santana trimmed the Tigers' lead to one. Then the lineup turned over and up came Dozier – days away from his first All-Star Game – with two on and one out. Joakim Soria hung a breaking ball, and he paid for it.

Any "Best Twins Player of the Decade" discussion should probably start with Dozier. He was the beating heart of those upstart, fringy playoff teams in 2015 and 2017. His 42-homer outburst in 2016 was one of the sole positives in a trainwreck campaign. Twins Daily named Dozier team MVP three straight times. That walk-off shot was perhaps the most transcendent moment in a career full of special ones.

4: Johan Santana is elected to Twins Hall of Fame (8/4/18)

While it's fun reminiscing about the last 10 years, and thinking back to the days of Ben Revere catching a Vladimir Guerrero drive off of Carl Pavano, it does emphasize just how LONG ago that was. As we head into the 2020s, distance grows from a bygone era of Twins baseball filled with so many great players, moments, and memories.

Johan's Hall of Fame induction in August of 2018 was a big highlight of this decade for me, because it channeled so much of the franchise's past into Target Field – if for one fleeting ceremony. Santana will forever be one of the great success stories in Twins history, and to see him celebrated alongside many of those cherished fellow fixtures from the late Metrodome run – Brad Radke, Torii Hunter, Michael Cuddyer, Eddie Guardado – was cool. Especially on a day where Jose Berrios, who is striving to inherit Santana's mantle (an ace that can ACTUALLY beat the Yankees in October), was Minnesota's starting pitcher.

3: Glen Perkins closes out the 2014 All-Star Game (7/15/14)

When he retired after the 2017 season, I wrote that if a Twins Daily Hall of Fame were ever established, Perkins would be the first inductee. He was one of the team's best players throughout the site's early years of existence. He once bought a round of beers from the bullpen for TD Pub Crawl attendees. He's an amazing homegrown success story. Oh, and in his post-playing days he's now being described as "Minnesota's Ron Swanson."

Sadly, Perk's career peak aligned directly with the grimmest part of the decade for the club. He was an elite closer on a terrible team, and his shoulder gave out just as the Twins began to finally emerge from the struggle. Perkins flat-out deserved to have things play out exactly as they did when the All-Star Game came to Minneapolis in 2014 and shined a national spotlight on Target Field.

Trailing early, the American League came back to take a two-run lead, setting up a save opportunity for Minnesota's shutdown closer. Perkins trotted out to his mound, with Twins batterymate and fellow All-Star Kurt Suzuki on the other end, and retired the side in order to seal a win for the AL. You could have hardly scripted a better sequence for his All-Star appearance in front of the home crowd.

2: Jim Thome blasts first Target Field walk-off HR against White Sox (8/17/10)

Choosing just one Thome moment (Thoment?) for inclusion on this list was a challenge. In his brief but spectacular Target Field tenure to start the decade, the Hall of Famer gave us plenty of lasting memories, which would largely come to define the ballpark's early legacy.

There was the

against the Royals in September of 2010. There was his

the next summer, estimated at the time as the longest in the stadium's short history at 490 feet. There were his two jacks against Tampa Bay in July of 2010 to tie and then surpass Harmon Killebrew on the all-time home run list.

But for me, nothing can beat the clutch tater that Thome thumped against the White Sox in August of 2010. With the Twins down by a run in the bottom of the 10th, the slugger launched a majestic two-run bomb into the plaza, notching the first walk-off home run in Target Field history. That legendary blast sealed a key division win for a team just three games up in the standings, and led to one of the best photos in Twins history.

It's a tough moment for any other to top. More than eight years would pass before it finally happened.

1: Joe Mauer dons catcher's gear for one last time (9/30/18)

A lot of things needed to go right, and an array of carefully crafted plans had to reach fruition, for Mauer's farewell to play out as it did. Dan Hayes meticulously detailed the story for The Athletic, and it's one of my favorite things he's written.

When everything fell into place on the final day of the 2018 season, pure magic was the result. Mauer hadn't explicitly confirmed he was playing his last game as a big-leaguer, but that

, and became crystal-clear in the bottom of the ninth inning.

With the Twins leading 5-4, Mauer stepped onto the diamond in catcher's gear for the first time in more than five years. He tearfully saluted fans during a lengthy ovation, received one pitch from Matt Belisle, and then walked off Target Field into the proverbial sunset, leaving behind an extraordinary 15-year career.

https://twitter.com/fsnorth/status/1046519774287552512

Mauer's best days came in the Metrodome, no doubt. When Target Field was built, he was widely viewed as the best player in the AL, if not in all of baseball, a distinction he wouldn't hold onto for long. In the eyes of many, the portion of his career spent in Target Field will always be associated more with bilateral leg weakness and concussions and production that failed to live up to his mega-contract, signed a month before the park opened.

But don't overlook the many moments he left his mark on Target Field. There was the

in May of 2017. The ridiculous catch behind the foul net in 2010. The

in 2018 – a seeing-eye single up the middle, naturally.

It's only right that from 2020 forward, no Twins player will ever wear No. 7 again. Joe was one-of-a-kind, up until his last day and heartfelt final moments in the uniform.

I'd love to hear you all sound off. Did I miss any of your favorite moments? Would you change the order? Let's think back to our most cherished summer days as we experience the full brunt of Minnesota's winter.