Non-tendering Taylor Rogers Would Be a Huge Mistake
---
I'm seeing a lot of discussion suggesting the Twins may consider non-tendering Taylor Rogers. There's no debate about Rogers's ability or performance, but the concern seems to be whether or not he's worth his projected ~$7MM salary in his final year of arbitration (per MLBTradeRumors).
I believe Rogers is worth it and then some. It's not close. Non-tendering Taylor Rogers would be a huge mistake.
Below are the 22 free agent contracts offered to relief pitchers in the last three offseasons with and average annual value of $7MM or more: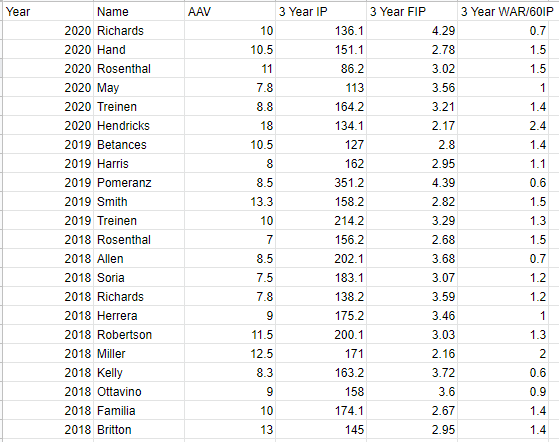 First, note that $7MM is clearly not an exorbitant amount for a quality relief pitcher. On average over these three years, about 7 relievers achieve that AAV or more.
But how does Rogers compare to those elite arms? On a rate basis, Rogers has been worth 2.0 WAR/60IP. As shown above, this is matched by only 2 players: Liam Hendriks at 2.4 and Andrew Miller who ties Rogers at 2.0. It's the same story in FIP (unsurprisingly); Rogers's 2.62 is bested by only Miller's 2.16 and Hendrik's 2.17. By just about any measure, Rogers can be considered a standout among these relievers. In fact, he would be would be one of the very best RPs to enter the FA market in recent years. He's been that good.
There's more to like about Roger's recent performance too. His velocity on both pitches has continued to climb, reaching new highs with his fastball (95.7) and his slider (84). He posted a new career high in K% at 35.5, easily improving his 2020 performance of 26.4 and his previous best of 32.4. Only four RPs in 2021 can claim a better K-BB% than Rogers, and his groundball rate of 50.0% is a return to form.
All of this leads to a career best FIP of 2.13. In fact, only Josh Hader and former teammate Ryan Pressly finished 2021 with a FIP- better than Rogers's 50 (minimum 40 IP). I'd make a case that Taylor Rogers has been easily one of the top 5 left-handed relievers in baseball at any point over the last 4 years. On a counting or rate basis, only Hader has been better by WAR.
Projections like Rogers as well. ZiPS has projected him to be worth 1.1 WAR in 2022, his age 31 season (and 2023). The usual suspects are ahead of him: Edwin Diaz, Hendriks, and Hader as the only other lefty. These projections were prepared prior to the 2021 season, so it remains to be seen what the projection systems think of him after his season. On one hand, he did have his best year as a big leaguer. On the other, he did end his season injured, leaving a cloud over his status for 2022.
If he stacks up well in such elite company, how much is Rogers worth in the free agent market? It's tough to say, especially with his recent injury. I will point out that Hendriks and Miller, the two pitchers in the last three years with an obviously better free agent case than Rogers, combined to receive 6 years and $88.5MM for a $14.75MM AAV. All together, the 22 contracts above average almost exactly 2 years and $20MM, a $10MM AAV. Rogers is also younger than many of the names above at the time of their contracts, and he has a longer track record of elite performance than almost all of them. I think it's reasonable that a healthy Rogers would receive something north of $10MM annually for 3+ years.
Rogers's finger injury really is the only question here. We all know a healthy Rogers is worth more than his arbitration figure, but we don't know how much this injury will impact his game in 2021, if at all. Only the Twins and Rogers can know for sure, and we can only speculate until the day Rogers is offered arbitration, signs a deal, or not. And any team interested in his services for next year should be concerned.
However, it's worth pointing out two things: Rogers has been exceptionally durable through his entire career, and he may be be worth his arbitration amount either way. Look at the list of names above again. There's a lot of serious arm injuries in there. Betances landed a deal with the Mets despite him appearing in just one game the previous season as he recovered from his shoulder impingement and a torn Achilles. Trevor Rosenthal got two of these deals. He received the first after missing more than a season recovering from Tommy John surgery. The second contract came after he recently passed through waivers unclaimed.
Even if you think poorly of his prospects in 2022 due to injury, perhaps it would be a perfect time to work out a multi-year extension based around vesting options. They may not get a ton of value next year, but he would have time to make up for it into the future.
My point is this: Rogers is one of the very best relievers in the game, especially from the left side. For a Twins team desperate for pitching, replacing his production would be very costly in either dollars, prospects, or both, and there's almost no one in the league who could replace him anyway. It's worth mentioning too that he's smart, regarded as a leader, and well liked by teammates, media, and fans alike. Sure, his injury is worrisome. But in a similar way as Buxton, that risk is one of the only ways the Twins may be able to afford real, impact talent for this roster. If the Twins don't take that risk, there will be several teams that will, just as they have shown in the past.
Sign Taylor Rogers. You'll likely come to regret it if you don't.