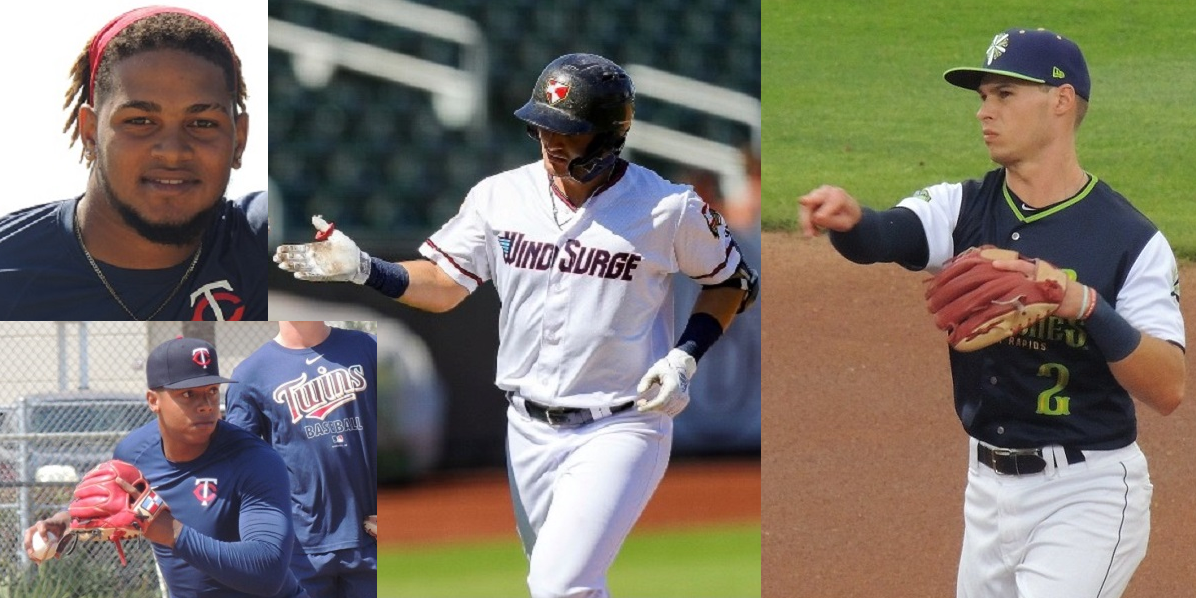 Image courtesy of Seth Stohs, Twins Daily (Andrew Bechtold photo by Ed Bailey)
Prospect lists are always fun to do, and they're fun because they can be questioned and discussed. Sure, we've separated the pitchers and hitters to get right of one question, that being how do you compare pitchers to hitters? But still, how do you compare or rank an 18-year-old who played in the FCL to a 25-year-old at Double-A? Prospect rankings are far from a perfect science, but if nothing else, it gives us the opportunity to discuss more players and give them the recognition that they deserve. 
#30  Gregory Duran 
2021 STATS: .267/.389/.367, 1 2B, 1 3B, 2 RBI, 36.1 K%, 13.9 BB%, 0/3 SB

Gregory Duran was signed as an international free agent in July of 2019 from the Dominican Republic.  As you would expect in an 18-year-old's professional debut in the FCL (after a missed season), Duran struggled. He struck out too much. However, he has a smooth, strong, left-handed swing that projects some power. He is a strong outfielder who could play in center but profiles more to the corners.  Duran, who will play the full 2022 season at age 19, is likely to get lots of playing time in the FCL in 2022.
#29  Wander Valdez 
2021 STATS: .225/.339/.350, 8 2B, 4 HR, 16 RBI, 32.3 K%, 12.2 BB%, 4/4 SB

Wander Valdez is not an everyday name for those who follow Twins prospects, and yet he signed with the organization from the Dominican Republic way back in 2016. He began 2021 with the Mighty Mussels, but with other prospects there, he wasn't playing often, or well. He spent time with the FCL Twins where he was able to show some of his power. Valdez is big and strong, so it is his power that remains intriguing. He is a little shorter, but built like former Twins DH Kennys Vargas. Valdez remains fairly athletic and can play third base, though he may be better at first base, and ultimately at DH. 
#28 Jesus Feliz 
2021 STATS: .238/.300/.420, 8 2B, 9 HR, 26.2 K%, 4.3 BB%, 3/3 SB

Jesus Feliz is a difficult prospect for me to rank. I am really high on him and his potential. Having seen him in spring training in 2020, I came away impressed with his athleticism and especially his power potential. While he would have missed much of a 2020 season after undergoing Tommy John surgery, he returned in 2021 ready to play. He may be too big and strong to remain at shortstop and actually played more third base with the Mighty Mussels. But again, for him to have eight doubles and nine home runs in the League Formerly Known as Florida State is really impressive. It's been a slow trek up the Twins ladder since he signed back in 2016, so 2022 will be a big season in determining what his future could be. That said, he's still just 21 years old until June. 
#27 Andrew Bechtold 
2021 STATS: .239/.328/.459, 23 2B, 18 HR, 48 RBI, 32.3 K%, 11.3 BB%, 1/2 SB

2021 was a big year for Andrew Bechtold. He had some struggles offensively in 2019 between Cedar Rapids and Ft. Myers, and with the lost season, it was interesting to see him jump straight to Double-A Wichita to start the season. He split time pretty evenly between first base and third base, where his arm is a major asset. He also really found his power stroke in 2021 with 23 doubles and 18 home runs. In addition, he spent time all season working behind the plate. After the Wind Surge clinched a playoff spot, he got one start behind the plate and got good reviews. The Twins sent him to the Arizona Fall League where he got one start each week behind the plate as well as time at the infield corners and as the DH. Adding the ability to be a viable catching option certainly makes him more valuable to his team. The team's 2017 fifth-round draft pick  from Chipola College will turn 26 in April.  
#26  Michael Helman 
2021 STATS: .246/.336/.462, 21 2B, 19 HR, 57 RBI, 19.2 K%, 11.3 BB%, 21/26 SB

Michael Helman was the team's 11th round pick in 2018 out of Texas A&M. He had an injury-plagued season in 2019 with the Ft. Myers Miracle. So missing 2020 was not ideal for him. The Twins sent him back to High-A for the 2021 season, this time in Cedar Rapids. Always able to play the middle infield positions, Helman proved very valuable by playing three infield positions and all three outfield spots too. He showed a strong, accurate arm, and he also showed good range and improved routes as the season continued. In addition, he really performed well with the bat too. He always took quality plate appearances, and he continued to do so, but he also showed power with 21 doubles and 19 home runs. He then went to the Arizona Fall League and continued to play all over the diamond. In addition, he walked nine times and struck out six times. He will turn 26 in May.
(go to 4:00 mark for Helman video.)
Again, I think this is an interesting group of players ranked, and maybe you agree. Michael Helman and Andrew Bechtold are guys who could (and I think CAN) be major-league utility players. Their floor is fairly high for a minor leaguer, especially with Bechtold who had success in Double-A), and yet their ceiling is that of role player. The other three players are younger and further from the big leagues. I do think that Jesus Feliz has a very high ceiling. Gregory Duran has a very high ceiling. Wander Valdez has a few more question marks, so his ceiling may not be quite as high as those two. All three have floors that could find them topping out in A-ball, and not even get to the point where Helman and Bechtold are now. 
Please feel free to add comments to this discussion and ask questions about players or rankings.