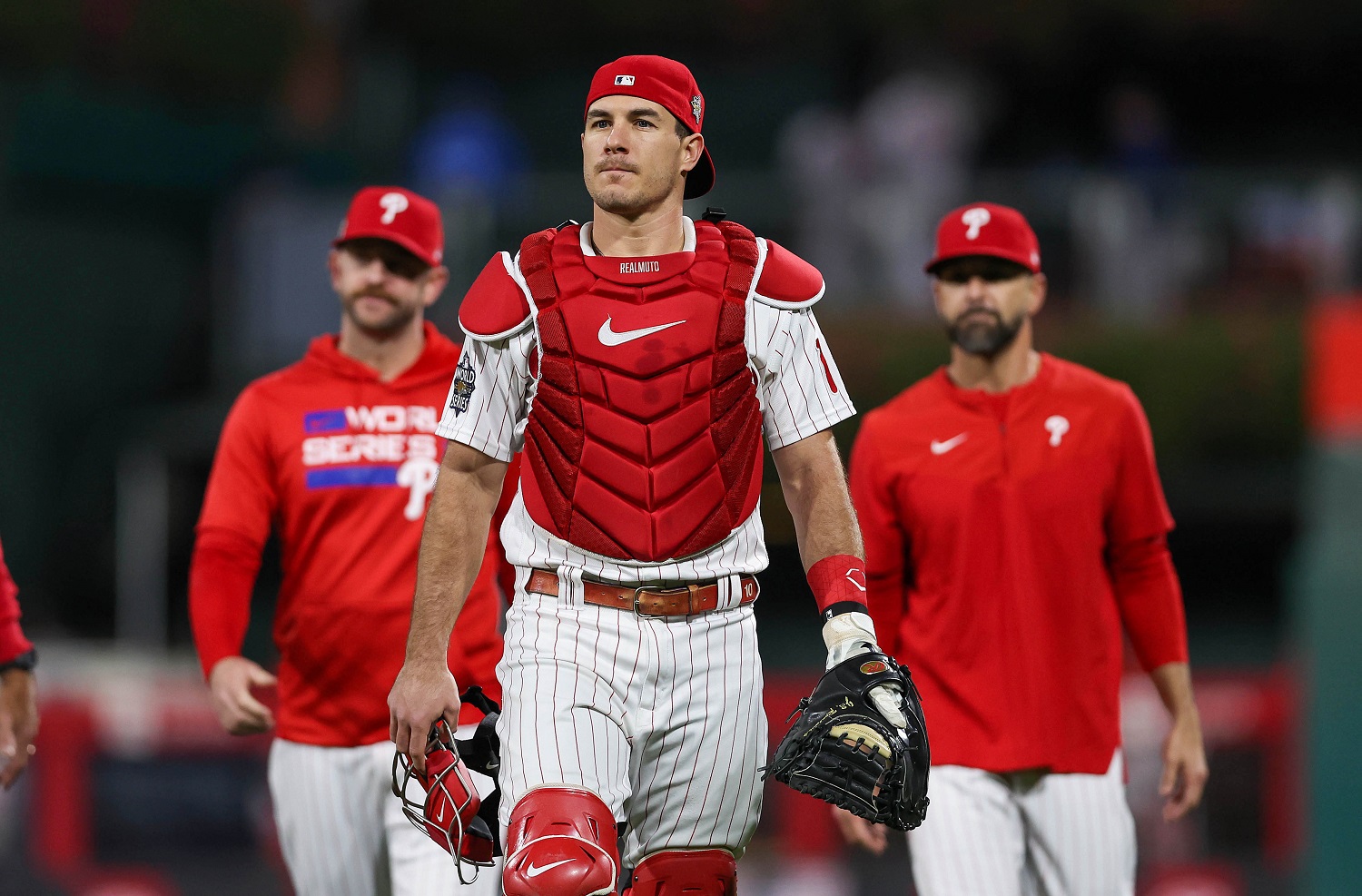 Image courtesy of Bill Streicher-USA TODAY Sports
I looked at the playoff catchers—no need to thank me, it's all in a day's work—and one glaring, obvious, apparent, unmistakable, overt trend exists: framing wins ballgames. This isn't news. At least, it shouldn't be. Through a combo platter of decreased stealing, increased stuff, and the realization that those extra strikes actually do matter, the catching position has evolved to fit the framing niche. MLB has shifted towards a homogenized framing aesthetic so dominant that the Houston Astros actively happily stomach watching Martin Maldonado hit just to enjoy his defense rewards. 
If you've stumbled onto a broadcast, any broadcast over the last few seasons, you've likely noticed the catcher kneeling in a position that would give Sparky Anderson a heart attack. Even with a man on first base, the catcher will remain touching the ground, utterly unphased by whatever threat the runner poses while focusing on receiving the ball with masterful precision. A stolen base is palatable; a missed strike is not. 
It shouldn't be a surprise, then, that eight of the top nine catchers by Baseball Prospectus' framing stat belong to playoff teams. The tenth was a 27-year-old rookie in Colorado named Brian Serven. Hi, Brian. In contrast, only two of the worst 10 framers—Austin Nola and Francisco Mejia —started for a playoff team. 
The other fascinating trend had to do with playing time: almost no team relies on a singular catcher anymore. Outside of J.T. Realmuto, a true athletic freak who can do everything well, Alejandro Kirk, a well-rounded youngster in Toronto, and Cal Raleigh, the big dumper, playoff teams rely on a tandem of framers, eschewing ideas of one star in favor of a two-headed team. Although, the star-catcher approach may have returned somewhat amongst the MLB landscape as a whole; there were five primary catchers with more than 500 plate appearances in 2022, the highest total in a full season since 2018. 
That's great and all, but what can the Twins glean from this? They may already have one of their pieces in Ryan Jeffers. He can frame with the best of them (24th out of 120 catchers, according to Baseball Prospectus), and his .208/.285/.363 slash line in 2022 is in the ballpark of your average major league catcher, as backstops collectively hit .226/.295/.363. He may have more in his bat; Baseball Savant thinks he underperformed his batted-ball data, and his top-end exit velocity is elite. Still, he's just one player—one not nearly good enough to carry a team like Realmuto. The Twins need a sidekick.
There are a few names available at the peak—Omar Narvaez, Christian Vazquez , Sean Murphy if they're feeling spicy—who can provide varying degrees of batting prowess, but the middle of the free-agent pack provides defensive gurus like Tucker Barnhart and Austin Hedges. Although, offensive capabilities in this group drop from "acceptable" to "Lovecraftian horror."
Of course, there's a wrench that MLB will toss into this: new rule changes next season will encourage and likely boost the run game. With bigger bases and a pitch clock entering the fold, players might release their inner Vince Coleman, pushing teams to find a happy medium between hyper-focused framing and stolen base watchdogging. Or maybe stolen bases remain stagnant. Baseball moves like that sometimes. If the steal does return, the Twins may be wise to anticipate the trend and sign a gun-slinger to catch beside Jeffers.
Really, this entire article could read as "Gary Sanchez was not the answer." Backstops with offensive upside—and only offensive upside—must reach some sort of Willson Contreras plateau before serious playoff teams consider them a legitimate option. That's just the game these days. Sanchez was a potentially explosive addition—ushering him away from the New York media seemed wise—but the move didn't work, and the team should learn that lesson. The Twins will probably need to find Jason Castro 2.0 if they want to play meaningful baseball beyond September.