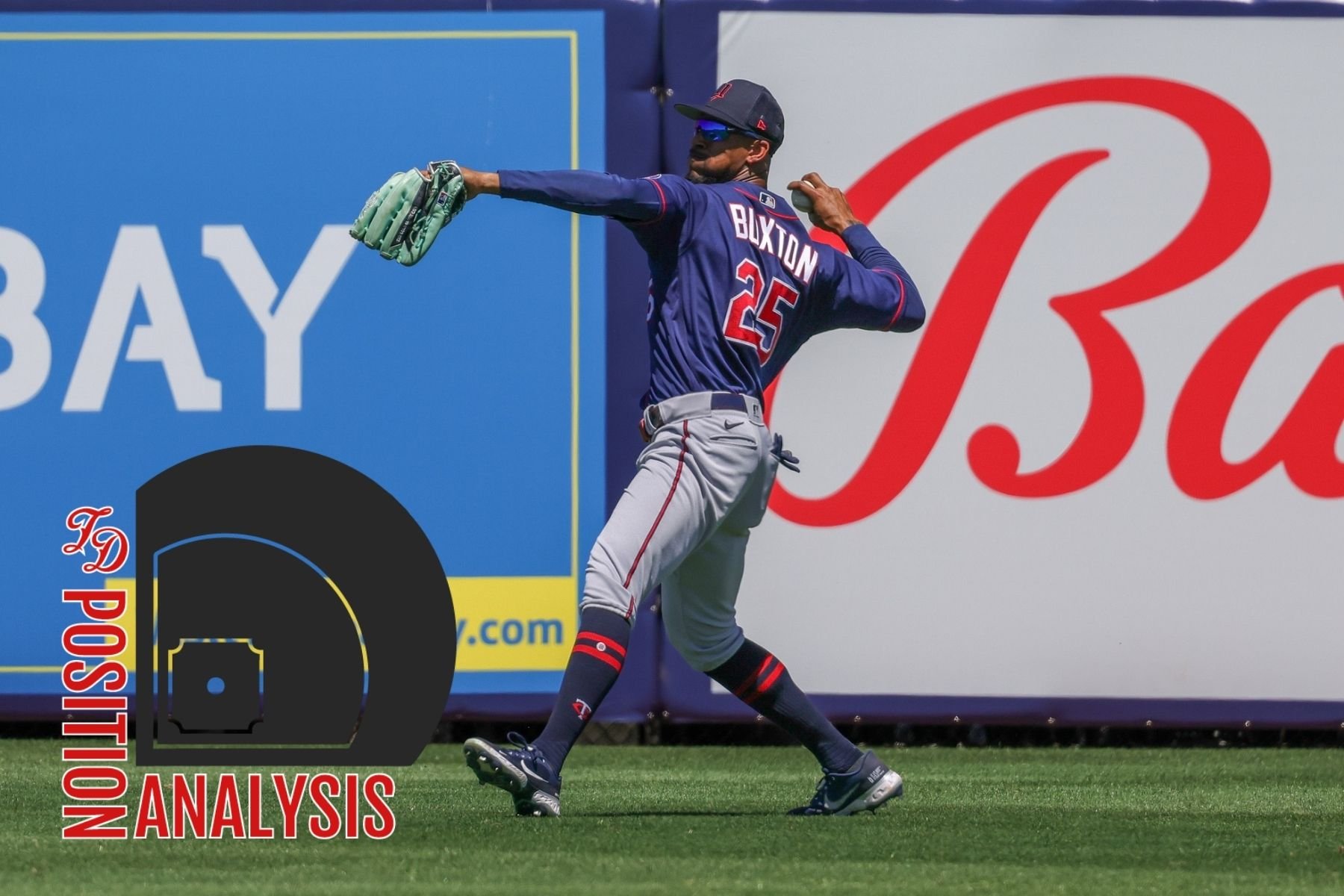 Image courtesy of Mike Watters-USA TODAY Sports
Projected Starter: Byron Buxton
Likely Backup: Nick Gordon
Depth: Max Kepler, Gilberto Celestino
Prospects: Austin Martin, Royce Lewis
THE GOOD
Outside of Mike Trout, Byron Buxton is the best center fielder in baseball when he's on the field. Since 2019, he's been worth 8.1 fWAR, ranking seventh among all players at the position in this cumulative stat despite playing only 187 games. No player other than Trout delivers more value on a rate basis.
That's because Buxton is an elite difference-maker in all phases of the game. He provides top-tier defense at one of the most crucial positions on the field. He's among the fastest players in the majors, a threat to steal or take extra bases any time he's aboard. 
I mean, this Statcast snapshot from last year says it all. Buxton tops the measurable charts in terms of power, speed, and defensive range. And the 28-year-old is trending up across the board.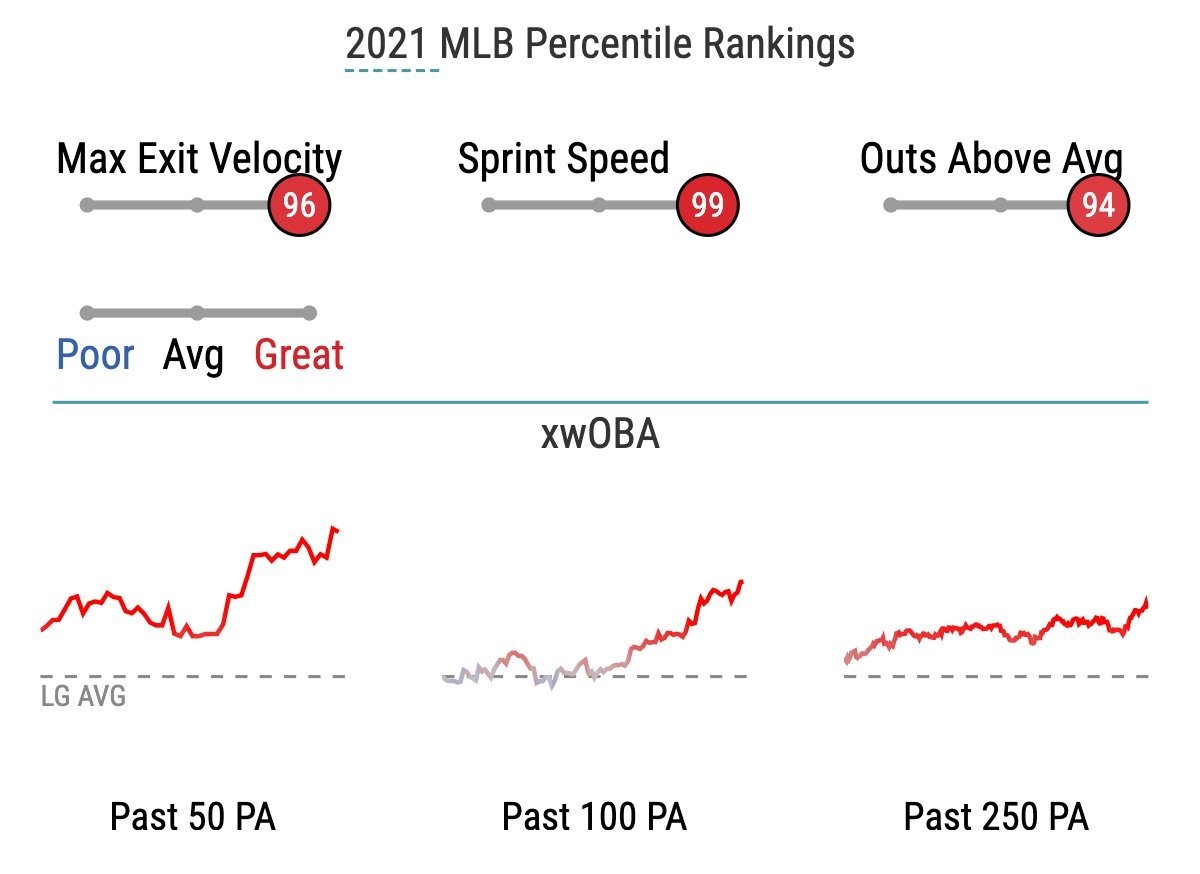 Buxton's new contract provides him with life-changing guaranteed money, but hardly diminishes his financial motivation to stay healthy and perform. His base salary for 2022 is $9 million, but he can more than double that total by meeting plate appearance thresholds and earning MVP votes. 
Buck is not the type of person who needs extra incentive to push him, but it's there, and will be throughout the life of his historically unprecedented contract.
THE BAD
There's no sugarcoating the fact that Buxton's injury history has defined his career up to this point as much as his superlative play. Last year was just another link in the broken chain, as a hip strain and broken hand cost him well over half the season. In both 2019 and 2020, Buxton was unavailable for the playoffs. 
I've said it before and I'll say it again: a player is only injury-prone until he isn't. There's no reason that, with some (long overdue) better luck, Buxton can't play 140-plus games like he did in 2017. But the reality is that Minnesota would be irresponsible not to plan for his absence, making it all the more strange there wasn't (or at least hasn't been) better depth built in behind him.
Sure, the Twins have Nick Gordon, who proved surprisingly adept in center last year despite having no prior experience. You probably don't want him as your regular in the event of a prolonged Buxton absence, but he's a handy backup. 
For the purposes of injury contingencies, Gilberto Celestino might be an ideal fit. He's young, inexpensive, and very much a legitimate center fielder. But he was blatantly overmatched in his MLB debut last year (.466 OPS, -0.7 fWAR), and that impression will take some work to distance himself from. 
Austin Martin and Royce Lewis could be eventual options, but need seasoning in the minors. Max Kepler apparently has a strong aversion to playing center, with the Twins inclined to accommodate his preference. Jake Cave is around still but ... no thanks. In light of all this, the Twins would seemingly benefit from bringing in another veteran outfielder who is capable in center (especially with Alex Kirilloff likely to be spending ample time at first). To this point, they haven't. I don't think Derek Fisher qualifies.
THE BOTTOM LINE
The Twins hope to have Buxton manning center field for the next seven years. Realistically, they have to be persistently prepared for life without him. Their interim depth is a bit questionable, but long-term the outlook is bright with prospects like Celestino, Martin, Lewis, Emmanuel Rodriguez and Misael Urbina all projecting as possible options down the line. 
That said, their immediate depth behind Buxton is questionable, which is quite troubling all things considered.
Catch Up on the Rest of Our 2022 Previews: