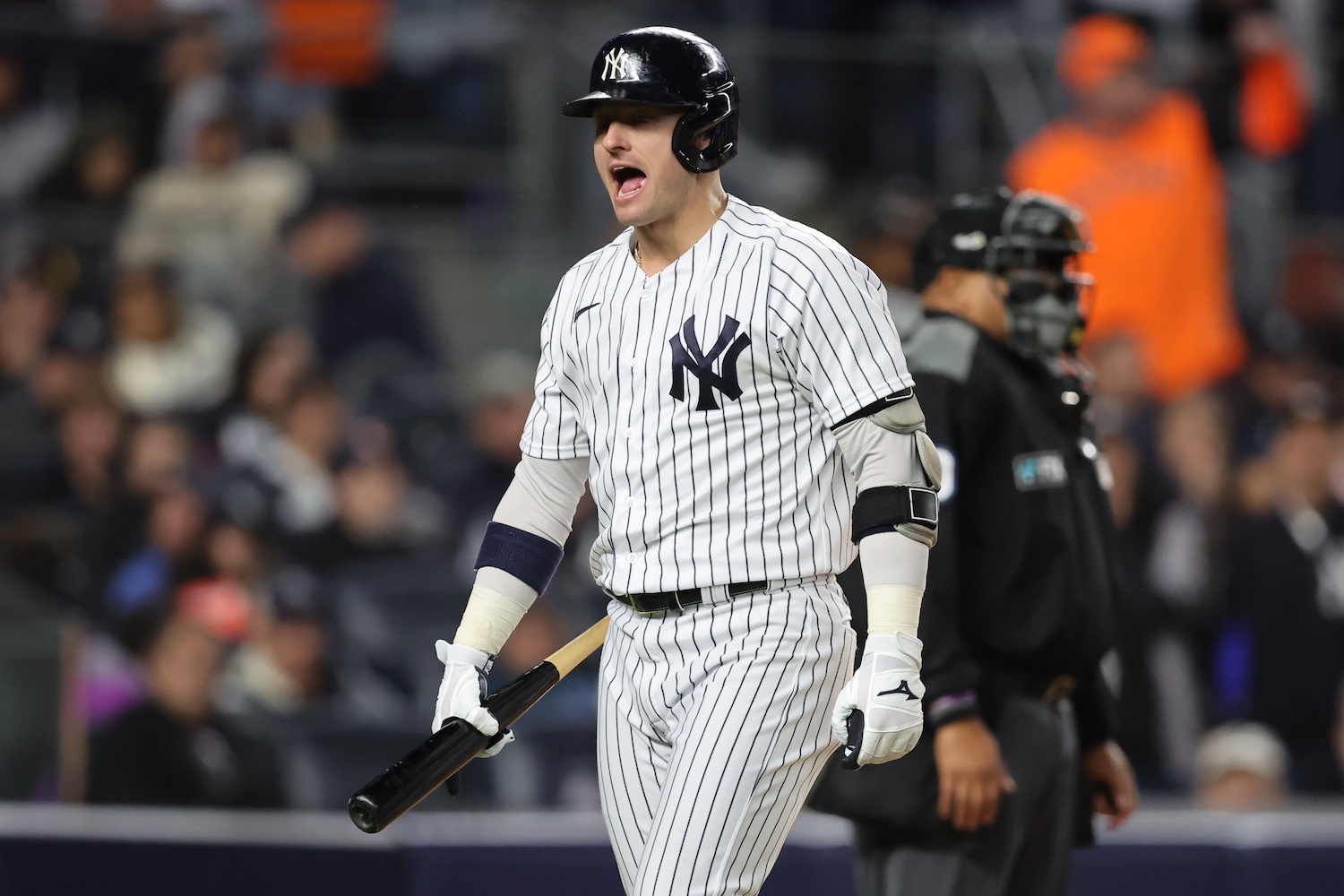 Image courtesy of Brad Penner-USA TODAY Sports
One of the quirks of the new MLB schedule is that the Twins end up playing all of their seven games against the New York Yankees in April. The Twins have had a bit of a hard time beating the Yankees in recent decades, and last year was no exception, with New York winning five of seven games.
One thing that stood out to me though, particularly in the September matchup between the teams, was how surprisingly thin New York's lineup was. They had some key injuries by then, sure, but even when healthy only two qualified hitters posted an OPS above .800 for the year.
In the offseason, they re-signed Aaron Judge and acquired Carlos Rodón to slot in behind Gerrit Cole in their rotation. Their pitching certainly looks great, but the lineup looks exactly the same, with the team putting a lot of faith in its two young shortstop prospects settling in quickly. It almost feels like we take for granted that New York will have a powerhouse lineup. Reality paints a different picture, so I thought it would be fun to look at why the Twins lineup will outperform the supposed "top ten" lineup of the Yankees.
Looking at this position player group, the first thing you notice is they can't start their best hitters if Giancarlo Stanton plays DH, his natural position. One of D.J. LeMahieu, Gleyber Torres and Anthony Rizzo need to sit unless you throw Stanton out to left field, and that doesn't seem wise. Let's run through their options in the lineup:
The Yankees' best hitter is Judge, and he makes up for a lot of deficiencies. Last year, he played like two MVP candidates in one, finishing the year with a 10.6 bWAR season. He's amazing.
Their second best hitter last year was Rizzo, who posted a 131 OPS+ with 32 home runs and mistake-free defense. He will turn 34 this summer, spent time on the IL last year, and hit .228.
Torres was next best. He got some of his power back after a few down years, but maybe at the expense of being selective at the plate, with a career-low .310 OBP to go along with his 24 home runs. Here you start to see the issue.
Jose Trevino fooled us for a little while, upselling a hot start into being the starting catcher in the All-Star game, but in the second half he settled back into who he is: an overly-aggressive hitter with little power but some decent contact ability who is good for an 85 OPS+.
LeMahieu wasn't very good last year with a slugging of .377, an improvement on his .362 from a year before. He still gets on base, but the drop in power is a little alarming for a guy set to turn 36 next summer.
Center-fielder Harrison Bader played well for the Yankees in the playoffs, but got into only 14 games during the regular season due to a foot injury. He's a New York guy, and he's had a couple of 114 OPS+ seasons, but he's not a good bet to stay healthy, having never come to the plate 450 times in a season.
As for Stanton, he's the kind of player that the team may have cut bait with if money were no object (he is still owed 175M, 20M of that paid by the Marlins). He can no longer field and he can't run, ranking in the bottom five percent in the league by sprint speed. He also can't stay healthy, with leg injuries decimating his career. New for 2022? He can no longer get on base, with a .297 OBP.
Aaron Hicks and Josh Donaldson are albatrosses on this team, and they couldn't find any takers for either contract this offseason. New York will presumably roll with the pair, who combined to hit to a .663 OPS and 23 home runs in 2022. The Yankees think both can bounce back, especially Donaldson. But he's 37. Hicks hasn't been good since the Rockies were making the playoffs.
Anthony Volpe and Oswald Peraza are big-time shortstop prospects who both figure to play roles for the team in 2023, hopefully in place of Isiah Kiner-Falefa who managed only an 84 OPS+ last year. But IKF figures to still start a lot of games, at least in April.
Add it all up and you have a solid-enough offense, but if Judge misses time, this lineup is listless and will rely heavily on its pitching staff to keep them in games. Even with Judge, the Twins have roughly as much top end talent with a lot more depth.
Let's confirm that going player by player. Note that this assumes Stanton starts in left field, because I'm feeling charitable.
Leading off, Jorge Polanco beats out LeMahieu. Both have injury concerns but Polanco is much younger and had a much better year last year.
Judge beats out Carlos Correa. Can't do much about that.
Byron Buxton beats out Rizzo, although that can change quickly based on availability.
I think José Miranda is a more valuable hitter than Stanton at this point, based on performance, diversity of approach and quality of at-bats. And while Stanton's place in the lineup costs the Yankees a bat, Miranda allows the Twins to see more of what they have in Alex Kirilloff and Trevor Larnach at first base and DH.
Torres beats out Joey Gallo pretty easily, unless you are a big believer in a Gallo bounce-back.
Donaldson is ahead of Kirilloff, but only slightly. This could swing really quickly if Donaldson continues to slide, and Kirilloff emerges from Spring Training healthy.
Bader beats Max Kepler, but Kepler also beats Hicks, who figures to play here whenever Stanton is DH. I'll call this a tie.
Christian Vázquez is a better hitter than Trevino. Yankees fans can take solace that their catcher is probably a better defender.
Larnach and Nick Gordon both are better hitters than IKF by quite a bit. If Volpe or Peraza have strong rookie seasons and IKF heads to the bench, this is a different story.
You can quibble about a few of these in both directions, but the Twins take at least five of nine, if not seven. The fact is, the Yankees are forced to play a lot of guys with a sub .700 OPS. Worse yet, none of them have any remaining upside, outside of maybe a mild bounce-back from Donaldson.
The Twins have injury issues, but their depth has improved to the point that all four of their bench players could capably start on other teams, including the Yankees- outside of Ryan Jeffers. That helps. The Yankees can't say the same, with only the shortstop prospects and Oswaldo Cabrera available as reinforcements.
The Yankees, with their resources, have the luxury of deciding when they need to stop investing in their offense. The Twins don't, and still have a better projected lineup with better fallback options. The top end pitching is a different story, however. Maybe the Twins should call Corbin Burnes to tell him they're there for him.