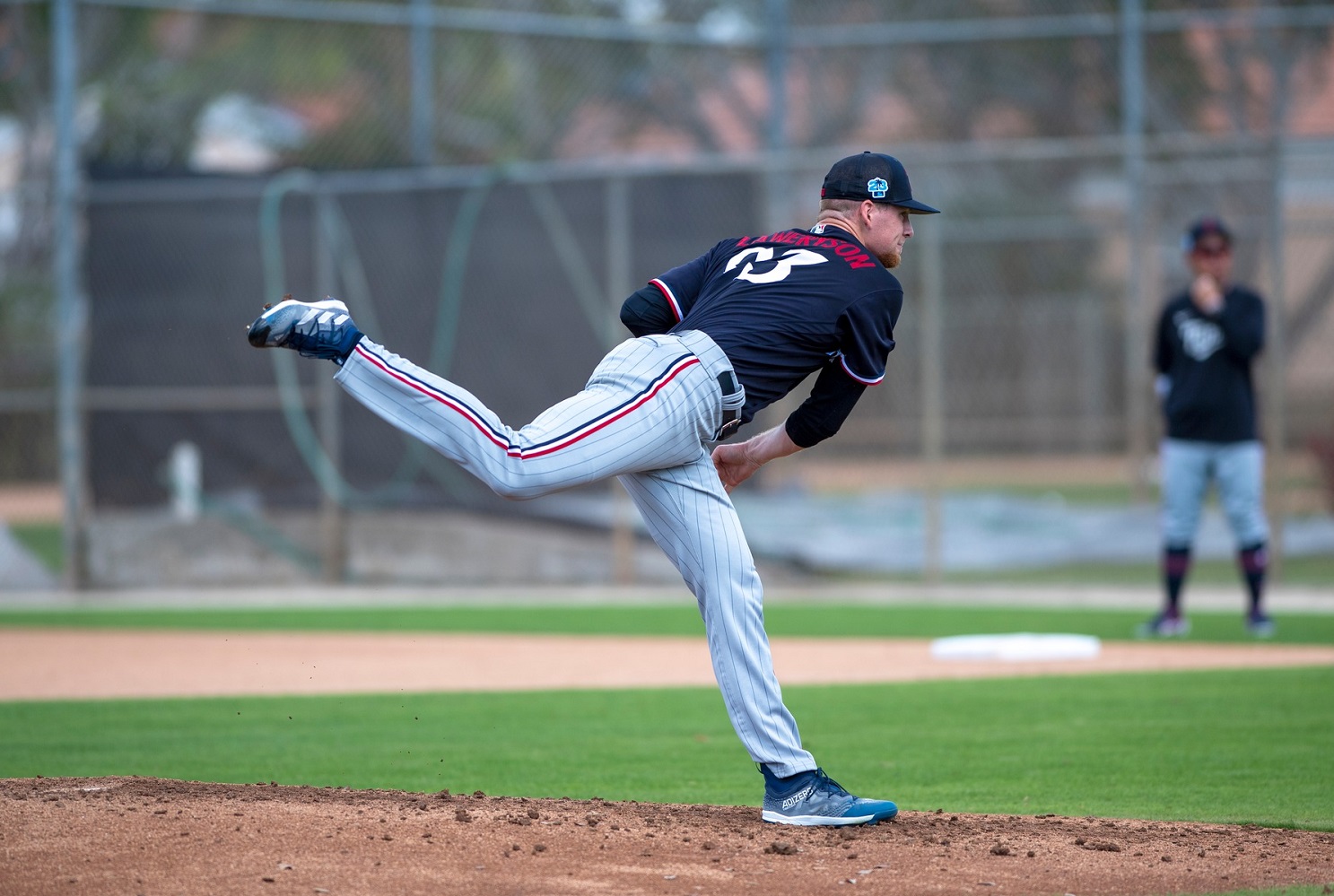 Image courtesy of William Parmeter
As spring training winds down, we're starting to get a better picture of what the Twins' roster is going to look like when the team heads north to Kansas City on March 30th. Piece by piece, the depth chart is being whittled down. However, not every player that gets chipped off in March is bound to remain in the minor leagues all season long. 
As much as everyone is sick of hearing about health concerns to key contributors, injuries are inevitable. So are under-performances from players that make the big league roster on Opening Day. When these inevitabilities happen, a successful Twins team is going to need some unexpected characters to step up and claim effective roles on the club while they can. That's especially true when talking about the relief corps. 
Jhoan Duran, Jorge Lopez, Caleb Thielbar, Griffin Jax and Emilio Pagan are seen as near-locks to make the club out of spring training, and other arms including Jorge Alcala and Jovani Moran are other current front-runners to claim bullpen spots right off the bat. Beyond that group, there are a handful of players that could find their way up to the big league club when given the call. Here are three dark horse candidates to make a name for themselves out of the Twins' bullpen in 2023.
---
Jose De Leon
After signing the 30-year-old Jose De Leon to a minor-league deal with an invite to spring training, the Twins finally got their longtime target. He was the headliner in a rumored trade proposal with the Los Angeles Dodgers back in 2018 when the club was shopping second baseman Brian Dozier.
DeLeon is no longer the prized starting pitching prospect that he was back then, but he could still provide value to a Twins' bullpen that has sorely lacked an effective multi-inning weapon. 
His upside was clearly evident in an appearance for team Puerto Rico in the World Baseball Classic, where he dazzled through 5 2/3 perfect innings in his lone start. In that outing, he racked up 10 punch outs without walking anyone and without giving up a single hit. While the competition that De Leon is bound to face in the season is probably much better than that of Team Israel, the results were still encouraging. Even more eye-opening than that outcome was the quality of pitches that De Leon was featuring. Eno Sarris of The Athletic noted that the righty displayed the third-best Stuff+ among starters in the WBC. "Stuff+ looks only at the physical characteristics of a pitch," as stated in Fangraphs' definition of the metric. "Important features include, but are not limited to, release point, velocity, vertical and horizontal movement, and spin rate."
If De Leon and the Twins are amenable to seeing how that stuff plays in a relief role, the righty could be among the first arms to be called up in-season. Maybe he fits the Jharel Cotton mold of 2022, where he is called to mop up some innings if a starter has to leave a game early. Perhaps he gets the ball in extra innings and is tasked with finishing it out. No matter the role, if De Leon can maintain this quality of stuff in his pitches, he could get ample opportunities at the big league level.  
---
Oliver Ortega
The Twins claimed Oliver Ortega off of waivers from the Los Angeles Angels in early-January, and were enticed by his mix of hard fastball and big slider. Does that sound familiar? The club has shown an affinity for this kind of repertoire in their pitchers (especially relievers) over the last few years. From Jax, to Alcala, to Matt Wisler, this front office just can't get enough of this pitch combo. Ortega was outrighted off of the 40-man roster later in the off-season, and has two option years remaining. This could play into his favor as a potential taxi squad regular, or someone that can shuffle between the major leagues and Triple-A multiple times over the next two seasons. Remember how often the Twins would have someone walk the plank to eat up innings before being switched out with a fresh arm immediately after the game? Keep that formula in mind when trying to map out an opening for Ortega. 
What will determine the lean right-hander's ability to establish himself into an MLB role is his sky-high walk tendencies. Yes, the Twins love his upper-90s heat and slurvy breaking pitch, but this repertoire only goes as far as his ability to get swinging misses and avoid walks. Last season, he had an unsightly 12.2% walk rate and a good-not-great 11.1% swinging strike rate. His strength is in his strikeout rate, which was fantastic in the upper-minors over the last two seasons (33% in Double-A, 24% in Triple-A). He started to show that in the big leagues with the Angels last season when he struck out 22.3% of batters faced in 34 innings pitched. If Ortega can rein in those walks while continuing to develop swing-and-miss stuff, he could claim a low-leverage role in the major-league bullpen.
---
Cody Laweryson
A 14th-round draft pick in 2019, Laweryson is often overlooked when scouring the Twins' depth chart. He was limited to 45 innings pitched in 2019, missed all of 2020 due to the pandemic and then underwhelmed in 2021 at High-A where he had a 4.91 ERA in 59 innings across 14 starts. It should be noted that a .340 batting average on balls in play likely inflated that shaky earned run total. Still, after a strong showing in the Arizona Fall League, the Twins had faith that he would straighten things out in 2022, and he did just that. 
Cody Laweryson made 16 appearances at High-A to start the 2022 campaign, 14 of which were out of the bullpen. He had a much more encouraging 2.57 ERA this time around, with a 29.4% strikeout rate and a serviceable 8% walk rate. He got promoted to Double-A midway through the season, and continued to flourish with similar results. At Wichita, he held opposing hitters to a .196 batting average and had a promising 10.4 K/9. His swinging-strike rate dipped from 15.2% to 14.1%, but so did his walk rate (8.4% to 6.7%). 
The Twins don't seem in a rush to give up on Laweryson as a starter. He made eight starts at Double-A in the second half of last season, and finally showed some success in that role. However, he is entering his age-25 season and is well down the list of starting pitcher options on the Twins' depth chart. It's going to be hard to find starting opportunities at the Triple-A level with prospects such as Louie Varland, Simeon Woods Richardson, Jordan Balazovic, and maybe Cole Sands all occupying spots in the Saints' rotation. Not to mention, there's a slew of veterans on minor-league deals that are vying for opportunities. Maybe a permanent move to the bullpen can yield more solid results from Laweryson while creating a clearer path to the major leagues.
What do you think? Can any of these three establish themselves in the Twins' bullpen? Who are some other lesser-known arms that could claim a relief role for themselves in 2023?