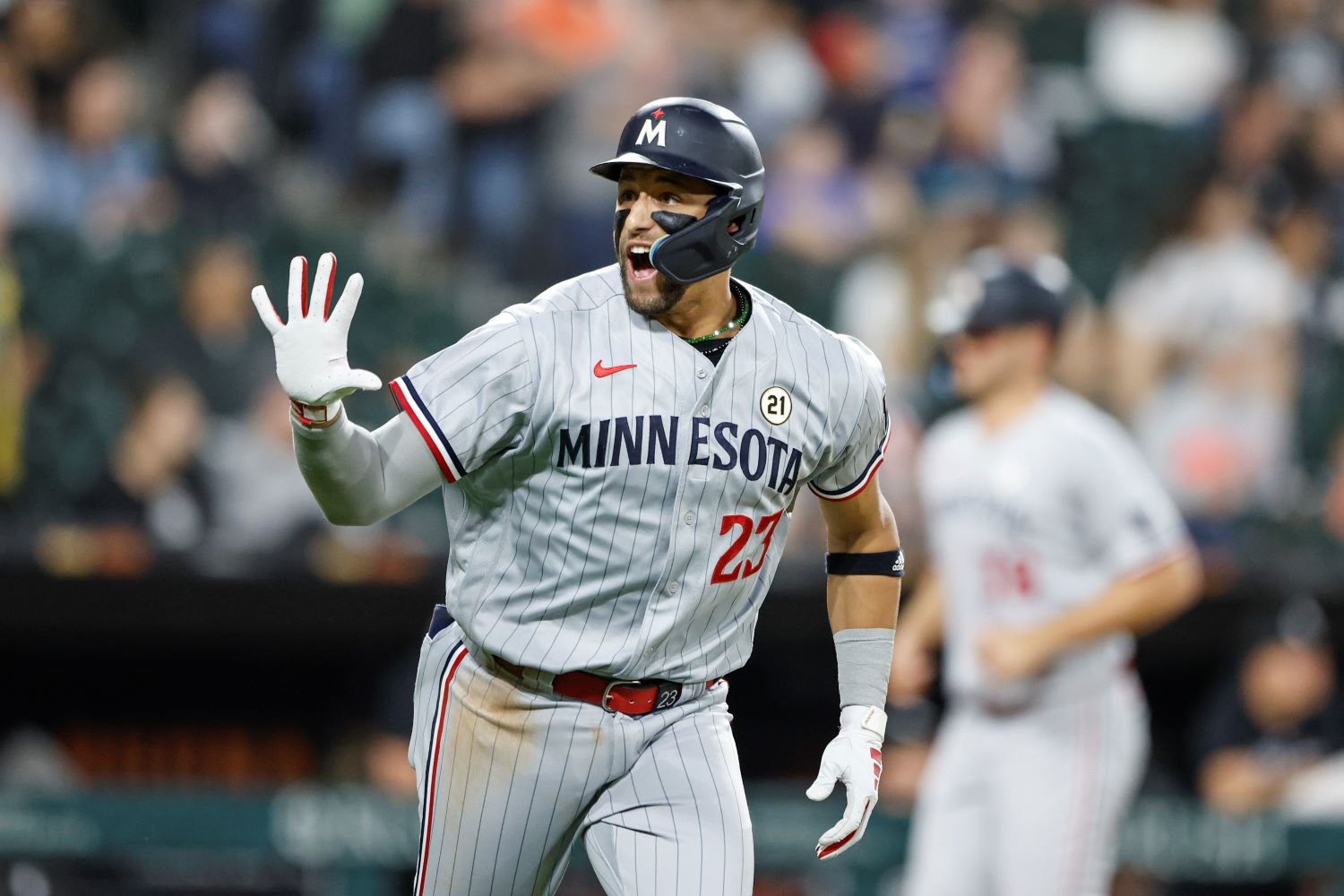 Image courtesy of Kamil Krzaczynski-USA TODAY Sports
Box Score
Bailey Ober: 5 IP, 5 H, 2 ER, 0 BB, 6 K
Home Runs: Royce Lewis (14)
Top 3 WPA: Royce Lewis (.340), Matt Wallner (.139), Bailey Ober (.100)
Win Probability Chart (via FanGraphs)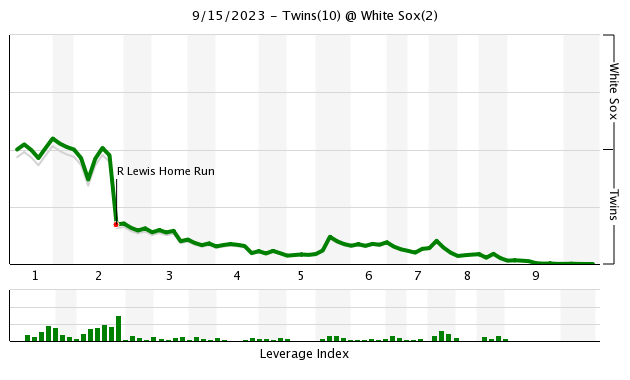 Across MLB on Friday, players and teams honored the great Roberto Clemente with special "21" patches on the jersey; some donned the number in favor of their typical digits. Two Minnesota Puerto Rican natives—Carlos Correa and Willi Castro —were amongst them.
You may vaguely know of Clemente's charity, especially as his unfortunate death came on New Year's Eve during a plane ride to Nicaragua to deliver supplies to the country following a devastating earthquake. That story alone does not cover Clemente's special altruism. He diverted funds from the opening of Three Rivers Stadium to Pittsburgh's Children's Hospital, he befriend the reverend Martin Luther King Jr., using his unique place as an early black, Latino baseball star to speak out against American discrimination in his time, and he did much, much more than this puny post-game report could never fully cover. He was a great man taken from humanity far too early.
--------------------------------------
Bailey Ober started for the Twins. The elongated righty was sent to St. Paul to marinate as his new career-high in innings appeared to wear down his performance; his ERA since the beginning of July was 4.58. Back in the majors, Ober looked to silence a lineup killed many days ago.
The 1st inning was a typical baseball sparring, with each team simply looking to get their feet wet, but action began in the 2nd. A pair of singles and a walk set up Royce Lewis with the bases-loaded and two men out. White Sox starter Jesse Scholtens—surely aware of Lewis' prowess with men on every base—pitched him daintily, missing in relative degrees of closeness to signal that it was far from his intention to become a statistic. It didn't work. Needing to attack 3-1, Scholtens fired a heater directly down the heart of the plate. The ensuing jog around the bases was a mere formality. 
(Get ready for some stat drops.)
The grand slam gave Lewis the Twins single-season record for salamis (he's played 54 games); he's also two more bases-loaded homers away from tying the MLB record shared by Travis Hafner and Don Mattingly. His four grand slams in 18 games is the shortest span for any player in MLB history. 
September aloofness set in a while ago for Chicago—but it reached inexcusable levels on Friday. In one inning, Tim Anderson booted a routine grounder, Elvis Andrus never looked to turn a possible double play despite Correa being the runner heading to second, and Anderson lackadaisically allowed a pop-up to drop, scoring a run in the process. 
Impressive effort from a man with a batting average, on-base-percentage, and slugging under .300.
Max Kepler added another run with a single into center the following frame.
Ober was cruising. He didn't need the run support—the White Sox could only claim a scattering of singles against him—but his efficiency quickly turned. A soft single begat a two-run shot, and while that was the only damage he allowed, Ober's now somewhat inflated pitch count made the 5th his final inning of work. 
That was essentially the game. Between the 5th and the 8th was the kind of mushy, sometimes-threaten-but-never-score baseball that often describes even the finest games. The action didn't end, though, as Minnesota's dormant bats woke up when the White Sox sent Michael Kopech to the mound; he labored through a frame with four earned runs, giving the Twins the same amount of runs they plated on Thursday. 
Kody Funderburk pitched a scoreless 9th to wrap up the win, lowering Minnesota's magic number to seven. 
Notes:
Louie Varland has a 2.16 ERA since joining the bullpen in September; he's struck out 11 and walked just one.
Royce Lewis walked three times to set a single-game high in his MLB career.
Bailey Ober lowered his BB/9 to 1.83, the 9th-lowest total amongst MLB starters with at least 120 innings in 2023. 
Post-Game Interview:
What's Next?
The Twins and White Sox will play the third game of their series on Saturday. Pablo López is set to start opposite Touki Toussaint with first pitch coming at 6:10 PM. 
Bullpen Usage Spreadsheet