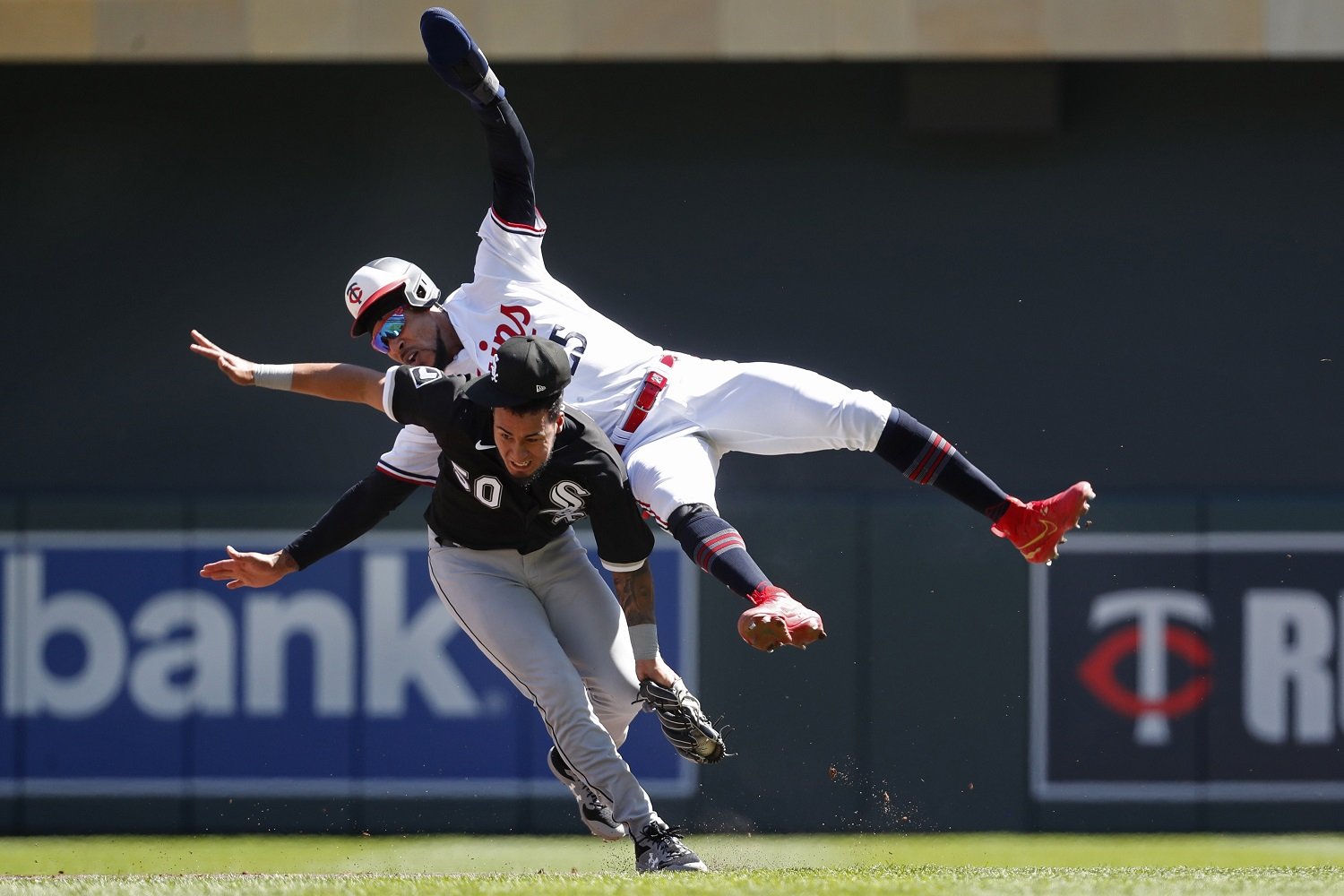 Image courtesy of Bruce Kluckhohn-USA TODAY Sports
At the beginning of the 2023 season, the Chicago White Sox and Minnesota Twins sat at about even odds of winning the World Series. What a difference a month makes! The Twins enter this three-game tilt at Guaranteed Rate Field with a 17-12 record, and a commanding nine-game lead over the White Sox after only 29 games.
On Tuesday night, the Twins begin a six-game AL Central road trip with a three-game series against the Chicago White Sox. Chicago is in free-fall mode, having just benched Luis Robert for not hustling on what he claims is a tight hamstring. They had a miracle ninth-inning comeback against the Rays on Sunday, which stopped a 10-game losing streak. Minnesota, meanwhile, has been winning series both home and away, and looks to extend their lead over their long-time rivals.
Fun Fact: The Twins took two of three from the White Sox in mid-April at Target Field, but the scores were as close as they get. 3-4, 4-3, and 3-1. Since then the Sox have gone 3-13, and 8-21 overall in Pedro Grifol's first year as manager.
Weather Factor: Chicago looks to be chilly, with temperatures in the low-40's and slight winds adding to the chill (and probably keeping the baseball in the park) Tuesday and Wednesday nights. Thursday's afternoon game might touch the high-50's if they get lucky.
Pitching Probables
Game 1 - Tuesday, May 2nd - 6:10pm CDT - The first game in the series will feature Twins RHP Joe Ryan (5-0, 2.81 ERA) versus White Sox RHP Michael Kopech (0-3, 7.01 ERA). While Ryan is tied for the MLB lead in wins, Kopech is still looking for his first win on the season. 
On paper, this looks like a great matchup for the Twins to kick off the road trip. The Twins have yet to face Kopech this season, however, and their lineup has a cumulative .180 batting average against him in 74 plate appearances. Ryan has little experience against the current White Sox lineup, but will face a team charged up from an improbable comeback in their most recent game. Will the momentum of a seven-run ninth-inning rally be enough to overcome the inertia of a .675 OPS? Or will Ryan's stuff continue to dominate against this short-handed squad?
Game 2 – Wednesday, May 3rd – 6:10pm CDT - The Twins announced that RHP Louie Varland (0-0, 4.50 ERA) will take the mound opposite White Sox RHP Dylan Cease (2-1, 4.15 ERA). Louie Varland last pitched April 27th for the St. Paul Saints, going 5 1/3 innings and getting the win. He seems to be the logical call up with Tyler Mahle getting shut down for a period of time.
Varland looked sharp at Yankee Stadium in mid-April, and Cease faced the Twins on April 10th at Target Field. He five innings and gave up three hits and three runs over that span. Cease's last outing ended after only four innings, having surrendered seven runs to the Blue Jays.
Game 3 - Thursday, May 4th (be with you) - 1:10pm CDT - The Twins have scheduled RHP Pablo Lopez (2-2, 4.00 ERA) to close out the series. The White Sox will counter with RHP Lucas Giolito (1-2, 4.15 ERA). Lopez earned a no-decision against the White Sox in their first matchup this season, going 7 2/3 innings with 10 strike outs, giving up two runs.
Last time the Twins saw Giolito they handed him a hard-luck loss, and he handed Kyle Farmer a 91.6 mph fastball to the teeth. The action on the field shook-up players, coaches, and fans. Nothing about the pitch seemed intentional, but it will be interesting to see if the moment comes up in any way as the two teams meet again this week. 
Prediction Time!
What's your prediction for this important road series against the White Sox? Can the Twins offense feast on a pitching staff with an ERA barely under 6.00? Will the momentum of Chicago's walk-off win Sunday to snap the 10-game skid continue all the way into Tuesday? Let's go, Twins Territory, tell us what you think!
Steve is on a mission to take in a Twins series in every Major League ballpark by 2025.
Follow the journey on Twitter @TwinsTrefz