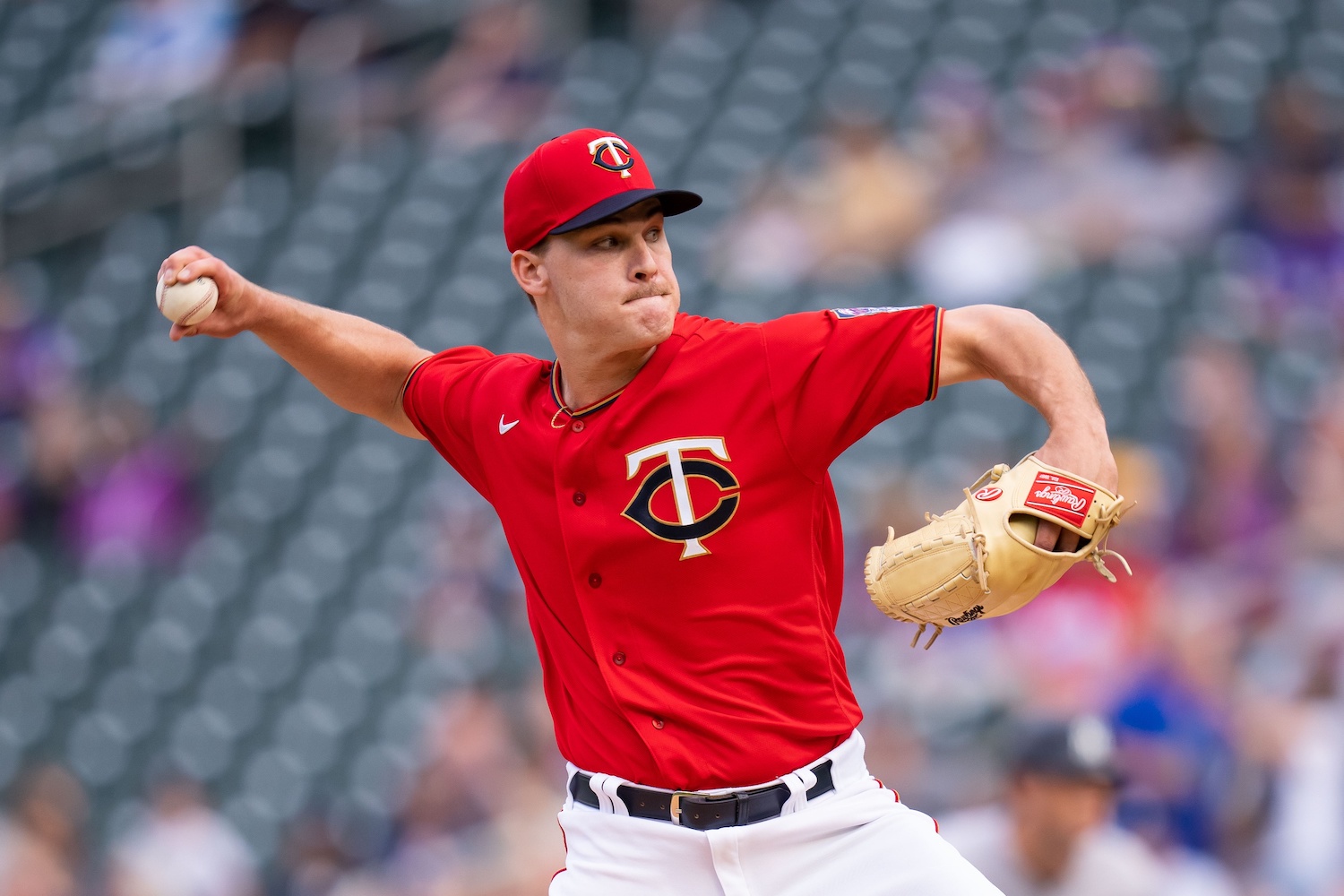 Image courtesy of Brad Rempel-USA TODAY Sports
When the Minnesota Twins announced their Opening Day bullpen on Wednesday, one member was a surprise. Many (including myself) expected Bailey Ober to fill a six-man rotation or long relief role, or maybe a reclamation project like Jeff Hoffman or WBC sensation Jose De Leon would claim the final reliever spot. Instead the Twins opted to go with their homegrown player, Cole Sands. 
2022 wasn't inspiring for Sands as he posted a 5.87 ERA, a 4.74 FIP, and a 1.57 WHIP in just over 30 innings for the Twins. Strikeouts were not particularly high (19.3%), walks were not particularly low (9.0%), and loud contact wasn't rare (39.4% hard-hit rate). 
So what are the Twins doing here? Sands would not have been my pick to make the team coming out of spring training, but I found some reasons they decided to keep him. Let's look deeper into what Sands offers as a pitcher and see if we can make sense of all this. 
Sands Brings Length and Spin to the Twins Bullpen
As a prospect, Sands profiled as a reliever very early into his professional career. Despite being a full-time starting pitcher until last season, I don't think the Twins or anyone else saw Sands realistically developing into an MLB rotation arm. 
Due in part to injuries and in part to a 70-grade breaking ball (per Fangraphs), Sands found his way into the big leagues as a spot starter and a long reliever – the same role the Twins envision for him in 2023. 
As stated previously, Sands has an elite breaking ball. On Baseball Savant, his curveball generated 18.1 inches of horizontal movement, good for second-most among all pitchers that threw at least 100 curves in 2022 and just ahead of the infamous Rich Hill bender. 
While it didn't quite generate the swings and misses its counterparts did, the tools to do it are certainly there. According to Jeremy Maschino's MLB Pitch Profiler, Sands' curveball has a Stuff+ rating of 135. This metric measures a pitch's movement and velocity compared to others around the league. It works like other comparative rate stats such as wRC+ or OPS+, where 100 is the league average, so 135 is an excellent number. 
For some context, Jhoan Duran's curveball that generated a 49.7% swing-and-miss clip is rated at 112 Stuff+. While mostly apples to oranges here, this demonstrates what Sands could have with his curveball. Sands offers an above-average split finger at 106 Stuff+, and an above-average cutter at 110 Stuff+, enabling him to pitch effectively to left-handed hitters. 
Could Pitch Mix Tweaks Lead to Improvement?
Sands could benefit from a change in pitch selection as well. In 2022, Sands threw his fastball 48.8% of the time, much too high of a percentage given what his secondary offerings are and what his fastball is. Last season Sands' fastball registered a 52.8% hard-hit rate against, good for 38th-worst out of 369 pitchers with at least 50 PA concluding against a four-seam fastball. MLB Pitch Profiler didn't like his fastball any better as it has his fastball rated at a 72 Stuff+, 28% below a league-average fastball. Reduced fastball usage and increased curveball, splitter, and cutter usage could greatly benefit Sands. 
While all of Cole Sands' success is still theoretical, he still has options, the ability to pitch multiple innings in long relief, and a decent prospect repertoire. Given the potential upside, taking this chance makes sense for the Twins.
As long as he can stay in low-leverage situations for now, this is a good opportunity for Sands to develop at the major league level and maybe realize his potential to become a dependable reliever for the Twins.