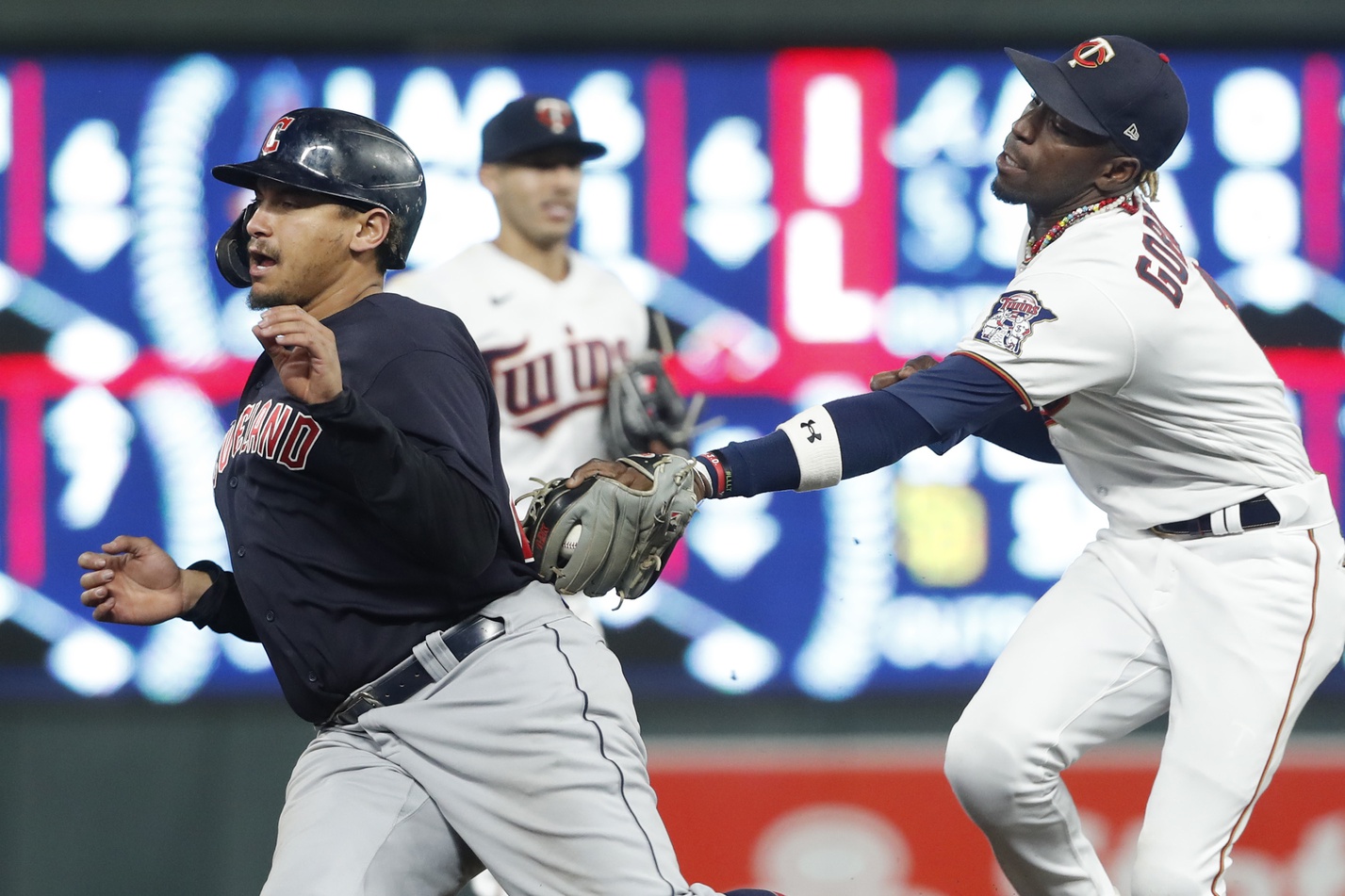 Image courtesy of Bruce Kluckhohn, USA Today Sports
Over at Fangraphs, Dan Syzmborski has released his 2023 ZiPS projections, putting the Twins at 80 wins. They are a high variance team without question, and could have looked at adding another bullpen piece, but given the overall success of the offseason, that feels a bit low. I guess having a low floor is not appreciated by ZiPS and as we saw last year, the Twins' floor isn't pretty. Same goes for the White Sox who are projected for only 74 wins. Cleveland comes in at 83 wins, and some projections have them closer to 90. They're new and interesting and clearly on the rise. But are they really that good?
The title of this article will tell you what I think, although it should be noted that the Guardians played excellent ball all year in 2022 and bulldozed the Twins and White Sox in September in legitimate fashion on their way to some fun playoff moments. They were also really healthy, but more on that later.
The most surprising reason Cleveland may take a step back this year is that their starting pitching has (momentarily) dried up. Shane Bieber and Triston McKenzie are both legit and the ace argument could be made for either one, but overall this is a rotation built more on reputation than actual merit, with its combined 2022 bWAR of 12.0 ranking fourteenth in baseball, tied with the White Sox. As another point of comparison from a different era, the top four starters for the 2000 Twins posted 15.6 bWAR en route to a 69-win season.
The top two on Cleveland's staff are amazing and better than anyone the Twins have had since Johan Santana, so don't confuse my point. But Cal Quantrill is merely a solid number three and was a liability in the playoffs. Aaron Civale and Zach Plesac, who both looked like building blocks just a few years ago, have regressed significantly.
"But Cleveland always finds pitching."
Yeah we've all heard that. But if Civale and Plesac are injured or ineffective, expect to see a lot of Konnor Pilkington, Cody Morris and Xzavion Curry to start the year. Morris looked pretty good last year, and they have good prospects coming, led by Daniel Espino and Gavin Williams. But Espino has already sustained a shoulder injury (not his first) and is doubtful to see the majors this year, while a promotion of Williams would be very aggressive. Morris is also battling an injury. In short, there seems to be a gap between what's here at the big league level and what's coming in 2024-2025, which is likely why both ZiPS and ESPN rank Cleveland's starting rotation below the Twins and White Sox for 2023. Yes, you read that right.
As far as the lineup is concerned, the Guardians made a name for themselves last year by spraying the ball around, stealing bases and doing "the little things." Steven Kwan, Amed Rosario, José Ramírez, Josh Naylor, Óscar González and Andrés Giménez represent a solid top six, but they aren't particularly imposing. They did add a couple of bats this offseason in Mike Zunino and Josh Bell. Bell can hit, and Zunino has a good defensive reputation and impressive power, hitting 31 home runs as recently as 2021. But Bell is also streaky, and Zunino is recovering from thoracic outlet syndrome, which has killed more careers than torn UCLs lately. The team hit for a 99 wRC+ last year, so I don't anticipate this turning into some elite offense even if Bell and Zunino have nice seasons.
Frankly, I don't expect the pitching to do as well, either, even if Zach Plesac is visited by three ghosts and posts a 3.20 ERA in thirty starts. The reason?.
Injuries. Injuries happen to teams. There hasn't been a team or person in history that has been able to figure out baseball injury prevention, and I don't think the Guardians are the first. You wouldn't know it, though. Here's their injury report for 2022:
Plesac fractured his pinkie punching the mound, missing a month.
González missed a month with a strained abdomen.
Franmil Reyes missed a month with a strained hamstring.
Naylor missed two weeks coming back from his ankle injury in 2021.
James Karinchak missed the first few months coming back from a shoulder injury.
Luke Maile missed the first couple weeks of the season with a strained hamstring.
Austin Hedges missed two weeks with a concussion.
Civale did miss three separate months with various maladies. He was able to return and make a start in their elimination game against the Yankees, but that didn't go great.
All of the above were available for the playoffs, even if Civale wishes he wasn't. The only one who wasn't was reliever Anthony Gose, who needed Tommy John surgery. His was the only season ending injury. That is also the only carryover injury certain to affect a player's 2023 status.
That's it. Cleveland losing Gose was not a major issue for them, as he was a converted outfielder with 27 career innings. 
By contrast, the Twins fell out of the AL Central race while losing nineteen players to season ending injury. Not all of them were crucial, but too many were.
To be clear, Cleveland's training staff isn't nineteen times better than the Twins', and their players aren't nineteen times less injury prone. They also aren't nineteen times better at playing through injury, despite what miserable Phil Mackey stans on Twitter might have you believe.
Cleveland was projected for 79 wins last year, but being abnormally healthy has a way of beating projection models. Other highly healthy teams in recent memory? The 2022 Orioles and Mariners, as well as the 2021 Red Sox. Any cinderella-type team usually is accompanied by a lack of IL stints, but as the 2022 Red Sox can attest, that good fortune needs to be supplemented with additional talent or things can go south in a hurry. That's asking a lot of Bell and Zunino.
As a baseball fan, I hope Cleveland is just as healthy in 2023, because they're a good product for the sport and their manager is a lovable legend. But a team having its entire squad available minus one fungible reliever in October is unrepeatable, a scenario about as likely as throwing two perfect games. 
The Twins didn't have enough depth last year and it cost them dearly. But they still somehow came into September tied for first. There is year to year variance and then there is one of the most charmed teams in decades winning the lottery and everyone thinking they earned it. As fun as they are and as good as they look in the long-term, Cleveland will be an afterthought while Minnesota and Chicago battle for the division this year.