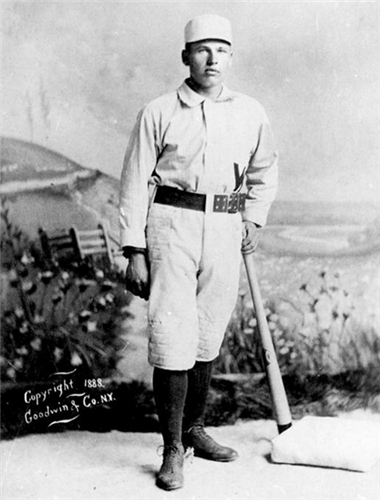 In the midst of all the talk about Sano and his weight, I got to thinking about the judgments that people make about other people – baseball players and their size – think Altuve or Randy Johnson, their weight, their various physical attributes – like my essay on Pete Gray who over came the fact that he lacked an arm or Jim Abbot and others judged to be handicapped. Perhaps it is the fact that my daughter is deaf that made me think about Dummy Hoy.
"Dummy" Hoy – William Ellsworth Hoy – was known as Dummy because he contracted meningitis at age three and was deaf the rest of his life. And deafness denies the ability to mimic speech so he was also "dumb" or unable to speak. Born in 1862 – during the civil war, he grew up in the same era that baseball grew up.
Sent to a school for the deaf in Ohio, he was trained as a cobbler and he had the initiative to go from working in the back of a shop to owning his own shoe shop. The school, like many others felt that a deaf and dumb person was not capable of doing much more than fixing shoes and even then, some people refused to have such a handicapped person fix their shoes. But he persevered, and he also took advantage of the fact that many people went shoeless in the summer and he followed his passion to play baseball. By age of 24, his love of baseball and his constant work on baseball skills attracted a scout and led him to professional baseball, first with a minor league team in Oshkosh, WI under HOF manager Frank Selee and then in 1888 with the Washington Senators. ! As a rookie he stole 82 bases and that record stood until the Ricky Henderson, Maury Will, Vince Coleman era. In his second-year major league season he had OBP of 376m scored 98 runs and stole 33 bases.
His career was not a gimmick like the midget of Bill Veeck's carnival promotions with the St Louis Browns. Dummy Hoy played major league baseball until 1902 and accumulated 32.5 WAR.
He also demanded respect and turned down an offer from the Milwaukee Brewers (1880's team) because the manager laughed at the idea of a deaf/mute thinking he could play baseball. In his career (14 years) he had 2048 hits, a .288 batting average, 596 stolen bases, and a .386 OBPAs a fielder he threw out three men at home in one game and had 45 assists for the White Stockings in 1901.
In addition to being deaf and never hearing the roar of the crowd, the call of the umpire, or the sound of his teammates, he was also at a disadvantage as a player who was 5' 4" and 150 pounds! Jose Altuve would love him.
Lacking all the electronics of todays' ballpark, Hoy was at a disadvantage, not being able to hear the umpire call balls and strikes. He asked his 3B coach to signal the ball and strike call to him and eventually got various signals to coordinate with teammates. Asking the umpires to use hand signals began the current system umpires use for outs, strikes, balls, fouls. But the HOF credits umpire Bill Klem for this even though Klem came after Dummy Hoy retired.
The fans, appreciating his skill and determination did not yell and scream when he did something outstanding, instead they stood and waved their arms and hats in salute. He later replied, "It is not enough that the deaf candidate for baseball honors has the necessary ability, he assuredly must have the nerve and courage to even apply for a trial."
He finished his career with the minor league Los Angeles LooLoos of the Pacific Coast League with 156 runs, 46 stolen bses and 419 put outs. But in many ways his final play in his career was the most amazing of all professional players. A ball was hit deeply to the outfield and in those days, fans were allowed to stand in the outfield – often there was no fence. He was determined and charged into the fans in very deep centerfield and when he encountered a horse, he jumped on the horses back, and then he used the horse as a springboard to leap and catch the ball!
With a deaf wife, they raised to very successful hearing children and he took on the raising of his nephew when he was orphaned at three. That nephew went on to establish the Helm's bakery and become a millionaire who supported the Olympics. Hoy was put in the Cincinnati Reds HOF – in 1896 while playing for the Reds he led the league in homeruns with FOUR. He was also named in the Deaf Athletes HOF and should be in the MLB HOF. Former teammates – Honus Wagner, Connie Mack, Clark Griffith, and Sam Crawford – all in the HOF – tried unsuccessfully to get him in. In 1961 he tossed out the first pitch in the third game of the World Series and died in December of that year.
The number of deaf players is very small but perseverance will mean that there will be more. http://www.infobarrel.com/Deaf_Baseball_Players_Who_Made_the_Major_Leagues