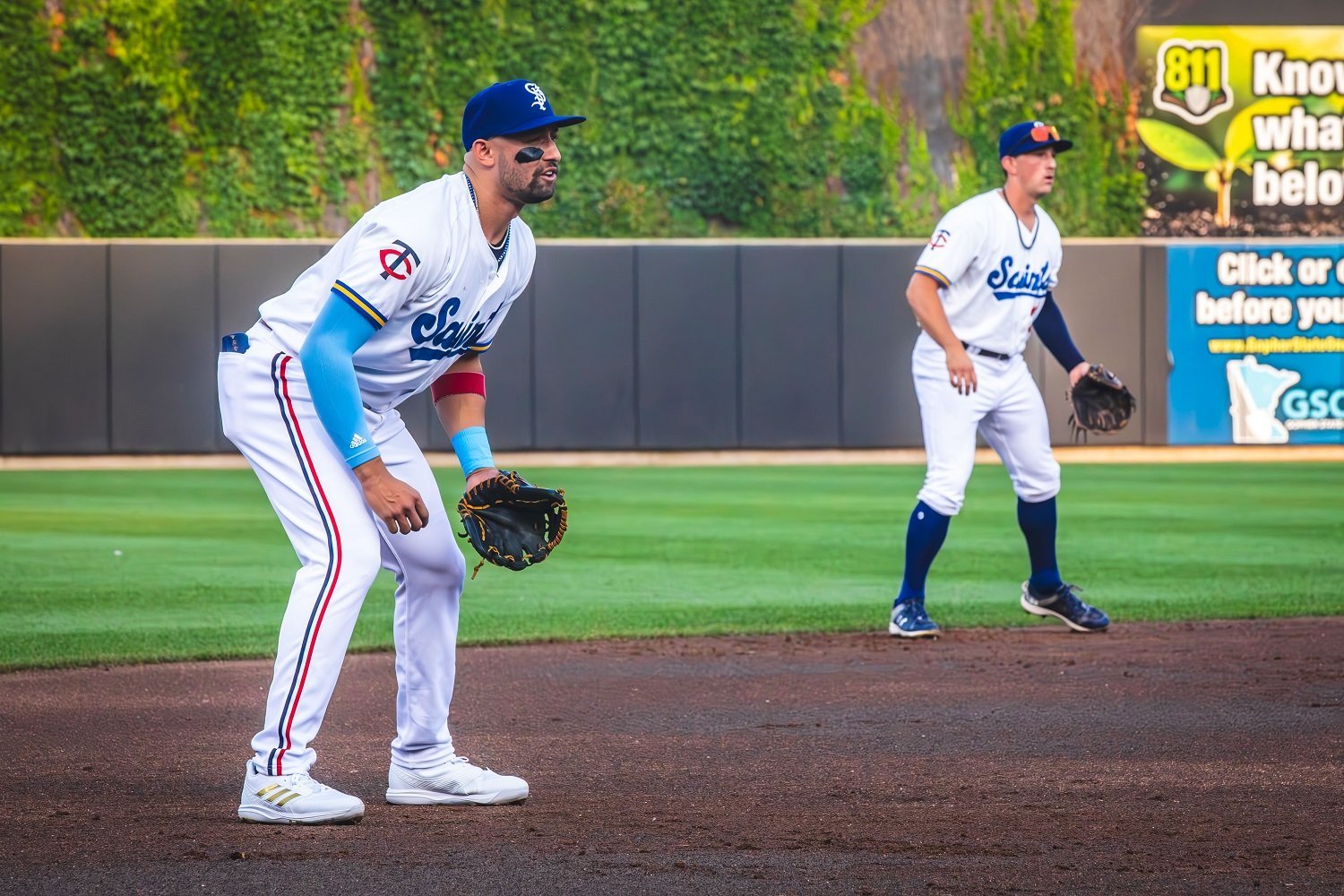 Image courtesy of Rob Thompson, St. Paul Saints (photo of Royce Lewis and Brooks Lee)
TRANSACTIONS
With the affiliates off on Monday, there were multiple transactions to catch up with on Tuesday:
SAINTS SENTINEL
St. Paul 11, Louisville 3
Box Score
The Saints got on the board first in the second inning when DaShawn Keirsey Jr., Yunior Severino, and Austin Martin all drew walks to load the bases. Jair Camargo brought in one with a sac fly, but Hernan Perez then lined out to keep them to just one run.
Right-hander Blayne Enlow got the starting nod for the Saints and was solid through the first three innings. He scattered four hits, allowed one earned run, and struck out three.
In the top of the fourth inning, the good guys broke through with a two-out rally. Martin, Camargo, and Perez all drew walks to prompt a move to the bullpen for the Bats, and Michael Helman brought them all in with a double. Alex Kirilloff followed with a run-scoring single, and it was 5-1 St. Paul.
They tacked on two more runs in the fifth when Trevor Larnach led off with a single. Two batters later, Severino launched his sixth home run with the Saints, and 30th of the season to make it 7-1.
Hunter McMahon was the first reliever summoned from the Saints bullpen and pitched into the fifth inning. He allowed two hits, walked one, and struck out two. He gave way to Austin Schulfer who went the next 1 2/3 innings, allowing one walk and striking out one. Jordan Balazovic started the seventh and worked around a single and a walk for a scoreless frame. In the eighth, a walk was followed by an RBI double before he was lifted for Austin Brice. In 1 2/3 innings, Balazovic was charged with one earned run on two hits and three walks. Brice finished off the final 1 1/3 innings, giving up one run on one hit and a walk. He struck out two.
With the score still 7-1 in the top of the eighth, the Saints put it even farther out of reach as the first four hitters of the inning reached base, with Brooks Lee putting an explanation point on the game by slugging a grand slam the opposite way.
Kirilloff (3-for-5, R, 2B, RBI) and Trevor Larnach (2-for-5, R, 2B) led the way with multiple hits for the St. Paul offense. Every hitter in the lineup scored at least one run, and Helman (1-for-5, 2 R, 2B, 3 RBI, K), Lee (1-for-4, R, HR, 4 RBI, BB, K), and Severino (1-for-3, R, HR, 2 RBI, 2 BB, 2 K) each drove in multiple runners.
WIND SURGE WISDOM
Wichita 1, Corpus Christi 5
Box Score
The Wind Surge were held to just five hits on Tuesday and were never able to mount a rally against the Hooks' pitching, so not a whole lot to recap here.
Their lone run came on Alex Isola's 19th home run of the season in the fourth inning to give them a 1-0 lead, but it did not hold up.
Starter Jaylen Nowlin was excellent in five innings, allowing just one earned run on two hits. He also walked three, but was able to work around them by punching out six. The bullpen duo of Francis Peguero (2 IP, 2 H, ER, K) and Denny Bentley (1 IP, 4 H, 3 R, 2 ER, 2 K) was not able to keep that going however, allowing four runs over the final three innings.
Yoyner Fajardo led the way out of the leadoff spot with two hits and a walk. As a team the Wind Surge were just 0-for-2 with runners in scoring position, and left only three men on base in a game that took just two hours to complete.
KERNELS NUGGETS
Cedar Rapids 6, Wisconsin 3
Box Score
The Kernels hit the ground running early in this one, with an Emmanuel Rodriguez triple being followed by a Kala'i Rosario home run for a 2-0 lead before their starting pitcher stepped on the mound.
That was righty Andrew Morris, who was excellent in the month of August, going 5-0 with a 2.00 ERA in five starts. He wasn't able to make it to the fifth in this one, but it also could have been a lot worse. In 3 2/3 innings he gave up eight hits (all singles) and walked three, but managed to allow only three runs. He also struck out three. 
When he left the game in the fourth inning, his team was still in the lead thanks to a three-run third inning from his lineup. Kyler Fedko led off with his sixth home run, before consecutive walks to Noah Miller and Rodriguez put more ducks on the pond. An error led to the second run of the inning, and a sac fly from Jorel Ortega capped it off. The Kernels added an insurance run in the fifth thanks to an RBI double from Miller to score Fedko, who had walked to start the inning.
The Cedar Rapids bullpen took it from there, shutting down the Timber Rattlers the rest of the way after Morris' departure. Gabriel Yanez picked up his first win with the Kernels by completing 2 1/3 innings. He gave up two hits and struck out three. Malik Barrington (2 IP, H, 2 BB, 2 K) and John Stankiewicz (S, 1 IP, H, K) held Wisconsin scoreless the rest of the way.
Fedko led the way with multiple hits, collecting a double in addition to his home run, and also drew two walks. Rodriguez and Fedko each scored two runs.
The Cedar Rapids Kernels are your second half, and undisputed full-season, Midwest League West Division Champions, with their record sitting at 81-46, the best in all of the minor leagues.
MUSSEL MATTERS
Bradenton 10, Fort Myers 5
Box Score
Starting pitcher Juan Mercedes was ambushed for three runs in the first inning, but settled in pretty good from there. He was able to complete five innings, allowing four runs (three earned) on five hits (two home runs accounting for most of the damage) and two walks. He struck out three. 
The Mighty Mussels got consecutive singles to the second inning, but it took a throwing error from the catcher for them to get a run across to cut the lead to two. In the fourth Rubel Cespedes led off with his thirteenth home run of the season, making the score 4-2 Bradenton.
Wilker Reyes came on from the bullpen for Fort Myers to start the sixth inning and delivered a scoreless frame. Back out for the seventh however, he ran into trouble and was lifted after giving up a bases loaded double, allowing two runs to score. In 1 2/3 innings, Reyes was charged with two earned runs on three hits, one walk, and a hit batter, while striking out one. 
In the bottom of the eighth the Fort Myers lineup finally broke through for a crooked number on the scoreboard, closing the lead to just one run. The big hit came from Walker Jenkins, who delivered a two-run triple that made it 6-4. He then scored the third run of the inning on a groundout from Ricardo Olivar.
Zach Veen came on after Reyes' exit and got the next six outs. He did not allow a hit, but two walks led to two earned runs in the ninth inning. the next pitcher, Juan Mendez, wasn't much better as he gave up a three-run home run and three walks before being lifted himself. Danny Moreno finally stopped the bleeding by getting a ground ball, but the score was now 10-5. The Mighty Mussels then went down in order to end the game.
Jay Harry (2-for-4, R, 2B) and Cespedes (2-for-4, 2 R, HR, RBI, 2 K) had multiple hits in the loss. Jenkins finished 1-for-2 with a run scored, a pair of walks, and is now batting .441 with a 1.192 OPS in eight games with Fort Myers. Oh, and he's also struck out only once.
TWINS DAILY MINOR LEAGUE PLAYERS OF THE DAY
Pitcher of the Day - Jaylen Nowlin, Wichita Wind Surge (5 IP, 2 H, ER, 3 BB, 6 K)
Hitter of the Day - Brooks Lee, St. Paul Saints (1-for-4, R, Grand Slam, 4 RBI, BB, K)
PROSPECT SUMMARY
Check out our full top 20 list here and how they performed on Tuesday below!

#1 - Brooks Lee (St. Paul) - 1-for-4, R, GS HR (3), 4 RBI, BB, K
#2 - Walker Jenkins (Fort Myers) - 1-for-2, R, 3B (2), 2 RBI, 2 BB
#3 - Emmanuel Rodriguez (Cedar Rapids) - 1-for-3, 2 R, 3B (9), 2 BB, K
#7 - Austin Martin (St. Paul) - 1-for-3, R, 2 BB
#8 - Tanner Schobel (Wichita) - 0-for-3, BB
#10 - Luke Keaschall (Cedar Rapids) - 1-for-4, 2B (2)
#13 - Kala'i Rosario (Cedar Rapids) - 1-for-4, R, HR (20), 3 RBI, BB, K
#14 - Yunior Severino (St. Paul) - 1-for-3, R, HR (6), 2 RBI, 2 BB, 2 K
#16 - Jordan Balazovic (St. Paul) - 1 2/3 IP, 2 H, 1 ER, 3 BB
#17 - Danny De Andrade (Fort Myers) - 0-for-3
WEDNESDAY'S PROBABLE STARTERS
St. Paul @ Louisville (5:35 PM CDT) - RHP David Festa (1-0, 1.80 ERA)
Wichita @ Corpus Christi (6:35 PM CDT) - RHP Carlos Luna (2-8, 5.56 ERA)
Cedar Rapids @ Wisconsin (12:10 PM CDT) - RHP Cory Lewis (4-1, 2.53 ERA)
Bradenton @ Fort Myers (6:00 PM CDT) - RHP Chris Paddack (MLB Rehab Assignment)
Please feel free to ask questions and discuss Tuesday's games!