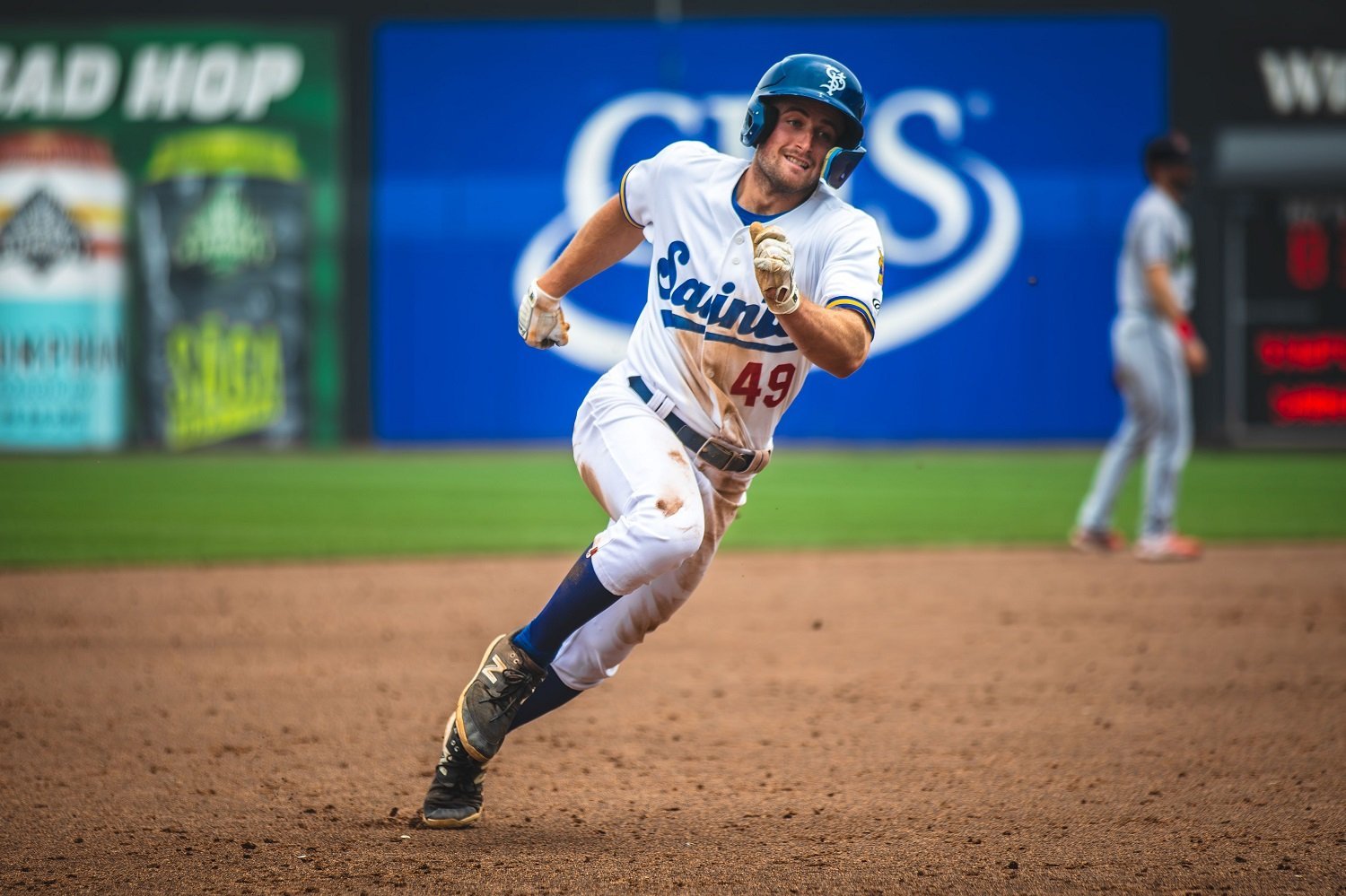 Image courtesy of Rob Thompson - St. Paul Saints
TRANSACTIONS
SAINTS SENTINEL 
St. Paul 10, Toledo 6
Box Score
Lefty Blayne Enlow took the mound Friday night for the Saints last weeknight game of the year. Byron Buxton and Joey Gallo got the night off while Nick Gordon batted second and played second base.
Enlow's final start of the season was just a short three inning outing. He allowed three runs on two hits while striking out four. The lefty out a bow on his season, showing good command with no walks.
St. Paul answered the three-run shot in the second inning with a big crooked number. Anthony Prato homered for the ninth time this season, and the two-run blast brought home Hernan Perez. Austin Martin then plated DaShawn Keirsey Jr. on a sacrifice fly. Michael Helman then stepped in with the bases loaded and launched the Saints 14th grand slam of the season. Chris Williams, Tony Wolters, and Nick Gordon all came home making it a 7-3 contest.
In the bottom of the third inning, Prato hit his second dinger of the night, and the solo-shot made it an 8-0 game. Not to have his power outdone, Yunior Severino homered in the fourth inning. His 11th big fly at Triple-A pushed the score to 10-3.
Brock Stewart worked a scoreless inning of relief striking out two, while Jorge Alcala pitched two scoreless innings and struck out four. Austin Schulfer took over for the next two and was perfect with a pair of strikeouts. Still up 10-3, it was Michael Boyle on to finish out the ninth inning. He allowed a pair of runners and then a big fly to bring them home. Still up 10-6, the lead was enough to hold up.
Helman and Prato both had a pair of hits. Gordon was 0-for-3 on the night with a run scored. The 14th grand slam for St. Paul tied the modern era record by a professional team in a season dating back to 2005.
TWINS DAILY MINOR LEAGUE PLAYERS OF THE DAY
Pitcher of the Day – St. Paul Middle Relief - 5.0 IP, 1 H, 0 R, 0 ER, BB, 6 K
Hitter of the Day – Anthony Prato (St. Paul) - 2-3, 2 R, 3 RBI, 2 HR(10), BB, K
PROSPECT SUMMARY
We will again keep tabs on the Twins top prospects. You'll probably read about them in the team sections, but if they aren't there, you'll see how they did here. 
Here's a look at how the current Twins Daily Top 20 performed:
#14 - Yunior Severino (St. Paul) - 1-4, R, 2 RBI, HR(11), K
SATURDAY'S PROBABLE STARTERS
Toledo @ St. Paul (6:37PM CST) - RHP Patrick Murphy
Please feel free to ask questions and discuss Friday' game!