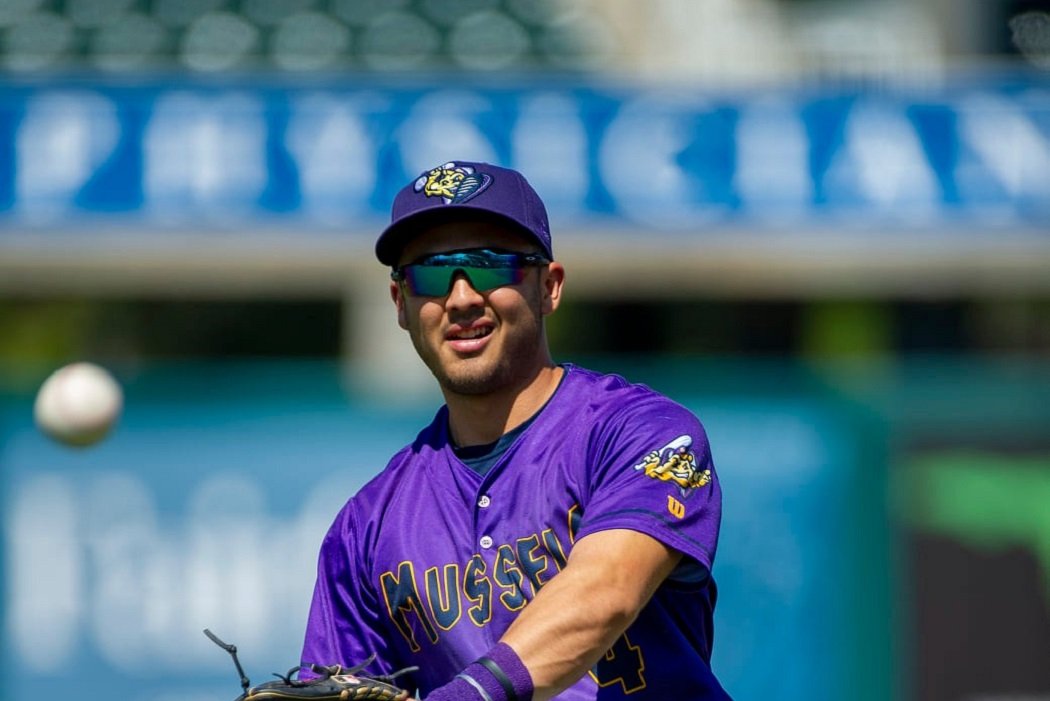 Image courtesy of William Parmeter
Let's see what happened this Wednesday in the Twins organization.
TRANSACTIONS
SAINTS (AAA)
St. Paul 9, Omaha 7
Box Score
The Saints won in a thrilling, come-from-behind victory over the Omaha Storm Chasers on Wednesday. Mikey Perez, who had never had a professional at-bat above Low-A, was called on to pinch hit for David Banuelos in the top of the ninth with two runners on, two outs, down by one run. On a 1-2 count, Perez hammered a hanging slider over the left field wall to put the Saints up 9-7, a lead that they would hold on to for the win
Michael Helman hit a lead-off homer, his ninth bomb of the year. Jermaine Palacios followed him with a double and then Matt Wallner drove in Palacios with a single to give the Saints a quick 2-0 lead.
Omaha responded quickly with seven runs in 2 2/3 innings off of St. Paul starter Mario Sanchez, knocking him out in what was his worst start of the year.
Curtis Terry hammered his tenth homer of the year in the top of the fourth to chip into Omaha's lead, decreasing the deficit to four. In the fifth, Palacios hit another double and scored on an error by Omaha's first baseman to cut the lead to three.
The Saints wouldn't have been able to stay in the game without an outstanding performance from the bullpen. The bullpen threw 6 1/3 innings of scoreless relief while striking out six. Daniel Gossett threw 2 1/3 innings, Austin Schulfer followed him with two strong innings, Brad Peacock threw an inning, and Michael Feliz locked down the game with a scoreless ninth.
Going into the top of the ninth, the Saints trailed 7-4 and were facing Andres Nunez, who had only allowed one run in his last 22 appearances. Wallner and Roy Morales led off the inning with back-to-back singles and John Andreoli followed suit with a single of his own to score Wallner. After Andreoli stole a base, Braden Bishop hit an RBI infield single to put the game to 7-6. Then Mikey Perez did the inevitable in his first Triple-A at-bat.
Peacock picked up the win for St. Paul, his third of the year. Feliz was credited with the save, his first since 2019. Palacios went 3-for-4 with three doubles to lead the offense. Helman, Wallner, Morales, and Bishop all had two-hit nights as well. The win was the Saints' fourth consecutive and it improved their record to 49-50.
WIND SURGE (AA)
Wichita 0, San Antonio 8
Box Score
Wichita got off to a slow start on Wednesday against San Antonio and could never quite recover, falling 8-0 to the San Antonio Missions.
Southpaw Kody Funderburk took the ball for Wichita and had a rough outing. Like Sanchez for St. Paul, he went 2 2/3 innings. Funderburk allowed four runs (three earned) on six hits and two walks while striking out one batter.
The game was knotted at zero going into the bottom of the third, but San Antonio made a statement by scoring four runs on five hits and a walk. The big inning was also aided by a throwing error from Wind Surge left fielder Anthony Prato.
The Missions added two more runs in each of the sixth and seventh innings to push the lead to eight.
Wichita's bullpen pitched 5 1/3 innings, allowing four runs (two earned). Cody Laweryson, Alex Phillips, and Francis Peguero all threw in relief. Peguero threw a scoreless eighth.
It was a lackluster offensive performance for Wichita, only collecting five hits in the loss and striking out 13 times.
Despite the loss, Wichita remains in first place at 51-46. They will turn to their best pitcher, Louie Varland, on Thursday.
KERNELS (HIGH-A)
Cedar Rapids 5, Beloit 9
Box Score
One day after losing Cade Povich via trade, the Kernels suffered a 9-5 loss to the Beloit Sky Carp.
Burnsville, MN, native Aaron Rozek made his 15th start of the year for the Kernels. The Twins Daily June Minor League Starting Pitcher of the Month did not have his best stuff on Wednesday. Rozek only managed to go two innings in his shortest start of the year, allowing three runs on four hits while striking out two.
Beloit got all three runs off of Rozek in the top of the second thanks to a three-run homer by Marcus Chiu. Cedar Rapids responded in the bottom half when Seth Gray singled, scoring Jake Rucker.
First out of the bullpen for Cedar Rapids was Tyler Palm. Palm gave Cedar Rapids three innings while allowing three runs (two earned). Palm walked in a run in the top of the third to give the Sky Carp a three-run lead. In the bottom of the third, Yunior Severino hit an RBI double to close the gap back to two.
In the middle innings, Beloit scored four unanswered runs off of Palm and Miguel Rodriguez to push the score to 8-2. In the bottom of the seventh, Gray put Cedar Rapids within three runs when he hit a three-run double.
Hunter McMahon pitched 2 1/3 innings of relief, only allowing one unearned run while his season ERA fell to 0.84.
The Kernels couldn't get anything else going offensively as they fell 9-5 to Beloit. Their season record fell to 59-39 with the loss.
Gray finished 3-for-4 with a double and four RBI to lead the offense. Severino went 2-for-4 as he continued his hot season. He now sports a .970 OPS, which is fourth among players in the Midwest League with at least 100 at-bats.
MIGHTY MUSSELS (LOW-A)
Fort Myers 3, Bradenton 2
Box Score
Jaylen Nowlin turned in another great start to lead Fort Myers in a victory over Bradenton. Nowlin allowed one run on two hits over four innings while striking out eight. Nowlin now has 81 strikeouts in 50 innings this year.
Fort Myers got on the board with two runs in the bottom of the second when Daniel Ozoria scored on a wild pitch and Nelson Roberto hit an RBI double to drive in Luis Baez.
After Bradenton cut the lead in half in the top of the third, Dillon Tatum drove in Keoni Cavaco with a single to increase the lead back to two. In the sixth, Juan Jerez hit a homer off of Regi Grace to cut Fort Myers lead back to one.
Bradenton could never quite make it back, as Juan Mendez thwarted the comeback in the top of the seventh with two strikeouts for his third save of the year.
The win improved Fort Myers record to 54-40. Regi Grace picked up the win in relief of Nowlin, and Ozoria stole two bases in the win.
TWINS DAILY MINOR LEAGUE PLAYERS OF THE DAY
Pitcher of the Day – Jaylen Nowlin (Fort Myers) - 4 IP, 2 H, 1 R, 3 BB, 8 K
Hitter of the Day – Mikey Perez (St. Paul) - 1-for-1, HR (1), R, 3 RBI
PROSPECT SUMMARY
We will again keep tabs on the Twins' top prospects. You'll probably read about them in the team sections, but if they aren't there, you'll see how they did here. 
Here's a look at how the current Twins Daily Top 20 performed:
#12 - Matt Wallner (St. Paul) - 2-for-4, R, 2 RBI, BB, K
#15 - Edouard Julien (Wichita) - 1-for-4, 2 
THURSDAY'S PROBABLE STARTERS
St. Paul @ Omaha (7:05 CST) - RHP Jordan Balazovic (0-4, 10.38 ERA)
Wichita @ San Antonio (7:05 CST) - RHP Louie Varland (7-4, 3.55 ERA) 
Beloit @ Cedar Rapids (6:35 PM CST) - RHP Orlando Rodriguez (3-1, 3.34 ERA)
Fort Myers @ Bradenton (6:00 PM CST) - LHP Jordan Carr (3-0, 3.86 ERA)
Please feel free to ask questions and discuss Wednesday's games!

Thank you for reading, and Go Twins!