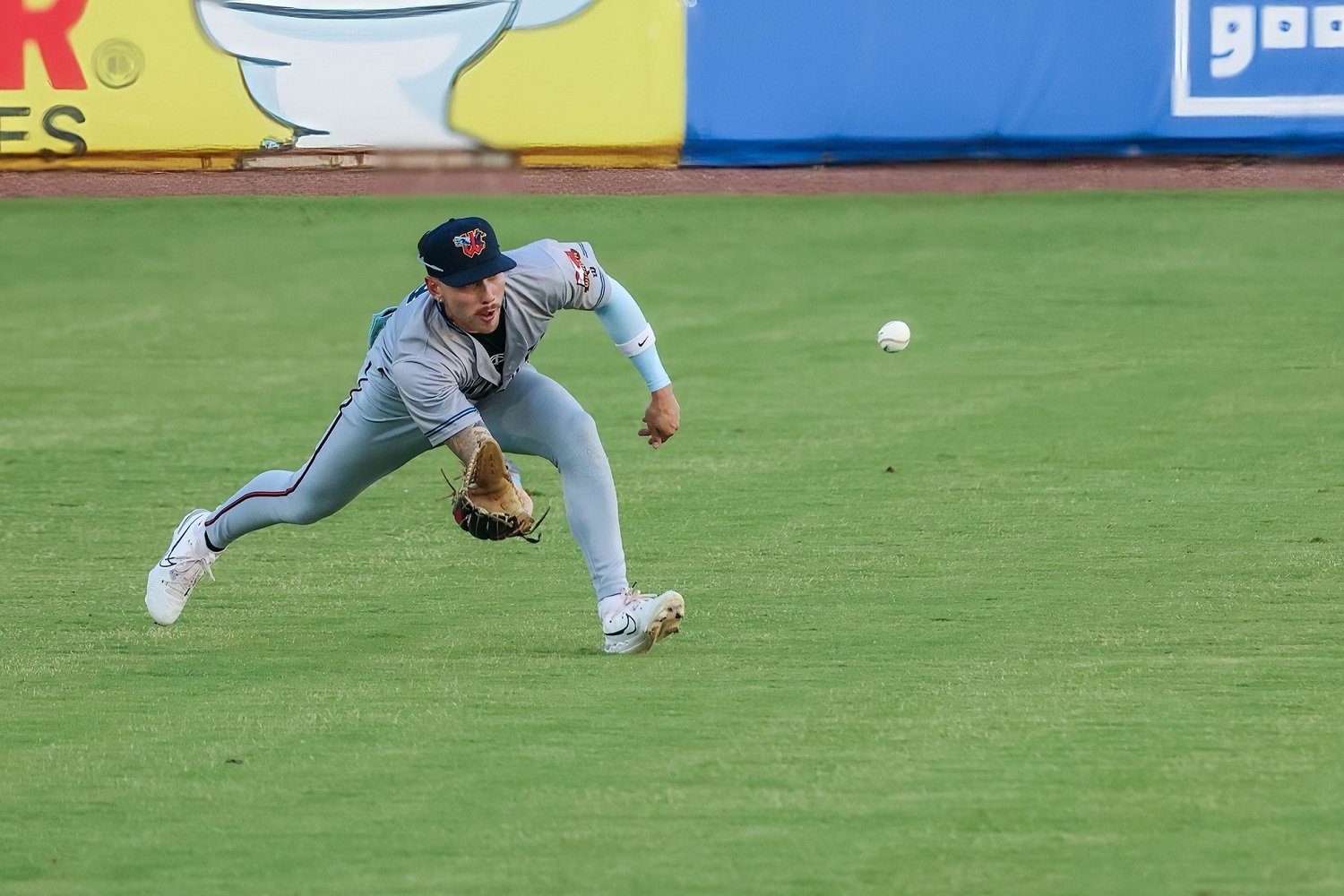 Image courtesy of Ed Bailey, Wichita Wind Surge (photo of DaShawn Keirsey)
Let's get to the report. As always, please feel free to discuss and ask questions. 
TRANSACTIONS
Wichita placed C David Banuelos on the 7-Day IL.
Ft. Myers placed OF Carlos Aguiar on the 7-Day IL.
And Seth Gray appears to be in limbo…

. 
SAINTS SENTINEL
Game 1: St. Paul 3, Iowa 13
Box Score

The Saints hosted a doubleheader at CHS Field on Thursday night. It was a makeup game from a 'weathered-out' game from early this season. 
The Iowa Cubs scored multiple runs in the first five innings, including a game-high four runs in the fourth inning and won this one in a laugher. 
Randy Dobnak took one for the team in this one. He was charged with nine runs (8 earned) on 11 hits, two walks, and a hit batter over three innings. Jose Bravo came on with two runners on in the fourth inning. He allowed both to score and then was charged with four more runs of his own over two innings. He gave up five hits (including two home runs), walked two and struck out three batters. Connor Sadzeck gave up a hit and walked two batters, but he provide the team with two scoreless innings. 
That was enough for a top pitching prospect like the Cubs' Ben Brown, though the Saints batters certainly made him work. He gave up two runs on five hits and six walks in 4 ⅓ innings, though he recorded seven strikeouts. 
 Edouard Julien had the other RBI for the Saints.. Jose Miranda seems to be getting some positive results the past few games. In this one, he went 2-for-3 with a walk and his third double (all this week). Matt Wallner added two hits as well. Jair Camargo continued his power streak. He went 2-for-4 with a solo homer. He now has nine on the season. He also drove in two of the team's three runs.
Game 2: St. Paul 7, Iowa 6 (8 innings)
Box Score

It was another rough start for Simeon Woods Richardson, but the Saints rallied, forced extra innings and won in a walkoff.
Woods Richardson gave up single runs in the first three innings and then was charged with three more runs in the fourth inning when he left with the bases loaded, and all three runners scored with Austin Schulfer on the mound. So, in total, Woods Richardson gave up six runs on seven hits and four walks. He had three strikeouts. Schulfer came in and was credited with 1 2/3 scoreless innings. He gave up two hits and a walk in allowing the inherited runners to score. He struck out three batters. Oliver Ortega continues to impress. He struck out three batters over three scoreless, hitless innings which dropped his season ERA to just 1.50. 
In the second inning, Tony Wolters singled in Chris Williams to put the Saints on the board. The following inning, Mark Contreras took a bases-loaded walk. Wolters got the scoring started in a four-run fourth frame with his second home run. Elliot Soto scored when Andrew Stevenson stole his 21st base on a wild pitch. Next, Jose Miranda doubles in a run. Edouard Julien drove in Miranda with a sacrifice fly.
Then in the eighth inning, with Alex De Goti on third base, Elliot Soto was at the plate. His bat was destroyed on an inside fastball, but the ball was placed in such a spot that the throw home was a little late. The Saints rejoiced.
Andrew Stevenson went 3-for-4 with his 11th and 12th doubles. He also stole two bases. Tony Wolters went 3-for-4 including his second home run.
WIND SURGE WISDOM
Wichita 10, San Antonio 3
Box Score

The Wind Surge mounted a big, five-run second inning and kept adding on to hold off San Antonio.  
Oh, remember up above, our confusion on just where Seth Gray was on Thursday. Well, we don't have any extra details, but we do know that he played for the Wind Surge in San Antonio. In fact, in the second inning, he got things going with an RBI single that scored Aaron Sabato for the game's first run. DaShawn Keirsey then hit a ground-rule double that scored both Jake Rucker and Gray. After a pitching change, Brooks Lee drilled his 19th double of the season that drove in Will Holland and Keirsey. 
Keirsey is now hitting .306 on the season and showing more power than he has in the past. He's always been strong defensively, but is something he has really worked on. He said, "My focus has been more geared to my approach. I'm naturally aggressive in the box, so honing in on swinging at better pitches, along with some swing adjustments we've worked on over the last couple of years has produced some of those results." 
The Surge added a run in the fourth frame on Keirsey's sixth home run of the season. They also added a single run in the sixth on a Yunior Severino double that scored Yoyner Fajardo.
In the top of the seventh inning, Aaron Sabato hit an opposite-field homer, his first of the season.
Later, Lee singled in two more runs to put double digits on the scoreboard for Wichita.
Travis Adams made the start for Wichita. He went just 1 2/3 innings. He gave up two runs on three hits and two walks. He added two strikeouts, but he was already up to 47 pitches and more than 30 in the second inning alone. Michael Boyle came on and was perfect for 2 1/3 innings to record the win. Francis Peguero gave up a run over two innings. Regi Grace continues to impress with two more scoreless innings and three strikeouts. Jordan Brink struck out two batters in a scoreless ninth to end the game. 
Keirsey Jr ended the day going 3-for-6 with his 12th double and sixth homer. He also drove in three runs and scored two more. 
Keirsey has been leading off frequently of late. It's not new to him. "I led off most of my career at Utah, so it's something I'm familiar with. I've hit in a variety of spots in my professional career so far, but as far as comfort, no spot is more comfortable than another. Hitting is difficult anywhere in the lineup. Regardless of where I'm at (in the lineup), I focus on bringing the same mindset and approach at the plate." 
Lee went 2-for-5 with a walk but drove in four runs. Sabato went 2-for-3 with two walks and his first homer of the season. Rucker went 1-for-2 and walked three times. Gray went 2-for-5 and stole a base. Yes, for the Wind Surge. 
KERNELS NUGGETS
Cedar Rapids 6, Dayton 0
Box Score

Cory Lewis made his first Kernels start since his promotion from Fort Myers this week. Let's just say, it was successful. The 2022 draft pick tossed five shutout innings. He gave up just three hits, walked one and struck out eight batters. He threw 80 pitches and 56 of them were strikes.
His catcher, Andrew Cossetti, said after the game that "Cory had the knuckleball working early, and when he can throw that for a strike, it makes all of his pitches better." He continued, "He definitely didn't let the moment get the best of him. He was calm and confident with all his pitches and was able to throw everything for a strike consistently."  
Alejandro Hidalgo came out of the bullpen and threw three scoreless innings. He gave up just one hit, walked none and struck out six batters. Miguel Rodriguez struck out two batters in a one-hit ninth inning to hold the shutout. 
The Kernels offense provided an early lead and then added some late insurance runs. In the first inning, Emmanuel Rodriguez got the scoring going with a sacrifice fly that drove in Tanner Schobel. Ben Ross followed with a solo homer, his eight of the season.
In the sixth inning, the Kernels got two more on a two-run blast off the bat of Andrew Cossetti. It marked his first home run in the Midwest League. Cossetti also singled in Misael Urbina with a single in the eighth inning, the final run of the night. The St. Joe's alum went 2-for-4 with three RBI in the game and helped his pitching staff to a shutout. 
In between, Tanner Schobel hit his sixth home run of the year. The 2022 Competitive Balance pick led off and went 3-for-5 with his third triple and sixth homer. 
Six runs and three homers is obviously exciting, but the story of this game was Cory Lewis and his Midwest League debut. As Cossetti said, "I have to admit, I have a lot of fun catching him." 
MUSSEL MATTERS
Fort Myers 0, Clearwater 2
Box Score

Speaking of great debuts, Miguelangel Boadas had a terrific first Florida State League start on Thursday. The 20-year-old right-hander from Venezuela went the first five innings. He was charged with one run on five hits. He only struck out one batter, but he didn't issue any walks. He did hit a batter.  
Jarrett Whorff came on and gave up one run on three hits over three innings In reality, the solo home run allowed was the one hit that he would likely love to have back.. He also walked none, and he struck out four batters. Jackson Hicks struck out one in a perfect ninth inning.  
The Mussels got to face rehabbing lefty Bailey Falter for the first three innings in this game. They recorded just one hit and one walk off of him, but just two struck out. The hit came off the bat of a rehabbing Gilberto Celestino, a line-drive single to left. 
The other hit for the Mussels was from shortstop Danny DeAndrade. Fort Myers also had three walks. One was by Jorel Ortega who then stole his 17th base of the season. 
Austin Martin struck out in his first-inning at-bat. He batted second and played in left field as his rehab continues. However, with two outs in the top of the third, he made a catch and left the game due to injury. We'll update as we find out more information. 
COMPLEX THOUGHTS from FLORIDA
FCL Twins 6, FCL Pirates 5 
Box Score
The Twins fell behind 4-1 after five innings and 5-2 after six innings. However, they scored two in the seventh and two more in the eighth inning to record a one-run, comeback win. However, let's start on the mound. 
Brayan Medina, a 20-year-old right-hander from Venezuela acquired as the Player to be Named Later from the Padres in the Taylor Rogers trade, made the start for the Twins. He went the first four innings. He gave up three runs (2 earned) on four hits and a walk. He struck out four batters. Cleiber Maldonado came on and gave up two runs (1 earned) on three hits and a walk. Pierce Banks got the final two outs of the sixth inning. 
Jacob Wosinski pitched the final three innings and did not allow any more runs. He gave up one hit, walked one and struck out five batters. The 24-year-old righty stayed home and pitched two years at Grand Rapids (MI) Community College. In 2020, he worked in one game for Akron before the season was canceled. He had Tommy John surgery, so in 2021, he pitched in just five games. He returned for the 2022 season and pitched in 13 games. He spent the summer of 2022 and started this year with the Eastside Diamond Hoppers of the USPBL and signed with the Twins in late May. Wosinski is 6-8, about 220 pounds, and he throws his fastball into the mid-90s. 
Just-For-Fun Trivia: Can you name the recent Twins minor leaguer to play at Oakland University in Michigan. After five years in the Twins organization, said player is currently in the American Association.
The hitters managed just five hits in this game. However, they also walked 11 times. Byron Chourio went 1-for-2 with three walks. Freddy Michel also walked three times, and Isaac Pena walked twice. Jose Rodriguez had the lone extra base hit, his first double of the season. Omari Daniel recorded his first professional hit, walked once and then stole two bases.    
COMPLEX THOUGHTS from the DOMINICAN 
DSL Twins 14, DSL Angels 16
Box Score
The runs were plentiful at the Angels complex today in the Dominican. The Twins fell behind 13-3 through the first six innings. They scored five runs in the top of the seventh, but then the Angels scored three more runs in the bottom of the inning for a 16-8 score. The Twins added one in the eighth and almost came all the way back in the ninth with a five-run inning but fell just short. 
We will start with the positive, the offense. Outfielder Jayson Bass, who signed in February out of Mexico, went 3-for-4 with a walk, a triple, and three RBI. He also threw out a runner at home. Carlos Silva, the catcher who signed a seven-figure bonus in January, went 2-for-5 with a walk and three RBI. Ewing Matos went 2-for-4 with a walk. Second baseman Juan Zapata went 2-for-3 with two walks and his first double. Yilber Herrera, Ariel Castro, and Moises Lopez each walked twice.
Alright… to the pitchers. Cristian Hernandez started and gave up four runs on six hits and a walk in three innings. He struck out six batters. Fabian Monsalve came in and gave up nine runs (7 earned) on six hits and four walks in 2 2/3 innings. Jose Ojo came in to get the final out of the sixth inning, but not before hitting one, walking two, and throwing three wild pitches allowing both inherited runners to score. Jose Betancourt gave up three runs on one hit, one hit batter, and five walks in 1 2/3 innings. He struck out three batters. Junior Del Valle got the final out.  
TWINS DAILY MINOR LEAGUE PLAYERS OF THE DAY
Pitcher of the Day – Cory Lewis (Cedar Rapids) - 5 IP, 3 H, 0 R, 1 BB, 8 K.
Hitter of the Day – Tanner Schobel (Cedar Rapids) - 3-for-5, 3B(3), HR(6), 2 R, RBI, K
PROSPECT SUMMARY
Check out the Prospect Tracker for much more on the new Twins Top 20 prospects after seeing how they did on Wednesday.

#1 - Brooks Lee (Wichita) - 2-for-5, BB, 2B (19), 4 RBI, BB, K
#2 - Royce Lewis (Minnesota) - 0-for-4, 2 K
#3 - Emmanuel Rodriguez (Cedar Rapids) - 0-for-3, BB, RBI, SF 
#4 - Edouard Julien (St. Paul) - Game 1: 1-for-3, BB, RBI, K, E; Game 2: 0-for-2, BB, RBI, K
#7 - Simeon Woods Richardson (St. Paul) - 3 1/3 IP, 7 H, 6 ER, 4 BB, 3 K, 92 pitches, 49 strikes.
#9 - Matt Wallner (St. Paul) - Game 1: 2-for-4, 2 K; Game 2: 0-for-3, BB
#10 - Yasser Mercedes (EST) - 0-for-4, RBI, 2 K. 
#11 - Austin Martin (Rehab Ft. Myers) - 0-for-1, K, played left field, injured in the third inning.
#13 - Noah Miller (Cedar Rapids) - 1-for-4.
#18 - Jose Rodriguez (EST) - 1-for-4, BB, 2B(1), RBI, K,
#19 - Yunior Severino (Wichita) - 2-for-5, BB, 2B(9), RBI, 2 K
FRIDAY'S SCHEDULE AND PITCHING PROBABLES
Iowa @ St. Paul (7:07 PM CST) - LHP Brent Headrick (3-1, 4.54 ERA)
Wichita @ San Antonio (7:05 PM CST) - Pierson Ohl (1st Double-A game) 
Cedar Rapids @ Dayton (6:05 PM CST) - RHP Marco Raya (0-0, 2.61 ERA)
Clearwater @ Fort Myers (6:00 PM CST) - RHP Andrew Morris (1-1, 5.28 ERA)
FCL Red Sox @ FCL Twins (11:00AM CST) - TBD
DSL Mets Blue @ DSL Twins (10:00AM CST) - TBD
Please feel free to ask questions and discuss Thursday's games!