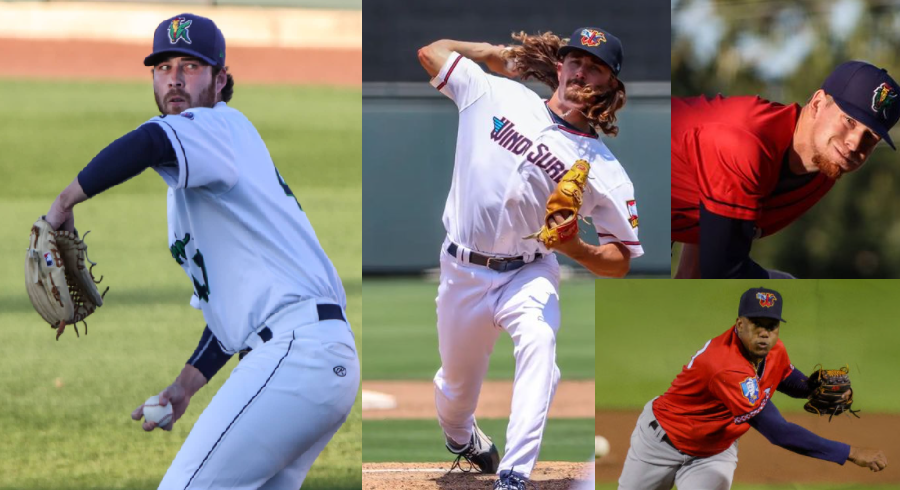 Image courtesy of Jean Pfiefer (aka go4twinkies on Instagram), Ed Bailey, Wichita Wind Surge (Yennier Cano photo, bottom right)
We jump into the Top 25 pitching prospects today and find a couple of relievers with unique stories, a couple of intriguing 2019 draft prospects and a 2021 College World Series champion. 
Get to know these five prospects and then discuss them in the Comments below. 
 
#25 - RHP Jordan Gore 
2021 STATS: 8-2, 2.39 ERA, 39/0 G/GS, 0.95 WHIP, 88/28 K/BB, 67.2 IP

Drafted as a shortstop in 2017 from Coastal Carolina, Jordan Gore worked all the way up to Double-A in 2019 at that position. But then late in the year, the transition began. Gore was blessed with a strong arm, and because of it got an opportunity on the mound. Unfortunately, there was no 2020 season, so no one knew what to expect from him. He began at Cedar Rapids and pitched well. He earned a second-half promotion to Double-A Wichita where he continued to pitch great through the end of the season. While he threw 95 mph, he also had developed a solid change up and slider over the previous year and used all of his pitches. In addition, listen to his Twins Spotlight interview after the season, and he has a great mentality for working late innings. Gore will spend most of the 2022 season at the age of 27. 
#24 - RHP Cody Laweryson 
2021 STATS: 2-5, 4.91 ERA, 15/14 G/GS 1.33 WHIP, 73/19 K/BB, 58.2 IP

Cody Laweryson was the Twins 14th round pick in 2019 out of the University of Maine. That summer, he pitched at Elizabethton and was the Twins Daily short-season Minor League Pitcher of the Year. After the missed 2020 season, Laweryson was slowed in spring training by a minor injury. In early June, he joined the Kernels starting rotation. He had ups and downs but ended the season strong. He was able to get extra innings in the Arizona Fall League. He struck out 18 batters in 14 innings. He also represented the Twins in the Fall Stars game. He will turn 23 in May.
#23 - RHP Yennier Cano 
2021 STATS: 5-3, 3.23 ERA, 42/1 G/GS, 1.38 WHIP, 86/34 K/BB, 69.2 IP

After defecting from Cuba, Yennier Cano became an international free agent, and in June 2019, the Twins were able to sign him. That year, he got some time in the GCL and then for the Miracle. He began the 2021 season in Double-A Wichita and went 3-1 with a 1.47 ERA over 18 1/3 innings. He had 28 strikeouts and just five walks. He moved up to St. Paul and posted a 3.86 ERA. In 51 1/3 innings, he struck out 58 batters, but he also walked 29. Cano has a rubber arm and wants to pitch all the time. He has a mid-to-upper '90s fastball as well as a good slider. He will turn 28 in March and should debut in 2022. 
#22 - RHP Sean Mooney 
2021 STATS: 0-2, 2.79 ERA, 13/12 G/GS, 1.07 WHIP, 71/23 K/BB, 42.0 IP

The New Jersey native headed to St. Johns where he went 19-5 with ERAs of 1.71 and 2.56 over his freshman and sophomore seasons. As a junior in 2019, he went 2-1 with a 2.17 ERA, but after nine starts, he hurt his elbow and needed Tommy John surgery. The Twins really liked him and took him with their 12th round pick in 2019. He rehabbed in 2019 and may not have pitched much in 2020 either. So 2021 was his professional debut. In 10 games (9 starts) with Ft. Myers, he went 0-1 with a 1.24 ERA. In 29 innings, he struck out 52 batters! He moved up to Cedar Rapids and made three starts. He had 19 strikeouts in 13 innings. Mooney has an advanced pitching makeup and four pitches. He profiles as a starter at least for now. 2022 could be a big year if he can stay healthy throughout the season and really get to develop. Mooney will be 23 throughout the 2022 season. 
#21 - LHP Christian MacLeod 
2021 STATS: 0-0, 0.00 ERA, 1/0 G/GS, 1.80 WHIP, 2/5 K/BB, 1.2 IP 

2021 was a big season for MacLeod. He became a weekend starter at Mississippi State. He went to the College World Series and helped the Bulldogs to their first national championship. The Twins drafted him in the fifth round of the 2021 draft. He signed, took some time away from pitching in games and ended the season with one outing in the FCL And after Instructional League, he was a guest on Twins Spotlight. OK, that last one may not be on the same level as the rest, but I know Twins Daily readers enjoyed it. Again, he will get a chance to start the 2022 season, probably in Ft. Myers, and have the opportunity to move up to Cedar Rapids by midseason. MacLeod will turn 22 in April. He's got a good fastball, has typically shown good control and has secondary pitches that have potential. 
This is an interesting group. You've got a couple of older relief pitchers, though both have circumstances that make it understandable, and both showed well in 2021. There were two 2019 draft picks, both of whom have missed some time with injury, but both have had success to note when healthy. Finally, there is a 2021 draft pick who helped his team to the College World Series championship and is just beginning his career. 
Discuss... and keep coming back every day throughout the holiday season as we continue to discuss these prospects. 
Previous Rankings
Hitters Part 1: 26-30
Hitters Part 2: 21-25
Pitchers Part 1: 26-30